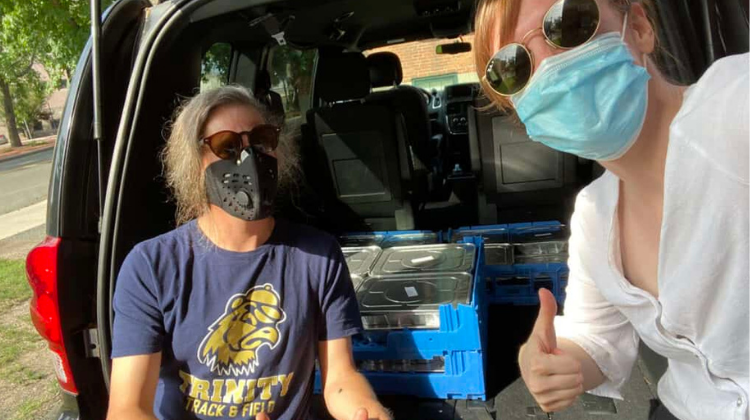 Welcome to the CHER September Newsletter! We send out an e-newsletter to keep the campus and community updated about what we're doing here in the Center for Hartford Engagement & Research at Trinity College (CHER😎). Take a look at some important information below and contact us with any questions.
---
CHER's mission continues to focus on strengthening educational partnerships between Trinity and the Hartford community. Due to the pandemic, CHER's efforts will take a different form during Fall 2020.  With the well-being of the Hartford community in mind, CHER's community engagement activities will be largely online, rather than in person. Specifically:
All off-campus Trinity-sponsored engagements by students must have specific academic or co-curricular purposes, be approved by the College, and be supervised by a Trinity faculty or staff member. During all activities participants will be 6 feet apart while wearing masks. These engagements will be extremely limited, especially in the first few weeks of the Fall semester.
To ensure the health and safety of the Hartford and campus community, there will be no on-campus visitors, with the exception of essential visiting personnel, through September 20th. After that date, outside groups may be allowed on campus on a limited basis with approval. Approvals will be considered when the College has developed an understanding of how the virus may be affecting the community. If you are a community partner working with students this semester, meetings must occur via phone, Zoom, or another online platform at least through September 20th, and likely beyond.
Trinfo Cafe will reopen Monday, September 21, to allow access to internet and office resources, but without additional events.
The Liberal Arts Action Lab is paused for Fall 2020 and is currently not hosting visitors or booking events. For questions on the Lab, please contact Morgan Finn at 

[email protected]

Additional information on the College's reopening policies can be found at https://www.trincoll.edu/reopening. For questions on CHER's programming during the pandemic, please contact Abby Fisher Williamson.
---
Staying Connected to the Community: Remote Volunteering Database
In response to the evolving needs of both the Trinity and Hartford communities, CHER is excited to announce that we are revamping our Remote Volunteering Database! Community partners can share their opportunities with the campus community. Students, faculty, and staff can submit their skills and ideas. CHER team members will then match potential volunteers with partners based on the results. Phone or online engagements are preferred since most student engagement will be remote; staff and faculty may be able to participate in person. Examples of remote volunteering from Spring 2020 can be found here.
---
We're Hiring: Program Manager, Trinfo Café & Office of Community Relations
Come work with us! The Office of Community Relations and the Trinfo.Café seek applications for a Program Manager position to begin in September 2020. Candidates must be fluent in Spanish. Apply here.
---
Announcing the Fall 2020 Community Learning Research Fellows
The Center for Hartford Engagement & Research is pleased to announce the 2020 Community Learning Research Fellows! In this competitive program, a group of select students with previous community engagement experience will design and execute remote research projects in collaboration with Hartford community partners and faculty sponsors, with guidance from Colloquium instructor Laura Holt and Teaching Assistant James Jeter.
Alli Futter '23 and faculty sponsor Susan Masino – 2 Your Health Alternative Addiction Treatment
Malika Buscaino '23, Wendy Salto '22 and faculty sponsor Julie Gamble – Commission for Refugee and Immigrant Affairs (CRIA)
Bea Dresser '22 and faculty sponsor Ben Carbonetti – CT Coalition Against Domestic Violence
Brenda Piedras '21 and faculty sponsor Abigail Williamson – National Association of Community Health Workers
Kevin Torres '21 and faculty sponsor Garth Myers – Northside Institutions Neighborhood Alliance (NINA)
---
Trinity Continues Virtual Tutoring and Mentoring
with Hartford Students
The Jones-Zimmermann Academic Mentoring Program is excited to return for the second year of its 3-year cohort this fall. This year students will be welcomed virtually, with online homework help and activities to further develop the existing mentor-mentee relationships. "This year has been far from normal," said Beatrice Alicea, Assistant Director of Community Service and Civic Engagement. "We are grateful to be able to reconnect our mentors and mentees and bring some consistency and support during a time of unexpected change." Trinity students who are interested in becoming a tutor or mentor can also find opportunities here.
---
Growing Relationships at Trinfo Café's
Community Garden
Trinfo.Café's community garden received repair and renovation this summer thanks to crowdfunding by Professor Susan Masino and the Simsbury Grange and a matching grant from Sustainable CT Community Match Fund. Hartford community gardeners and Trinity students, faculty, and staff will be able to come together to garden in new raised beds with replenished soil and basic supplies for safe outdoor gardening. Read more here.
---
'Feeding 2020 Initiative' Delivers Meals to Hartford Families
Since the surge of the COVID pandemic in Connecticut in mid-March, many Hartford area families have experienced exacerbated food insecurity. To respond, Trinity's dining service partner Chartwells, the Office of Spiritual & Religious Life, Moral Monday CT and others in the Hartford and Trinity community have partnered to deliver hot meals to families twice per week. Thank you Assistant Dean of Students John Selders, former Chaplain Allison Read, Moral Monday CT co-founder Pamela Selders, Chartwells District Manager Tony Chenette, as well as Joe Barber, Erica Crowley, Carol Montesi, Professor Stefanie Wong, Craig and Jose at McKinney Shelter, Miss Pat at the Teacher's Village, Lilly Herrera and others members of our community! Read more about the initiative in this article by Emma Sternberg '20.
---
Community Service Office Supports SINA School Supply Drive
Joe Barber and the Office of Community Service and Civic Engagement kicked off the school year by teaming up with SINA for their school supply drive! With donations from Trinity College, Hartford Hospital, and Connecticut Children's Medical Center, the drive provided backpacks with school supplies for 105 students and school supply kits for another 20 children who live in Frog Hollow. Thanks to Joe Barber and the Office of Community Service and Civic Engagement for leading this campaign on campus and to the Track and Field Team and Athletes of Color Coalition for their donations. A special thank you to Elisa Griego from the Austin Arts Center, who made face masks for each of Trinity's backpacks, and to Assistant Track and Field Coach Bill Morgan for his generous financial contribution to support this effort. Photo by SINA.
---
Race and Schools: List of Talks and Programs 2020-21
Looking for more information about race in schools? Check out this informal list of online talks and programs compiled by Trinity's Robert Cotto Jr., director of the HMTCA partnership and DEI Fellow, and co-author Stefanie Wong, Assistant Professor of Educational Studies. This resource includes upcoming events in September 2020 and will be updated regularly throughout the school year. Today's lineup includes an anti-racism webinar for current and future teachers and a virtual public forum on racism and equity.
---
Liberal Arts Action Lab: Update on programming and events
The Liberal Arts Action Lab is paused for Fall 2020 due to the pandemic. For now, you can find the exciting results from last semester's projects here. For questions on the Lab, please contact Morgan Finn at [email protected].
---
Public Humanities Collaborative Explores Digital Tools in Remote Work
This summer, Trinity's Public Humanities Collaborative (PHC), a component of the Summer Research Program funded by the Andrew W. Mellon Foundation, went fully remote. Students worked creatively with faculty and Hartford community partners on archival research, oral history interviewing, digital storytelling, story mapping, exhibit planning, social media engagement, website construction, and more. As an enrichment to their field experience, students also attended weekly lunch-and-learn workshops focused on careers in the humanities, using digital tools, and broader issues like ethical approaches to research and community projects. Read more about the PHC here.
CHER Director: Abby Williamson
Community Learning Director: Erica Crowley
Community Service and Civic Engagement Director: Joe Barber
Community Service and Civic Engagement Assistant Director: Beatrice Alicea
Liberal Arts Action Lab Communications and Program Assistant: Morgan Finn
Trinfo.Cafe and Office of Community Relations Director: Carlos Espinosa
HMTCA-Trinity Partnership Director: Robert Cotto Jr.