Named for Trinity traditions and history, the Nests foster community among our students.
The Bantam Network encompasses 5 Nest pairings, each functioning as a coordinated network of care for our students. Each Nest contains a unique support system of Nest Resource Team and Community Mentors. The resource team and mentors help guide students as they navigate the rewards and complexities of collegiate life.
Through the Nests, we foster community by engaging students in on-campus programming, exploration of Hartford, and experiential learning opportunities.

Explore The Nests
All new students entering the College are placed into a Nest. While Nest placement for first-year students are based on their selection of the First-Year Seminar, transfer students are often placed in Nests associated with their Faculty Advisors. The Nest Resource Team and Community Mentors encourage students to build and maintain relationships with the many resources available to them throughout their time at Trinity.
Nest Resource Team
The Nest Resource Team encourages students to make active use of their network of care, as they navigate the rewards and complexities of their Trinity experience. Through their Nest, students are encouraged to connect with their:
Nest Dean

Bantam Network Residential Learning Community Staff Member

Faculty Advisor
Community Mentors
An extension of the network of care, the Community Mentors are peers mentors within the Residential Communities and First Year Seminar classrooms. Through their Nest, students are encouraged to connect with their:
Resident Advisors

P.R.I.D.E. Leaders

First-Year Seminar Mentors

Nest Fellow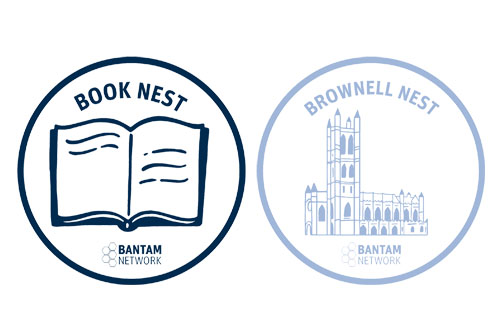 Book Nest references the college's oldest continuously observed tradition. During the Matriculation ceremony, each incoming first-year student is asked to sign the matriculation declaration, otherwise known as "The Character and Standing Rules," first penned in 1826. Held annually in our historic Chapel, this book signing is the symbolic act of enrolling at the college and indicates the official opening of the academic year.
Brownell Nest is named after Trinity's founder and first president, the Right Reverend Thomas Brownell. A statue of Brownell is situated at the center of the College's Main Quadrangle, overlooking students at Convocation and Commencement.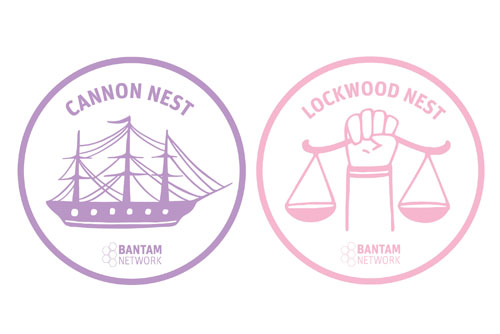 Cannon Nest is named for the two cannons located on the Main Quadrangle. They were salvaged from the steam powered U.S.S. Hartford and gifted to the college, memorializing those Trinity students who served their country. Among those who served is the nephew of Trinity's founder, The Right Reverend Thomas Brownell.
Lockwood Nest is named for Theodore D. Lockwood '48, H'81, who served as Trinity's 15th president. He presided over the college during a time that saw the inception of co-education and an increase in admittance of students of color.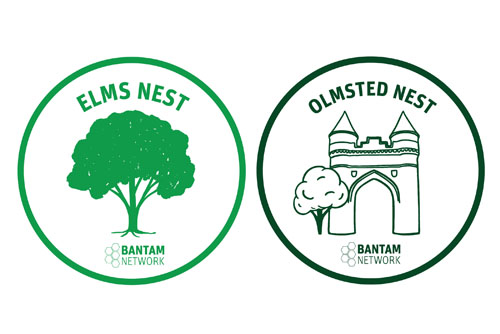 Elms Nest references Trinity's  famous elm trees, planted in the shape of a "T" on the Main Quadrangle. All Bantams are also familiar with the school's alma mater, "'Neath the Elms," written by Trinity student Augustus P. Burgwin in 1882.
Olmsted Nest honors Frederick Law Olmsted, American landscape architect, journalist, social critic, and public administrator. He had a hand in shaping the campus we love and is otherwise known for his co-design of Central Park in New York City, among other famous parks.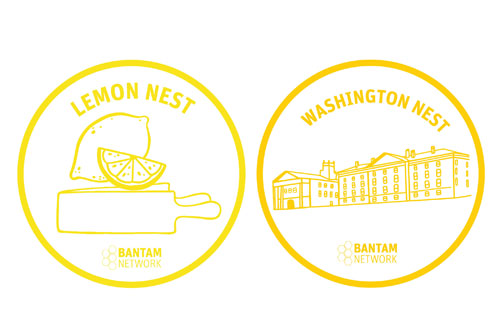 Lemon Nest harkens back to Class Day in 1857, when a senior presented a wooden lemon squeezer to the Class of 1859 as recognition of the sophomores' "aggregate excellence in scholarship" and "moral character." From that day forward, every Class Day included a ceremonial passing down of the lemon squeezer to the most popular rising class. Today, that very lemon squeezer makes an appearance annually during Convocation, a tradition that is followed by lemonade for all.
Washington Nest refers to Trinity College's original name being Washington College,  when it was founded in 1823. The school's name was dubbed Trinity in 1845 in reference to its' Episcopal roots and to differentiate itself from other institutions known as Washington.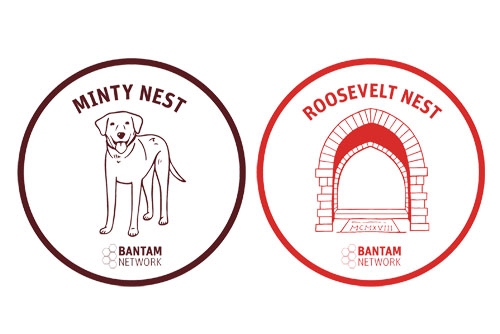 Minty Nest honors President Berger-Sweeney, who introduced the  student competition that resulted in the Bantam Network. The Minty Nest is named for her beloved golden Labrador, Minty. Students, faculty, and staff alike often see Minty being walked across campus.
Roosevelt Nest is named for the Luther-Roosevelt stone, which was laid in 1919 after Theodore Roosevelt delivered the Commencement address in 1918, at the request of then college president Flavel S. Luther. Trinity students have since observed the tradition of never stepping on the stone before their Commencement ceremony.

Nest Advisors
Book & Brownell Nests: Jody T. Goodman, Dean of Student Life and Director of the Bantam Network
Cannon & Lockwood Nests: Robert Lukaskiewicz, Dean of Community Life and Standards and Interim Director of Campus Safety
Elms & Olmstead Nests: Ann Reuman, Senior Associate Dean and Special Assistant to the VP for Student Success and Enrollment Management
Lemon & Washington Nests: John L. Selders, Assistant Dean and Director of Community Life and Restorative Justice
Minty & Roosevelt Nests: Trevor Beauford, Assistant Dean and Director of Student Leadership, Engagement, and Greek Life
Your First-Year Seminar instructor is also your faculty advisor.
Sheila Njau, Assistant Director of Bantam Network Operations and Strategic Planning
Liz Houston Magurno, Residential Learning Coordinator
Veronica Hills, Residential Learning Coordinator
Migdalia Crespo, Residential Learning Coordinator