Located on the ground floor of Austin Arts Center.

Current Exhibition: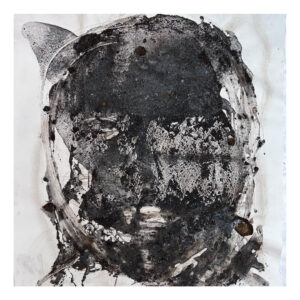 WE FIND OURSELVES IN THIS PLACE
Dates: 11.13 – 12.18
Hours: Monday – Friday, 10am – 5pm, Saturday 1 – 5pm
Reception 11.14 4:30-6pm (Artist Walk-through 5pm)
Artist Talk with Sophia DeJesus-Sabella 11.30 3pm
Artist Talk with Kevin Hernández Rosa 12.6 3pm
Department of Fine Arts and Widener Gallery are pleased to present We Find Ourselves In This Place, an exhibition featuring Traé Brooks, Sophia DeJesus-Sabella, and Kevin Hernández Rosa, three Hartford-based artists producing sculpture, assemblage, drawing, and weaving works that engage with how identity is shaped by—and in turn shapes— history and culture.
Many of the exhibited artworks are made with everyday materials and objects—such as kitchen tools, window fans, and clothing. With these often discarded or mundane things, the three artists engage with complex issues of identity, race, class, gender, and sexuality. The found objects hold only so much cultural information on their own. Looking at how the artists transform these materials, we begin to see subjects—memory, trauma, labor, agency—in actions including impressing, indenting, pulling, erasing, wrapping, covering, and stacking. These sculptural works appear malleable and show records of constant formation. The past is seen in residual imprints of things no longer present, or glimpses of what's hidden within the folds of something new.
The sculptures signal that we absorb and transform the influences around us. When DeJesus-Sabella weaves the image of floorboards on a loom, what is hard becomes soft. Different kinds of labor used to produce art and buildings are presented as fluidly interdependent. In the work of Hernández Rosa, letters are removed from a Little Debbie brand snack box, an industrial pipe is encrusted with sea debris, and an ornament is inverted into a new organic form filled with Utz cheese balls. One system's failure appears to be poetically opening space for a new language to assert itself in strange forms. The clothing and utensils hammered into welding scraps in the work of Brooks show us aggregate figures full of both invisibility and visibility. The slag dust from welding is smeared as the start, not end, of his portraits forming and falling off paper.
We Find Ourselves In This Place. This title refers to either a place in history or a location—maybe this gallery, a home, a city. Whatever this place is, in different ways, it influences us. In turn, our presence in this place also creates change. The transformed things in the exhibition —whether a fork, a wheel, or a bucket—all seem to operate as stand-ins for the self in how they are altered, as well as positioned like bodies in space. Each object seems to operate as the shifting site of the individual, variably registering place and in turn uniquely standing in place.
Curated by Lynn Sullivan, Assistant Professor of Fine Arts.
The Widener Gallery is free and open to the public.
For more information contact: Lisa Lynch: [email protected], 860 297 5237 Or Tracy Quigley, [email protected], 860 297 5232
Join Our Mailing List!
Sign up to receive the latest news from the Widener Gallery. Click here to add your email.