Hartford, Connecticut, August 23, 2018—You've probably spotted the bright green bikes around Hartford, but did you realize there's a new Lime hotspot on Trinity's campus? Conveniently propped at Mather Circle—between the Gates Quad and Summit Street—Lime bikes are available for use by Bantams, local residents, and visitors on campus. And, these handy modes of transportation are managed by Trinity's own Matthew Rivera '20 (pictured). Rivera, who is also co-president of the Men of Color Alliance (MOCA) club, is excited to help spread the word about Trinity's Lime hotspot.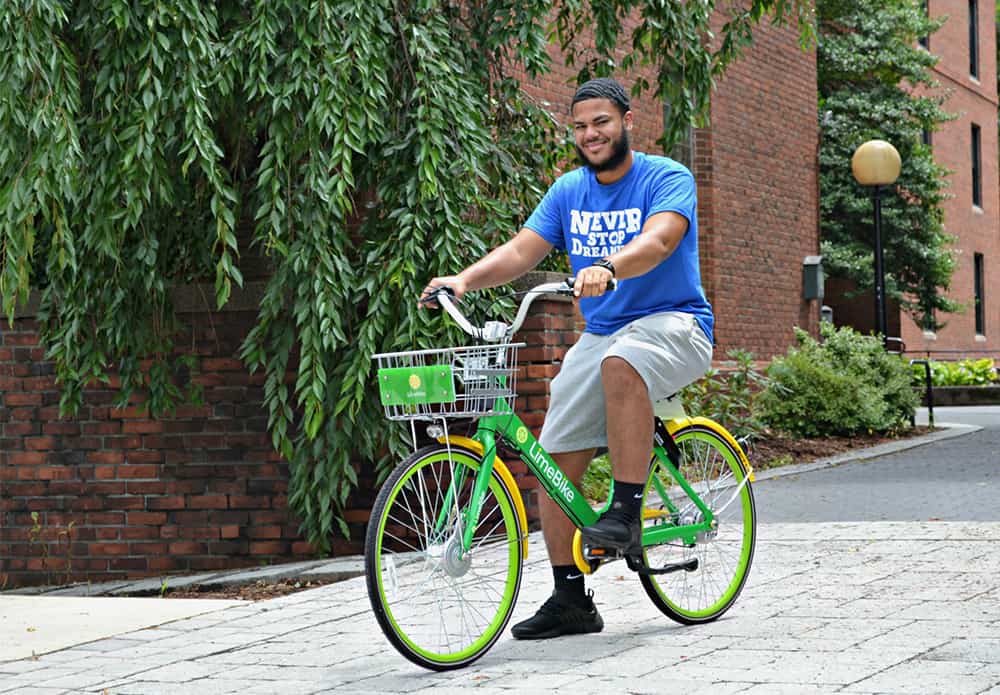 "It's a really fun and engaging way to be active—even if you're just going to ride around campus," explained Rivera, about why he's encouraging students to try out Lime once they return to Trinity. "There are some good hills, some good inclines—get those quads going," he laughed.
Lime is a bicycle sharing company that found its start at the University of North Carolina, Greensboro, back in 2017 and rolled into Hartford in mid-June. The dockless bikes, which operate through a GPS system and mobile app, allow riders to pay $1 for a 30-minute ride.
Rivera, who said he was initially perplexed by the concept of "dropping off the bikes," ended up reaching out to Darrin Rees, Lime's Hartford operations manager, when Rees visited campus at the end of June. The meeting led to a conversation between Rivera, Rees, and Jack Dougherty, professor of educational studies at Trinity, and left Rivera with a job managing Lime on campus. Working with Joe Barber, the director of Trinity's Office of Community Service and Civic Engagement, Rivera is responsible for promoting and organizing the Lime hotspot and bikes on campus.
"Joe Barber and I are working on events to throw on campus to promote Lime so that people understand how to use the bikes," said Rivera, who shared the basic instructions for starting a Lime ride and answered some "frequently asked questions" about bike sharing: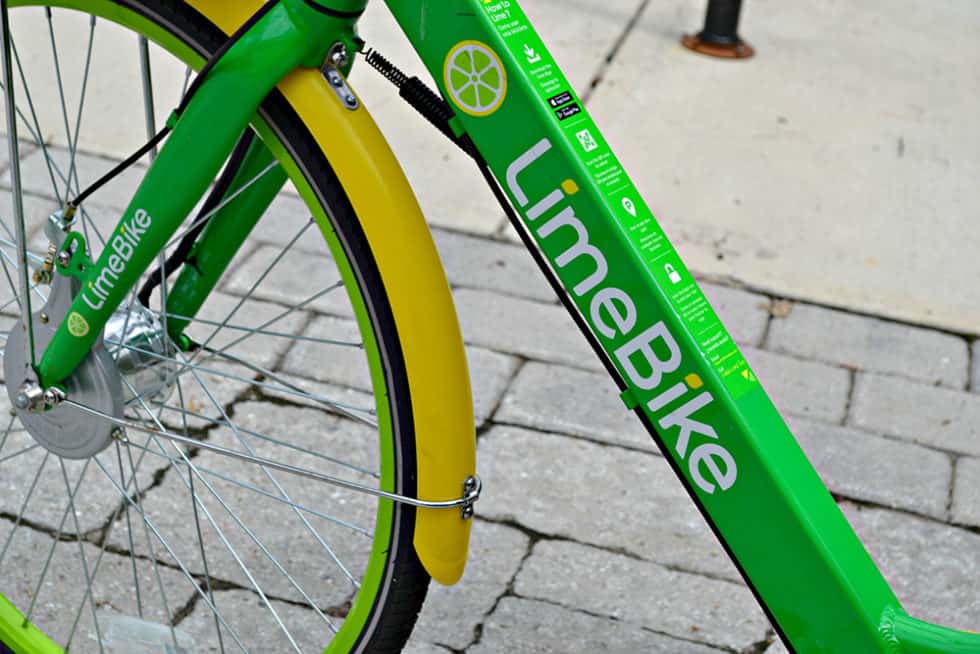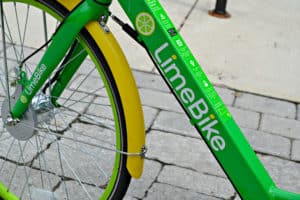 How do you start a Lime ride?
So, you download the app, which is "Lime" on any app store. You enter in your phone number, and they send you a code. You put in the code and your credit card information. Then, you go up to a bike, you scan the QR code on the back of the bike, and then you begin riding. The app will automatically charge you $1 for every 30 minutes that you ride.
How do you keep from getting charged once your ride is over?
It's very important that when your ride is over, you go to the back of the bike and push down the red lever because that will end your ride. If you don't push that red lever, other people realize that it is still open and going, and someone else will be riding your bike and running up your credit card.
Why Mather as a Hotspot? Why not Vernon?
Mather was chosen as a hotspot because it is sort of a central location on campus. Lots of students congregate in the Mather Circle area, especially during Common Hour. We've also pitched the idea of bringing a hotspot onto the north end of campus—mainly on Vernon Street. We just want to see the flow of the bikes and the way that they disperse onto campus, and then we'll move from there.
Why is having Lime on campus beneficial to students?
I think it's beneficial to the community and to students because it promotes bike culture on campus. If Trinity were to pursue its own bike sharing program, it would be ridiculously expensive. So, it's a much easier and safer option for Trin to allow Lime to put their bikes on campus, and to then hire a student worker like me to manage the bikes on campus.
And as for student feedback? Rivera hopes that as the semester begins, students will be willing to share their feedback with him directly, or by contacting the Office of Community Service and Civic Engagement.