Spring 2021
Thursday April 15, 2021
1:10pm Common Hour  Co-sponsored by the Center for Caribbean Studies and Environmental Science.(rescheduled from spring 2020)
Lisa Paravasini, "The Port of Santo Domingo: Tidal Debris, Metal Pollution, and the Perils of Poverty Where the Caribbean Meets the Ozama."
Lisa Parvasini is Professor of Hispanic Studies on the Randolph Distinguished Professor Chair, Vassar College. Prof. Paravasini is the author of several books including Endangered Species: The Environment and Discourses of the Caribbean Nation.
To register, click here
Monday April 5, 2021
7pm, Wassong Annual Lecture (rescheduled from spring 2020)
Maurice Wade, "Lloyd Algernon Best: Decoloniality and the Epistemic Importance of Place."
Maurice Wade is Professor of Philosophy at Trinity College. Prof. Wade is co-editor of The Moral Dimensions of Public Policy Choice, as well as the author of numerous articles on race, sports, and animal liberation.
To view the lecture, click here
Thursday March 4, 2021
1:10 pm, Common Hour,Co-sponsored by American Studies and Anthropology (rescheduled from spring 2020)
John Jackson, Jr., "What Scholarship Looks and Sounds Like: Toward an Auto-Ethnography of Multimodality." John Jackson, Jr. is the Walter H. Annenberg Dean of the School for Communication, University of Pennsylvania, Richard Perry University Professor;  Dean Jackson is the author of books including Harlemworld: Doing Race and Class in Contemporary Black America, Real Black: Adventures in Racial Sincerity and co-editor of Social Policy & Social Justice. In addition, he is a film director and producer.
To register, click here
Tuesday March 2, 2021
1:10pm Common Hour, Co-sponsored with Classical Studies
Hunter H. Gardner, "Politics and Pestilence in Early Imperial Rome"
Hunter H. Gardner is Professor of Classics and Comparative Literature at the University of South Carolina, where she teaches a wide range of courses on Greek, Latin, and the ancient Greco-Roman Mediterranean. She is the author of Gendering Time in Augustan Love Elegy, and Pestilence and the Body Politic, and co-editor of Odyssean Identities in Modern Cultures: The Journey Home and Ancient Epic in Film and Television.
To view the talk, click here
Tuesday February 23, 2021
5:00 pm, Co-sponsored with the Center for Caribbean Studies
Faculty Panel, "Climate Change: the Ultimate Multi-Disciplinary Problem"
 To understand and meet the challenge of climate change, we need to bring to bear all the intellectual, moral, and aesthetic resources we can muster. A panel of Trinity professors from across the College's divisions — Natural and Social Sciences, Humanities and Arts — give examples of how they are approaching the existential crisis of our time. With Panelists: Johannes Evelein, Professor of Language and Culture Studies, Renny Fulco, Associate Professor of Legal and Policy Studies, Christoph Geiss, Professor of Physics and Environmental Science & Peter Kyle, Assistant Professor of Theater and Dance.
To view the talk, click here
January 2021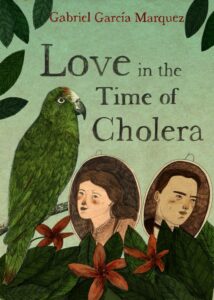 Wednesday, January 13, 2021
Co-sponsored by the Center for Caribbean Studies, English, Hispanic Studies and LACS
A Faculty Webinar Panel, "Love in the Time of Cholera"
As we ride the wave of the pandemic into another calendar year, please join our panelists for a discussion of Gabriel Garcia Marquez's Love in the Time of Cholera, a novel chronicling a passion that spans decades and outlasts pandemics. Diana Aldrete (Hispanic Studies), Dario Euraque (History), and Sheila Fisher (English) speak about the novel from their own disciplinary perspectives as they link its themes to the concerns of our own historical moment.
Fall 2020
Thursday October 22, 2020
Co-sponsored by The Academy of Lifelong Learning (ALL)
Kevin McMahon & Rachel Moskowitz, "Pandemics, Polarization, and Presidential Politics"
This panel, with Rachel Moskowitz (Public Policy and Law) and Kevin McMahon (Political Science) will explore various aspects of this year's presidential race, including questions such as: Will factors that have mattered most in the past apply to the race this year? How closely should we pay attention to public opinion polls? Will President's Trump handling of the Covid-19 crisis ultimately determine the victor in this race? Will the Supreme Court issue and the pending Senate confirmation of Amy Coney Barrett change the conversation of the campaign? What strategies are the two candidates employing and how might they make a difference when all the votes are counted?
Wednesday October 28, 2020
Co-sponsored with Trinity's department of Theater and Dance
"Screendance" a viewing and panel discussion facilitated by Rebecca Papas.
What is Screendance? How do you capture the spirit and motion of a living art form for the camera? In the age of Instagram and TikTok why make dance films? Join us for an illuminating discussion and screening with three visionary filmmakers and choreographers who will discuss their work and artistic processes in creating dance for the camera.
Thursday, November 12, 2020
Presented by Trinity Alumni  Kari Sweeney Efferon '03, Associate Director at Pfizer "The Vaccine Pipeline: Developing Safe and Efficacious Vaccines to Protect Against Some of our World's Most Serious Threats"
The typical lifecycle of a vaccine from early research to commercial release is about 10 years. For the scientists, this is a very slow and methodical process with minimal risk to the company developing the product. When the need arises, how do companies accelerate that development, while hitting all the necessary milestones of safety and efficacy of a traditional 10 year development process? Walk through the marvel of careful consideration, risk analysis, innovation, in-parallel work streams and the full work force and resources available at a company to make the impossible possible! To view the webinar click here.
Summer 2020
Tuesday, July 28, 2020
A faculty discussion on Albert Camus' novel The Plague (La Peste) co-hosted with the Leonard E. Greenberg Center for the Study of Religion in Public Life.
For a recording of the webinar please click here.
Spring 2020
We regret that due first, to inclement weather, and then COVID-19 and the subsequent lockdown, that our Spring 2020 events had to be canceled. We have rescheduled them for Spring 2021.
Fall 2019
Thurs., Oct. 3, 12:15-1:15
David Grubbs, "Records Ruin the Landscape"
Professor of Music at Brooklyn College and The Graduate Center, CUNY.  He is the author of Now that the Audience is Assembled and Records Ruin the Landscape: John Cage, the Sixties, and Sound Recording (both Duke University Press).
Thurs., Oct. 31, 12:15-1:15
William Uricchio, "On Collective Wisdom"
Professor of Comparative Media Studies at MIT and Professor of Comparative Media History at Utrecht University; principal investigator of the MIT Open Documentary Lab.
Thurs., Nov. 7, 12:15-1:15
Geoff Sanborn, "Plagiarism and Pauline Hopkins"
Henry S. Poler '59 Presidential Teaching Professor of English and author of Plagiarama! William Wells Brown and the Aesthetics of Attractions (New York: Columbia University Press)
Thurs., Dec. 5, 12:15-1:15
Ilan Stavans, Breaking Intellectual Boundaries: "Interrupting Myself"
Lewis-Sebring Professor of Humanities and Latin American and Latino Culture at Amherst College. Author of Spanglish: The Making of a New American Language (Harper Collins).