What to Expect
Trinity Tech-Edge combines technology essentials, business innovation, and career enhancement sessions to leverage your liberal arts background in the emerging field of digital technology and prepare you for the future of work. You can expect to acquire core technology skills led by Trinity College computer science professors in a program designed for students and recent graduates with little or no STEM background. Business innovation fundamentals will be led by industry experts in the fields of accounting, marketing, finance, operations, and strategy, as well as Infosys-powered digital technology. The two-day Design Thinking bootcamp will introduce you to a human-centered process for creative problem solving, which you will apply to a real-world challenge during the final days of the program. And our career development sessions will empower you to articulate how your new skills give you a professional edge.
Technology Essentials
Programming and Software Development Basics
Introduction to Artificial Intelligence
Cybersecurity Fundamentals
Data Analysis & Visualization
Ethics, Privacy and Compliance
Blockchain Technologies
Innovation Sessions
Design Thinking Bootcamp
Business Innovation Fundamentals and possible Career Paths

Topics: Accounting, Marketing, Finance, Operations and Strategy
Career Paths: Tech (Software and Hardware), Venture Capital, Consulting, Investment Management, Public Policy
Career Enhancement
Clifton Strengths Assessment: Maximize your potential with a personalized talent assessment
Leveraging the Liberal Arts: Articulate how your skills apply professionally
Career Coaching: Future of Work Forums and resume workshops
Personal Branding Sessions: Define your own personal brand and mission
Values-Based Tech Innovation: Learn to integrate inclusiveness and sustainability
Digital badge: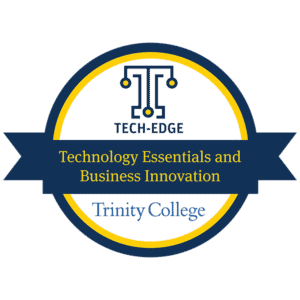 Program completion will be recognized with a digital badge that can be published on social media such as LinkedIn and/or listed in your resume.