Based on the Aventine Hill, the southernmost of Rome's seven hills, Trinity's Rome Campus is surrounded by ancient churches, monasteries, and spectacular views. 
IMPORTANT NOTE: The dates and courses below are from 2023. The 2024 summer dates and courses will be posted soon.
---
June 2nd – June 30th, 2023 (4 weeks)
April 1st – Application Deadline
Open to Trinity and Visiting Students
Language of Instruction: English
Overview
Trinity College Rome Campus Summer Institute runs for four weeks and offers three courses constructed in collaboration with local community partners. Courses are supplemented by a unifying cross-course interdisciplinary seminar series and an optional intensive Italian Language Lab.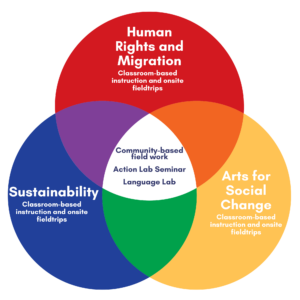 Students enroll in one course from one of the Summer Institute's three thematic areas of Human Rights & Migration; Sustainability; or Arts for Social Change.
The Trinity College Rome Campus Summer Institute is an exciting opportunity for undergraduate students in all fields of study to explore first-hand the interconnected nature of global and local issues in one of the oldest and most international cities in the world. The Summer Institute proposes community-envisioned collaborative projects supported by academic courses, research, and field work. The Summer Institute  courses are taught by Trinity College faculty from Rome and constructed in collaboration with local organizations with the aim of applying research and academic field work to promoting social change and supporting civic sustainability. The Trinity College Rome Campus Summer Institute facilitates dialogue and collaboration between students, professors, and community partners. Through a host of local partners, students will experience first-hand the complexity of addressing global issues in practice in an international and contemporary urban setting.
Courses
Students will enroll in one of the three courses below:
ROME 318 – Migration, Citizenship & Borders through the Arts – 1 Trinity Credit (Human Rights & Migration Theme)
This course offers students a unique inter-disciplinary entry point into understanding migration, displacement, belonging and citizenship in Italy and beyond both historically and in the present through a combination of participatory fieldwork and academic engagement across the social sciences and the arts. Drawing on the importance of storytelling to the migrant experience, selections from the narrative text of one of Italy's most famous exiles, Dante, will serve as a framework for organizing our approach to the topic of migration in relation to social science research and the humanities. As an interactive component of the course, refugees in will be invited into the classroom to participate together with students in a collective reading and discussion of Dante's text and the theme of migration. The course will also include the unique opportunity to be trained in and conduct participatory research in cultural exchange with local arts organizations, museums and NGO's. Faculty: Jennifer Allsopp.  Watch the Course Introduction Video by Professor Allsopp
ROME 370 – Urban & Global Rome – 1 Trinity Credit (Sustainability Theme)
This is an interdisciplinary course that draws on perspectives from anthropology, sociology, political science, geography, economy and other relevant disciplines. It offers the students local perspectives on globalization as it allows global perspectives on the city of Rome. The intertwined processes of globalization and localization ("glocalization") will be addressed via an in-depth study of the city and the social, cultural, political, demographic and economic transformations Rome is currently going through. On-site visits will enable students to experience alternative settings of the "Eternal City" and give them direct contact with local inhabitants and representatives of religious/ethnic minority groups. Faculty: Piero Vereni; Simone Cerulli (TA).  Watch the Course Introduction Video by Professor Vereni
ROME 273 – Art & Activism in Rome – 1 Trinity Credit (Arts for Social Change Theme)
How do art and activism intersect? How can artists, curators and cultural workers engage in creative practices that subvert existing power mechanisms, engage communities, and bring political and social change? This course will explore the history and genealogy of the relationship between art and activism through diverse examples of feminist art, performance art, public art and socially engaged artistic practices, created in different regions of the world. Through an interdisciplinary and intersectional approach, the course will engage with different strategies and forms of countervisuality and protest in art from the early twentieth century up through contemporary examples of "artivist" actions. Through examples of artistic activism, the course will explore themes such as social justice, racial justice, decolonization, gender equality, immigration, climate change, and LGBTQIA+ visibility. The course will have a robust field component, including meetings and conversations with Italy-based artists and art workers, visits to art projects, associations, artist-run spaces, contemporary art institutions and local festivals. Faculty: Anna Gorchakovskaya.  Watch the Course Introduction Video by Professor Gorchakovskaya
Outside of the Classroom
2-night trip to Venice & Milan
Seminar series which will bring the three courses together
Access to an Italian Language Lab
Extra-curricular activities:

Trip to the beach
Wine tasting
Bike riding on the Appian Way
Cooking class
Visits to important museums and sites in Rome
Housing & Meals
Double occupancy rooms.
Each room is equipped with a private bathroom, including a shower.
Wireless internet access is available in all areas.
Basic room cleaning services are provided daily.
Coin-operated washers and dryers
You will be provided with linens, blankets, pillowcases and towels.
7 meal vouchers per week that are redeemable at several neighborhood restaurants, pizzerias, delis and cafes.
Cost
$6,500
Includes tuition (1 Trinity credit), room and partial board, off-campus course trips, overnight weekend excursion, international safety and health insurance, transportation to and from the airport. Does not include airfare, partial board, passport application and fees (if applicable) and spending money.
Scholarships
Trinity College is pleased to offer qualifying students Rome Campus Summer Institute Scholarships. The scholarships are intended to help defray the cost of studying away. In order to be considered for a scholarship, applicants should submit the additional scholarship information as outlined in the Rome Summer Institute application. Students' financial aid packages will be reviewed to determine eligibility and award amount. All Trinity and visiting students are eligible to apply.
GET IN TOUCH
Get in touch
Lindsay Oliver
66 Vernon St.
Hartford, CT 06106