Q&A: Skyler Szot '21 on his NASA Internship
Skyler Szot '21—an electrical engineering student from Farmington, Connecticut—is representing Trinity College on the west coast during his semester-long internship at NASA's Armstrong Flight Research Center (AFRC) in California. The AFRC is NASA's premier atmospheric test flight center, offering researchers a 20-mile-wide dry lake bed for emergency landings.
With support from Trinity's Engineering Department, Szot has been able to translate his academic experiences in the liberal arts into the workplace. Over the summer, Szot interned for Los Alamos National Laboratory in Los Alamos, New Mexico. This fall, Szot has been working at AFRC on developing a data acquisition system for the next generation of the Fiber Optic Sensing System (FOSS) with his mentor, research engineer Allen Parker. Additionally, Szot recently produced a code for the ULA Vulcan rocket in an effort to safeguard against overheating in the laser.
Below, Szot shares some of his thoughts and experiences from the internship.
Written by Emily Wickles '20
What excites you the most about working with NASA?
I'm excited to support NASA's mission to pioneer the future in space exploration, scientific discovery, and aeronautics research.
What do you feel you've learned thus far?
I've learned a lot of technical skills like printed circuit board design and fabrication, soldering, micro controllers, and signal processing. I've also really gotten to experience NASA and what they do, and learned a ton about aerospace systems and how they work. It's also incredible to talk to the other employees and interns here; everyone is doing such different and exciting work.
Which of your experiences at Trinity helped prepare you for this professional internship?
I'm applying skills that I've learned from Professor [of Engineering Taikang] Ning's course sequence of "Linear Circuit Theory," "Digital Signal Processing," and "Microprocessors." Participating in the Interdisciplinary Science Program (ISP) was essential in me getting this NASA internship. I got involved in research with Professor Ning in my first year and published a conference paper titled "A Wireless Digital Stethoscope Design" at the International Conference of Signal Processing and went to Beijing to present in August 2018. I also received a NASA undergraduate research fellowship in November 2018, titled "Helicopter Vibration Analysis through Spectral and Chaotic Analysis." Having these amazing research experiences made me a strong applicant to get a summer internship at Los Alamos National Lab, which is the leading nuclear research facility in the world and the birthplace of the atomic bomb. Having the Los Alamos experience is what finally got me a NASA offer.
Which student clubs or organizations are you involved with back on campus?
I am involved in the Institute of Electrical and Electronics Engineers (IEEE), Robotics Club, and the Computer Science Club. I was co-president of IEEE for the 2018-2019 academic year and took part in arranging on-campus lectures with engineers and graduate students. While in the Robotics Club, I helped build a robot for the Trinity College International Home Firefighting Robot Contest. Additionally, as part of the Computer Science Club, I was able to participate in four hackathons at Yale, Northeastern, Perkins School for the Blind, and the University of Massachusetts.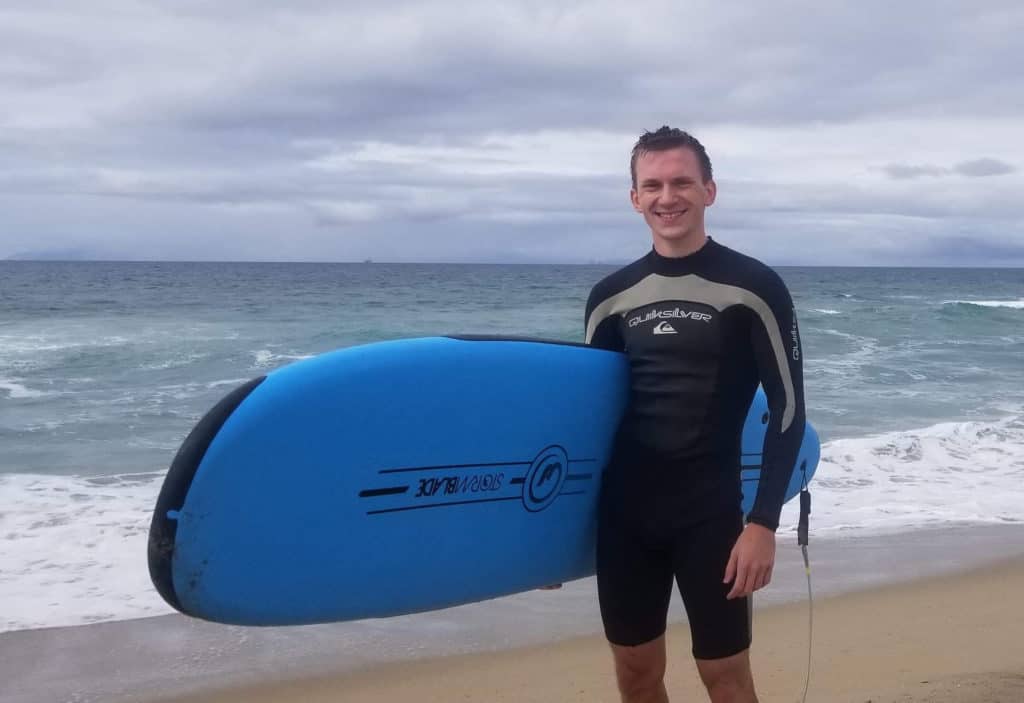 Outside of the internship, what have been some your favorite West Coast experiences?
The other intern in my lab who I work closely with is professional freestyle skier LJ Strenio. It's been a great time getting to know him and learning about the action sports world, while also doing awesome work together at NASA. A fun experience we had was spending a weekend at Huntington Beach, where he taught me how to surf. Additionally, I have been able to explore L.A., Hollywood, San Diego, and Sequoia National Park. I took a glider pilot training course and flew myself afterwards!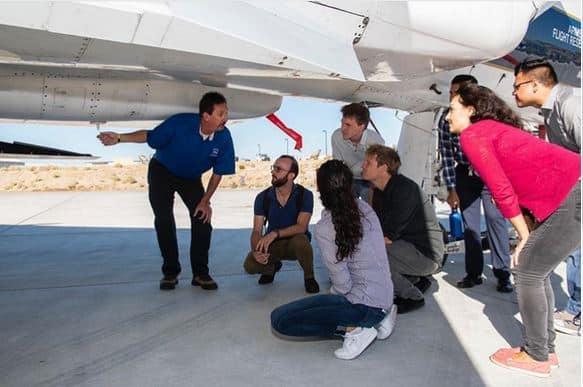 What are some of the coolest facts you've learned while working for NASA?
The X-15 was an aircraft flown at NASA Armstrong in 1959. It set the manned aircraft speed record of 6.7 times the speed of sound.
Sometimes NASA scientists don't even start writing the code for deep space probes until after launch, because it can take decades to reach the destination.
How has this internship impacted your experience at Trinity?
This internship has been incredible for my undergraduate experience. What I've learned here at NASA will definitely help me in deciding where to go and what to study in grad school. Having a NASA research experience carries huge weight and is something I'll probably talk about for the rest of my life.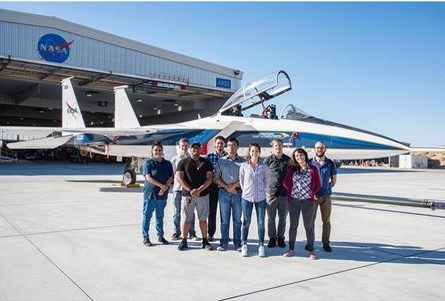 What are your plans for after this internship?
Next semester I will be studying abroad in Belgium, at Katholieke Universiteit Leuven. I'm participating in the Euroscholars program, which allows U.S. students to get research experience abroad. I will be working with Professor Marc Moonen, who is a professor of electrical engineering specializing in signal processing. He is an IEEE fellow, president of the European Association for Signal Processing, and previously did work with Bell Labs. I am super excited to work with him, and also to visit Europe for the first time. I will be returning to Trinity for the 2020-2021 academic year to complete my degree. After receiving my undergraduate degree, I want to pursue a graduate degree in electrical engineering.
Szot pursued this NASA-paid internship outside of his studies at Trinity; it's one among many types of internships that Trinity students experience. Trinity's Center for Student Success and Career Development helps students find and apply for internship opportunities that meet their needs and interests in Hartford and beyond, often for academic credit. For more information about Trinity student internships, click here.