Back to News
Trinity Community Continues to Gather — in Virtual Spaces
Trinity Community
posted
by Andrew J. Concatelli
Being separated physically has not kept the Trinity College community from connecting this semester.
While the COVID-19 pandemic prevents large gatherings in spaces like the Washington Room, Vernon Social, or the Chapel, groups across campus are getting creative by moving events and activities online and inviting people to attend from wherever they are.
Trinity Counseling and Wellness Center Director Randy Lee '66 said that humans are generally social animals and thrive on being together however possible. "In times of crisis, emergency, and trauma—especially when the crises affect so many of us at once—we seek out support, reassurance, and connection to help ease the loneliness, fear, doubt, and insecurity," he said.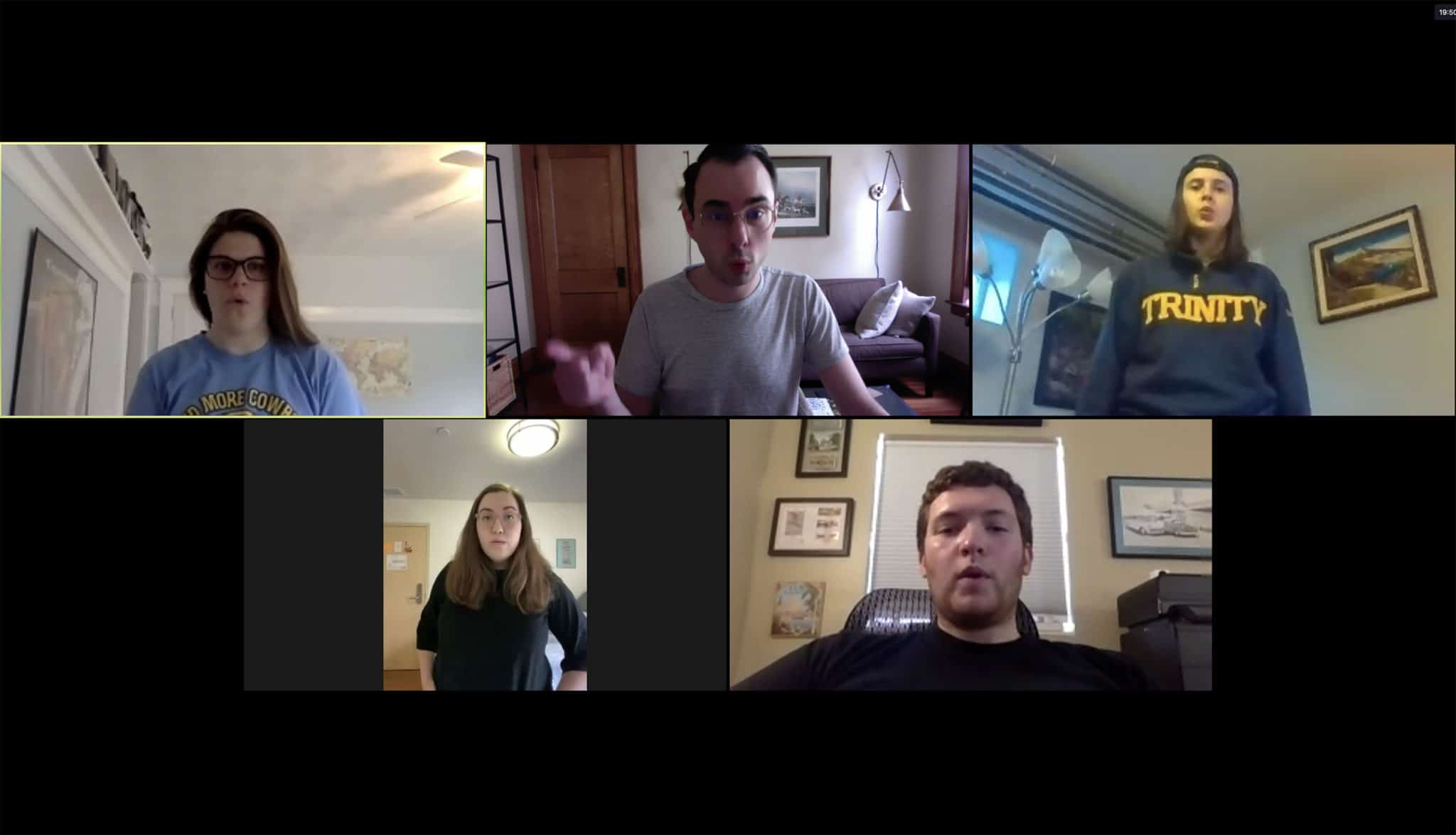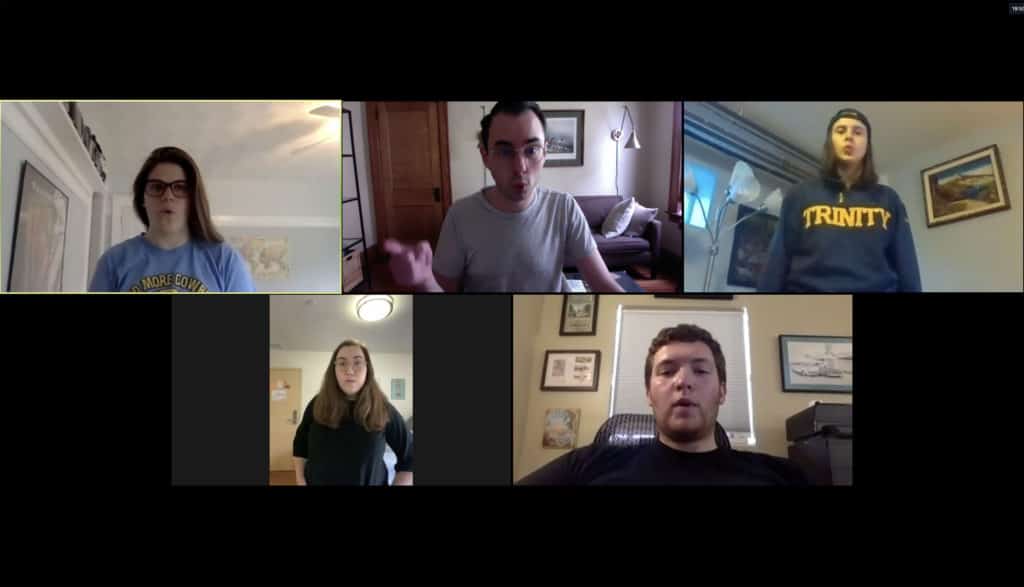 Lee sees a real value in how Trinity is enabling virtual human connections that can help everyone cope with a challenging situation. "Trinity is a remarkable community that has always valued the personal connections among ourselves," he said. "To find strength, recreation, diversion, stimulation, and shared joy in each other is human, and to seek new ways to connect and be 'together' in such a troubled world as ours is right now is a powerful statement of our connection as a college and as caring humans."
With those goals in mind, many campus groups are hosting online gatherings and events. Below are just some of the ways in which students and the entire Trinity community are staying connected virtually. To see the full schedule of upcoming events, visit Trinity's Events Calendar.
Student Activities
The Office of Student Activities, Involvement & Leadership (S.A.I.L.) held its first Virtual Trivia Night competition on April 2 and plans to offer the activity each Thursday this semester at 8:00 p.m. eastern.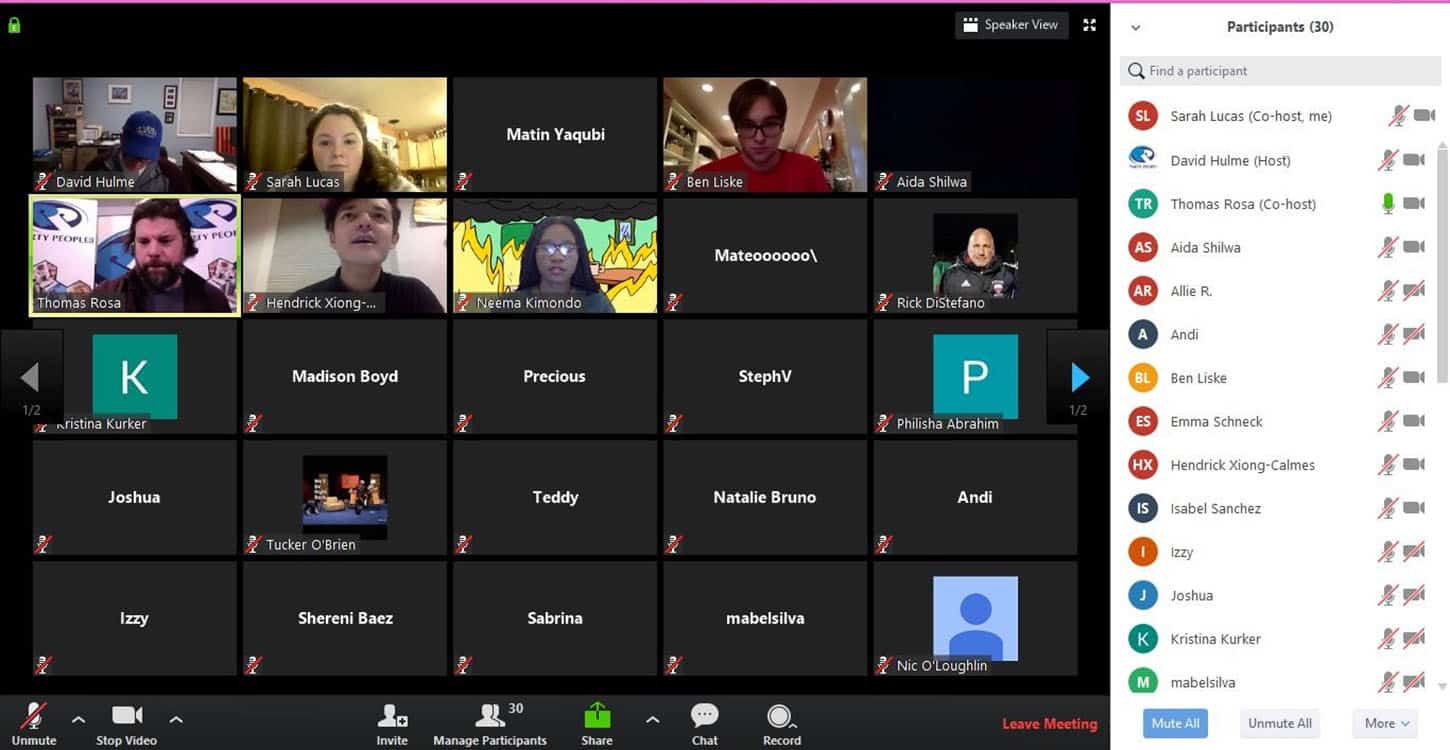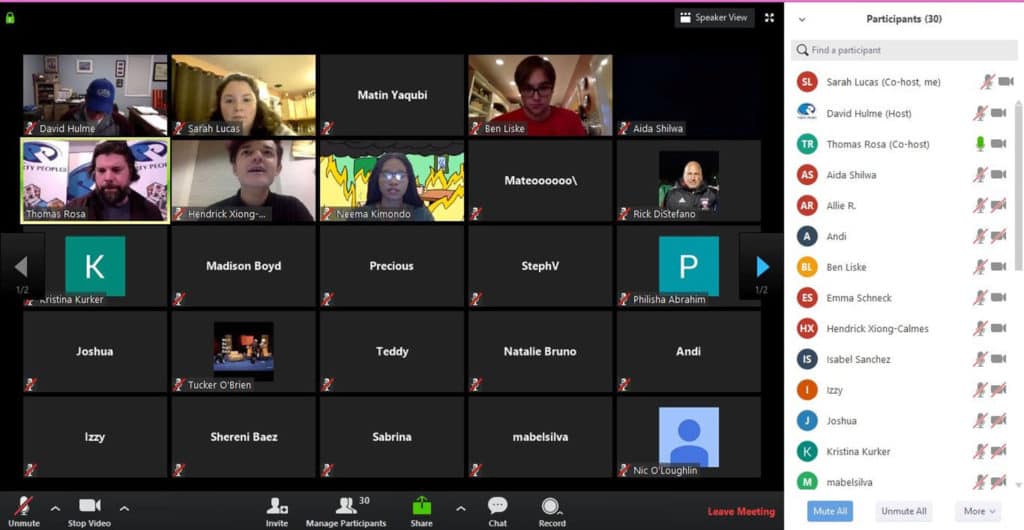 Sarah Lucas, assistant director of S.A.I.L., said, "We know this doesn't replace the in-person trivia tradition, but we think it's a good alternative during this time of social distancing in an effort to keep everyone connected and safe." S.A.I.L. also is looking into hosting other virtual games and activities for students and is collaborating with campus partners on a Virtual Spirit Week April 20 to 25 to engage the entire Trinity community via social media.
Trevor Bellows '20 said that he has been at Trivia Night in person every week during his time at Trinity, so he was excited to hear that it would continue online. Bellows said, "It is a way for students to come together outside of their academic classes and do something fun to get our minds off of school and the rest of the world."
Isabel Sanchez '20 added that Trivia Night helped create a sense of community and fun during a time of uncertainty and worry. "It has been hard to keep our spirits high and to make time for each other while in different places," she said. "Being able to see everyone's faces, whether still on campus or around the globe, made it feel like we were actually together in Vernon Social. Not only were we listening to music, dancing, competing, and looking at each other in the eye, but we were laughing. For me, laughter was the perfect medicine I didn't know I needed."
Concerts for the Community
Organist Christopher Houlihan '09—John Rose College Organist-and-Directorship Distinguished Chair of Chapel Music and adjunct professor of music, ex officio—performed a live, 30-minute recital from the Trinity College Chapel via Facebook on April 1. The event was part of a "Grand Chain Facebook Live Organ Concert" event.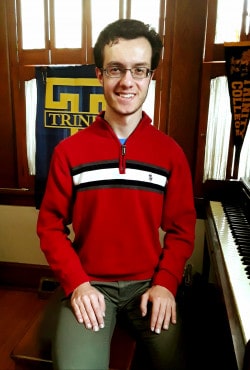 Also performing remotely recently was pianist David Marottolo '22, who worked with Trinity's Austin Arts Center (AAC) to present "Common Hour Concert: David at Home" on April 7 via Zoom. Marottolo, who appeared this semester in the musical "Bright Star" on campus, is a member of the Chapel Singers and the Accidentals and plays in the Chamber Ensemble. Alexandra Fischbein, AAC production coordinator, said, "We really wanted to offer a Common Hour for folks to have a bit of Trinity normalcy throughout their day, even from home."
Additionally, student-run art and music collective The Mill held a virtual open mic night on Saturday, April 4. Follow The Mill on Instagram for the latest information on its upcoming events.
Recreation and Wellness
Trinity's Recreation Office is offering virtual yoga classes on Wednesdays from 6:00 to 7:00 p.m. via Trinity Recreation Facebook and on Fridays from 1:00 to 2:00 p.m. via Zoom. The classes are open to everyone.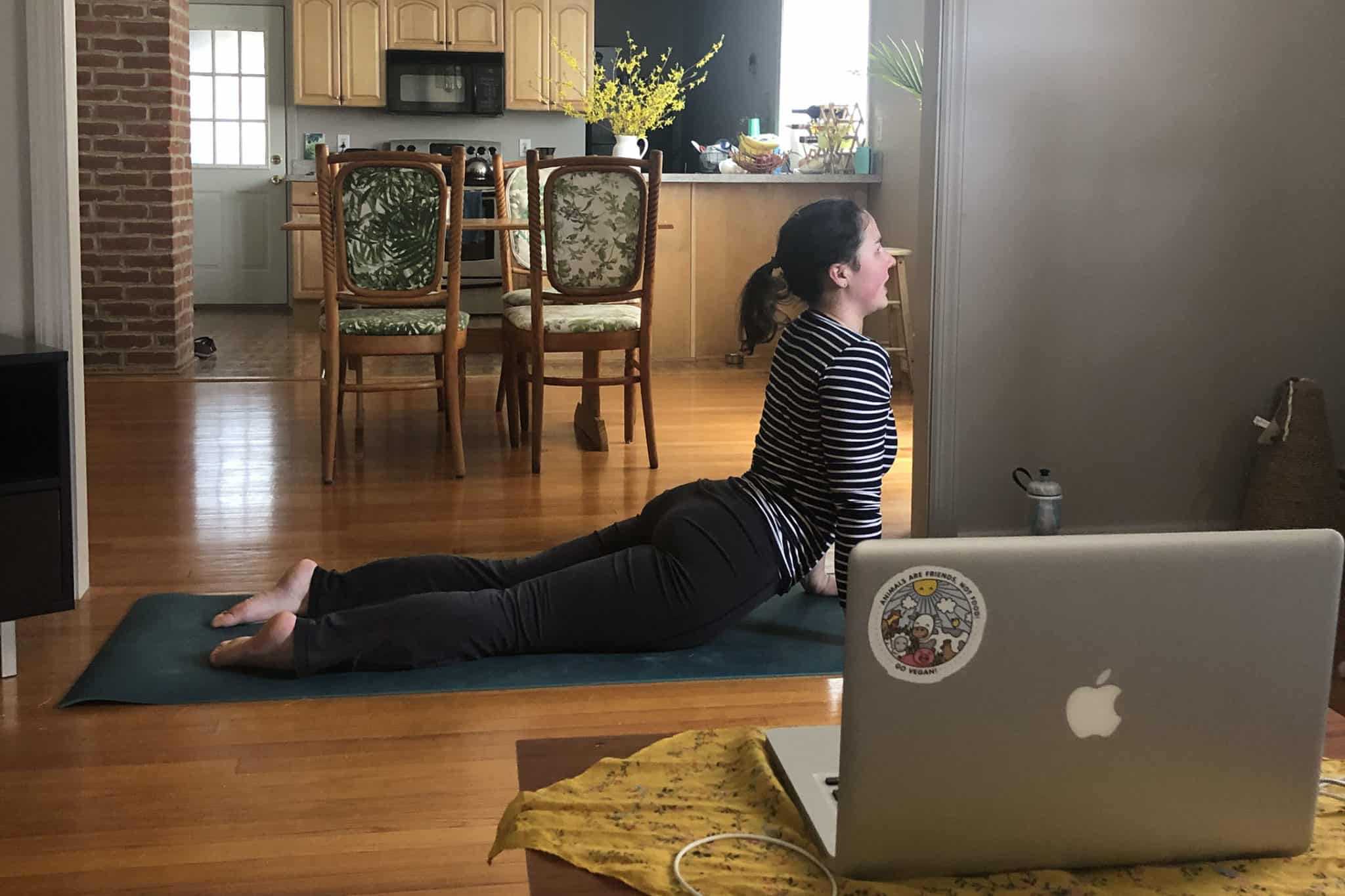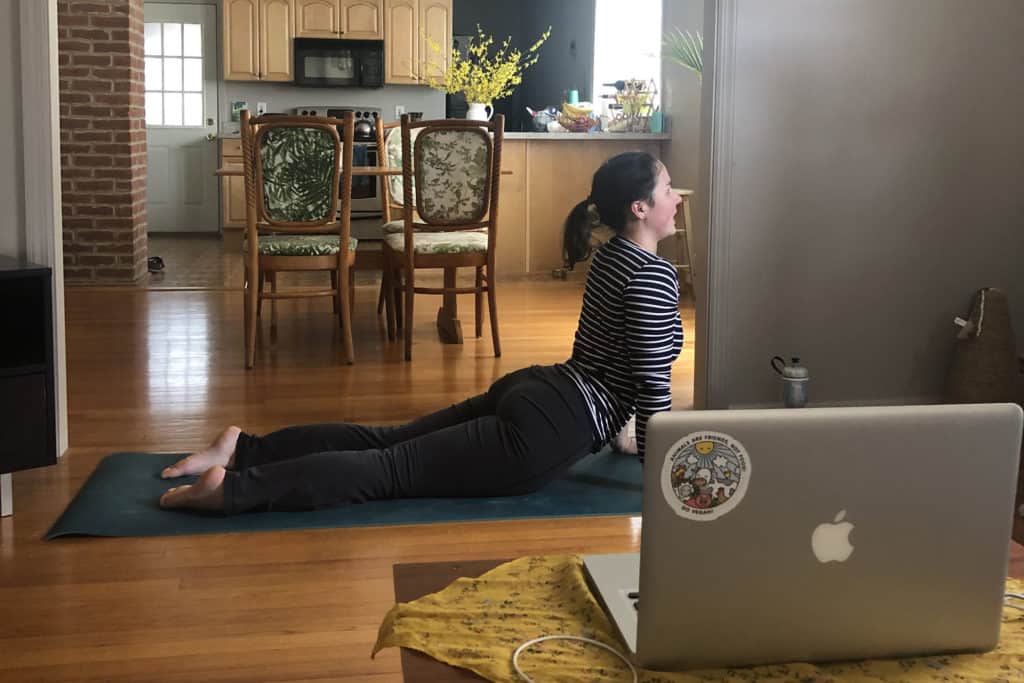 Recreation Director Kevin Johnson said that it is important to maintain a sense of community, now more than ever. "People find community in many different ways. With a dedicated yoga practice, it is easier to maintain a balance both physically and mentally, and it can be done in a small space," Johnson said. "The great thing about the classes that instructors Gabby and Cara are offering is that anyone can try them. Recreating with others, even virtually, is a great way to stay connected within the larger Trinity community."
Trinity's Women & Gender Resource Action Center (WGRAC) and Office of Diversity, Equity, and Inclusion will offer a webinar called "Common Hour Virtual Check: Maintaining Bantam Wellness" on Thursday, April 16, at 12:15 p.m. eastern. Questions may be submitted live during the program to a panel of students and staff members. The community can learn what their peers are doing, share wellness tips, and find out about more virtual activities to stay connected.
Spiritual & Religious Life
Trinity's Office of Spiritual & Religious Life (OSRL) supports community members in cultivating sustaining practices during this unusual and uncertain period of time. To that end, the office is welcoming students, faculty, staff, alumni, and friends to join its collection of virtual offerings.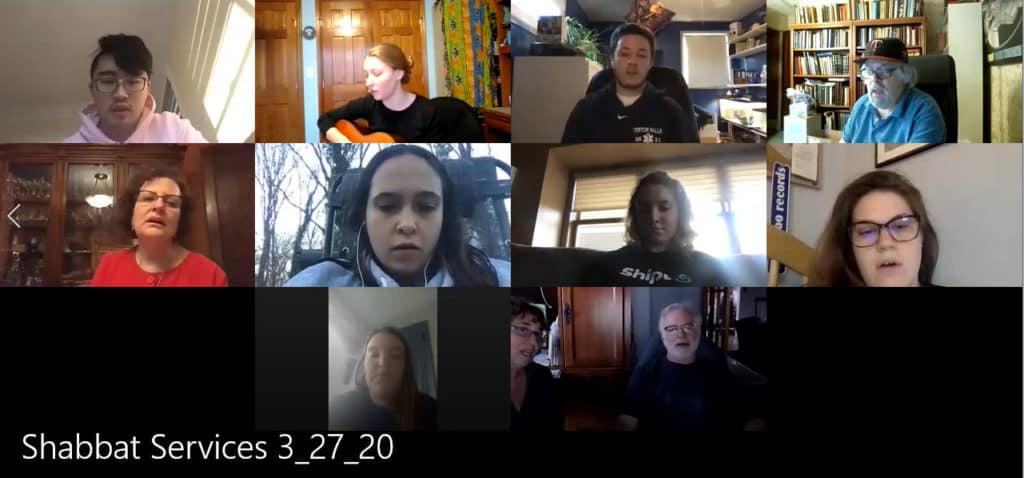 The Rev. Allison Read, college chaplain and dean of spiritual and religious life, said that Trinity staff members and student leaders are highly motivated to make connections and cultivate communities of care, no matter the circumstances. "That motivation led people to adapt and swiftly learn new technologies to create spaces for people to gather and extend to students the best possible Trinity experience we could," Read said. "Students value staying in touch with friends, receiving care and support, maintaining a sense of belonging as Trinity College students, and they value continuing to make meaning and reflect more deeply on their experiences."
The OSRL offerings include virtual Chapel services, "The Qur'an and Us: A TrinColl Halaqa," Trinity Zen, Faith Circle, Shabbat Services & Kiddush, and many more activities, chats, meetings, and open office hours. "The weeks ahead hold holidays and holy days for many members of the Trinity community—observances with especially deep resonances and significance during this experience," Read added. In addition, the OSRL is releasing one video per week of a staff member addressing the Trinity community with a message of encouragement and connection. See those videos here.
This is not a comprehensive list of virtual programming. To see a full schedule of upcoming events, visit Trinity's Events Calendar.