Trinity College recently announced its support of Hartford's new Park Street Library @ the Lyric through a donation of $10,000 to the neighborhood library to help fund its adult reading room. Hartford Public Library held a ribbon-cutting ceremony on Thursday, September 30, and will open its doors to the public on Saturday, October 2, with a celebration that includes a daylong block party.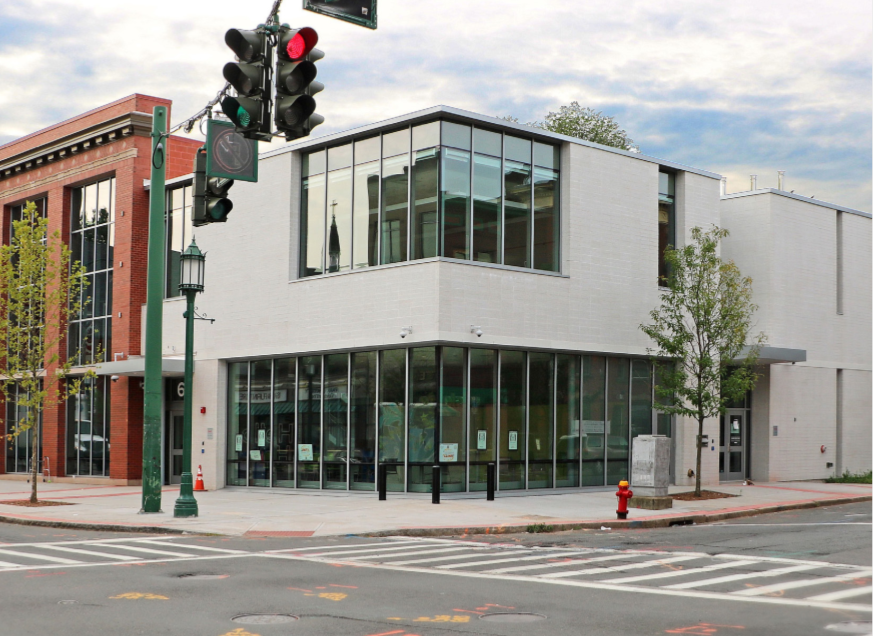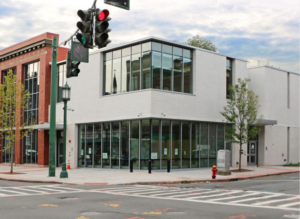 The Park Street Library @ the Lyric is at the site historic Lyric Theatre, which was destroyed in a fire in 1979. According to Hartford Public Library, the former Park Branch library began in 1928 in a small, rented store at 876 Park Street. In1939, the library was moved to 815 Broad Street and then again in 1975 to a rented facility at 744 Park Street, where it was housed until June 2021. The new library is at 603 Park Street, at Park and Broad Streets. It is a 13,000-square-foot space with a separate 1,200-square-foot children's room, a small café, and an enclosed outdoor patio area for performances and events. The second floor will feature a learning lab, a conference room, and a nearly 2,000-square-foot community room that can accommodate up to 100 people for meetings, lectures, performances, and other events.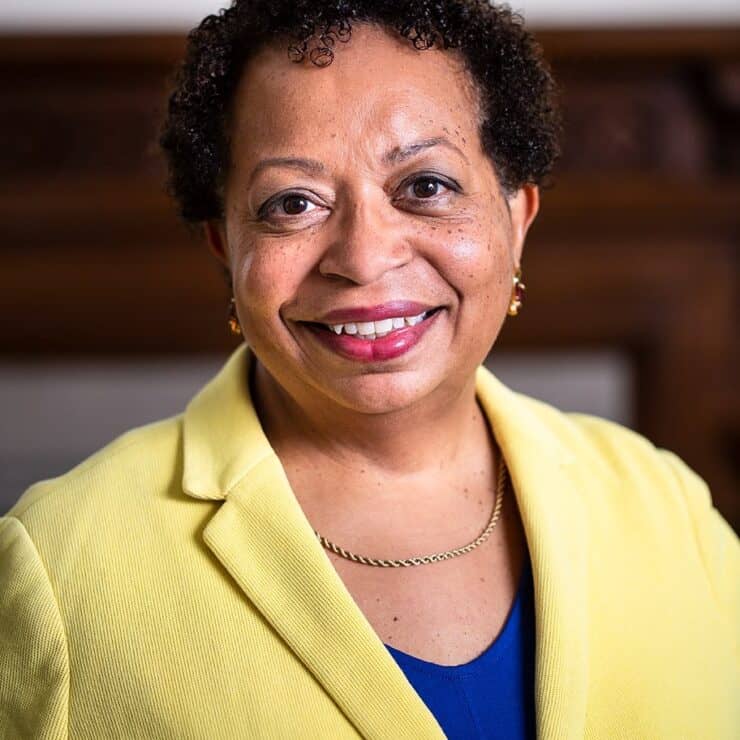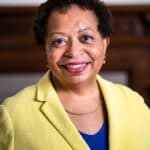 "Trinity College is proud to support Hartford Public Library and its new Park Street Library @ the Lyric," said Trinity College President Joanne Berger-Sweeney. "Our support for the Hartford Public Library is consistent with our educational mission and our commitment to being active and engaged partners with the Hartford community."
In recent years, Hartford Public Library has expanded its collection of Spanish-language materials to anticipate the branch's move to its new location. The library also will have programs that serve families who have children with disabilities and will offer job-training opportunities, classes for English language learners, and other assistance for adults in the neighborhood.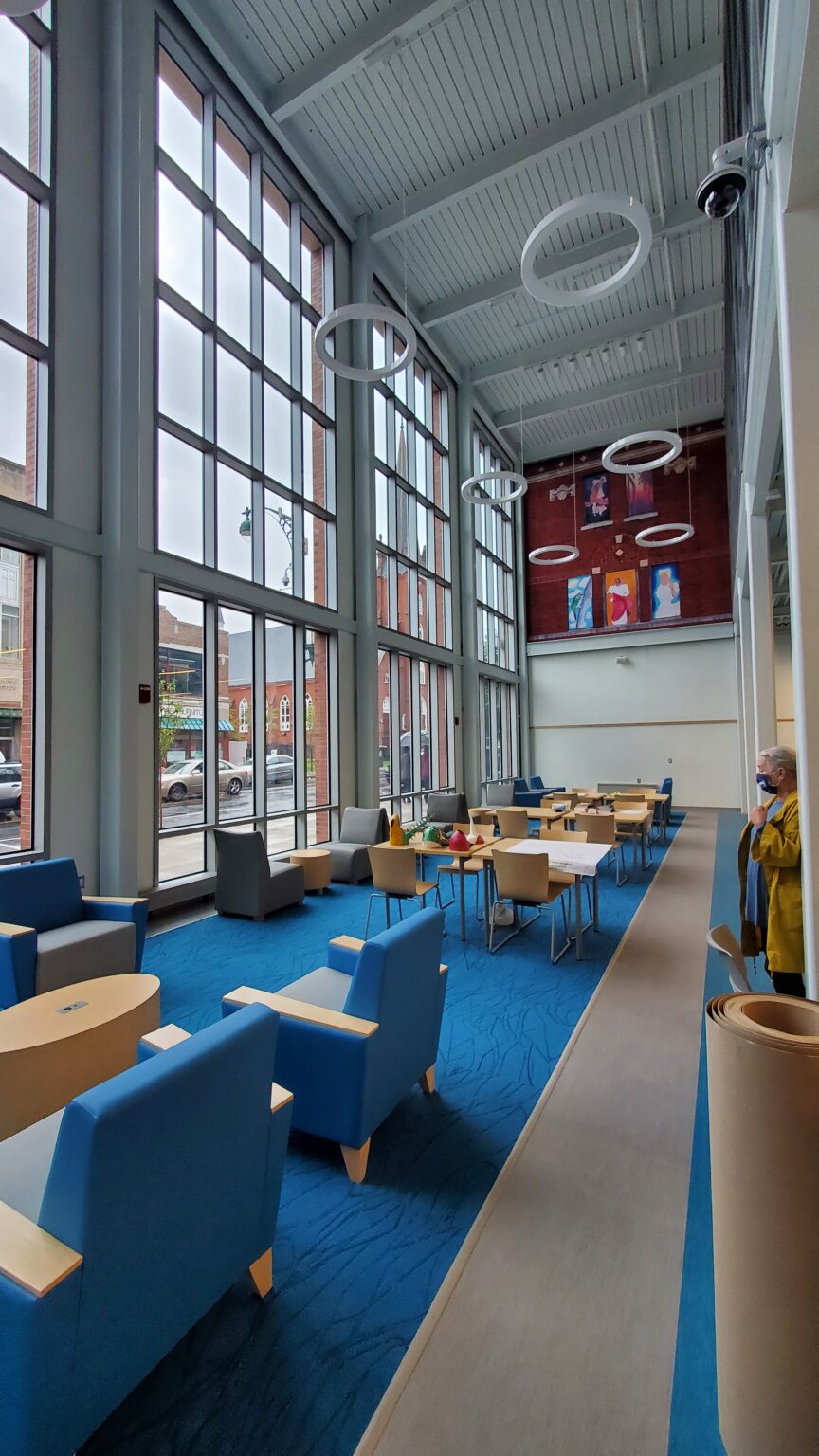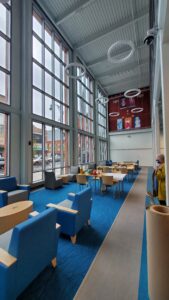 "We are pleased to receive this generous gift from Trinity College that will support important programming at the new Park Street Library @ the Lyric," said Bridget E. Quinn, president, and CEO of Hartford Public Library. "Trinity is an important partner of the Hartford Public Library, and we look forward to continuing to work together in the Frog Hollow neighborhood and across the City of Hartford."
The $12.5 million project received an $11.1 million grant from the State Bond Commission, a $1 million grant from the Connecticut State Library, and additional support from the City of Hartford. Construction began in the summer of 2019.
Click here for more information on opening day events, including musical performances presented by the Trinity College Center for Caribbean Studies.
Images courtesy of Hartford Public Library.