Center for Caribbean Studies
The Center for Caribbean Studies explores and celebrates the distinctive Caribbean character of the city of Hartford and the influence of Caribbean civilization on contemporary cultures around the world. We conduct collaborative research and host cultural events and exchanges that build upon the region's transnational connections and help our students develop as engaged global citizens.Our scholarly focus is the broader Caribbean—the Greater and Lesser Antilles and coastal regions of Central and South America—and the fluid ties between the Hartford region and its diasporas, today and in historical context.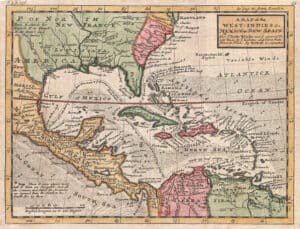 With financial support from the Center and the guidance of faculty who have deep connections to Caribbean culture and history, students pursue research, internships, and student-faculty scholarly projects on campus and abroad, independently and in collaboration with neighboring educational and cultural institutions. A defining opportunity is the College's longstanding study-away program in Trinidad, an interdisciplinary immersion based at the University of the West Indies at St. Augustine.
The Center promotes new course development on the Caribbean in all academic disciplines and provides teaching and research grants to Trinity faculty working independently, in partnership, or in collaboration with members of the Hartford community.
The Caribbean region influences contemporary global cultures to an extraordinary and often unrecognized degree. It is home to peoples of Indigenous, European, African, Asian, and Middle Eastern heritage speaking a diverse range of languages, including English, Spanish, French, Dutch, Portuguese, Creole, Garifuna, and Papiamento.
Caribbean Hartford
Hartford moves to a Caribbean beat. Drawn initially by employment possibilities in nearby tobacco farms, Puerto Ricans and Jamaicans have settled in Hartford since the mid-20th Century, and have been joined by people from many nations across the greater Caribbean such as Barbados, Brazil, Colombia, Cuba, Dominican Republic and Trinidad and Tobago. Caribbean flavor infuses all aspects of Hartford living from restaurants to civic life and politics.