Back to News
Students Staying Active and Engaged on Campus
Student Life
posted
by Emma Sternberg '21
With Trinity's COVID-19 Campus Alert Level at green or yellow for most of the fall semester, students have enjoyed opportunities to participate in athletics and other activities. When a low prevalence of the virus in the campus community makes it possible, students can gather in person in small groups, while still maintaining the necessary health precautions.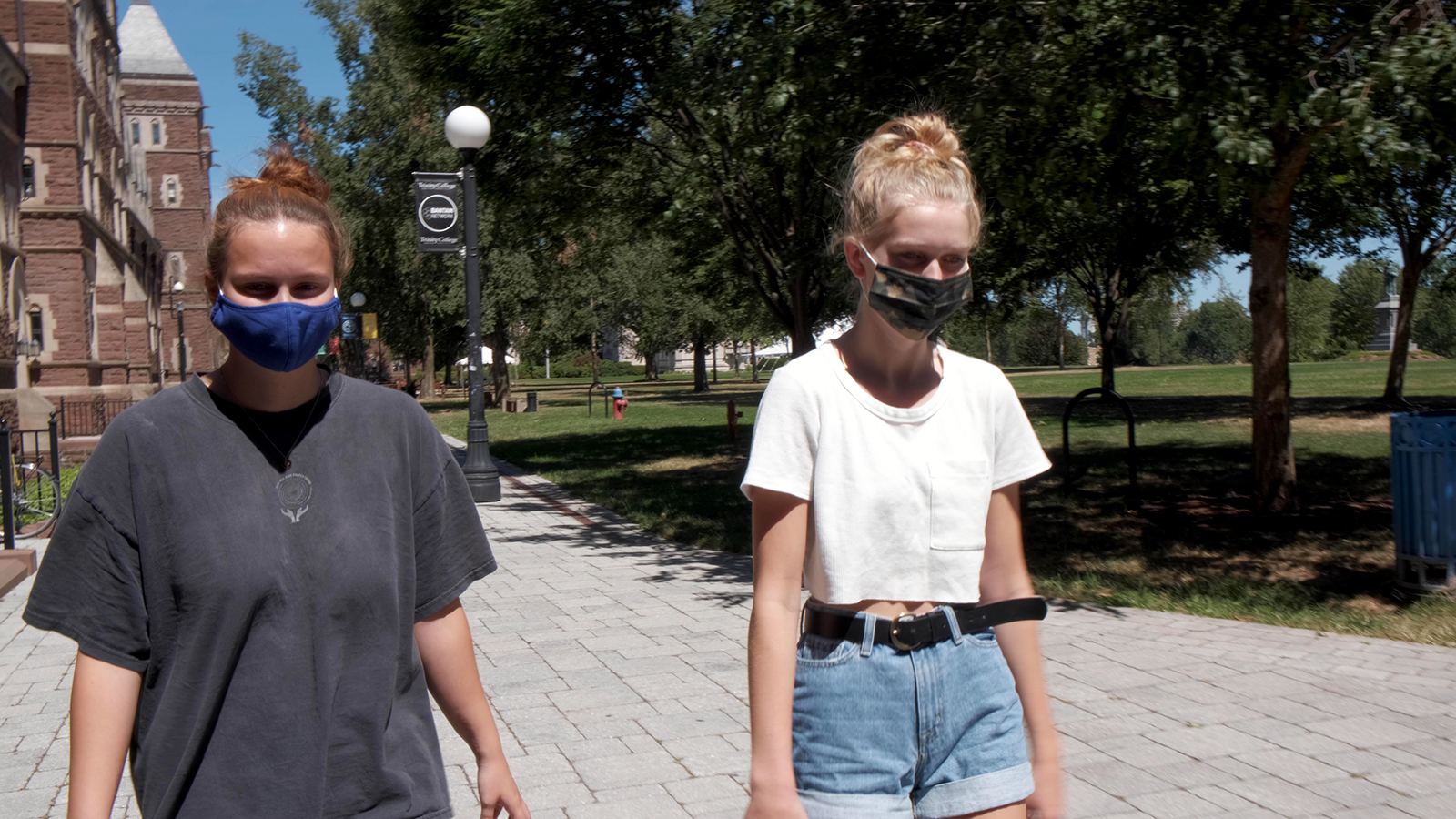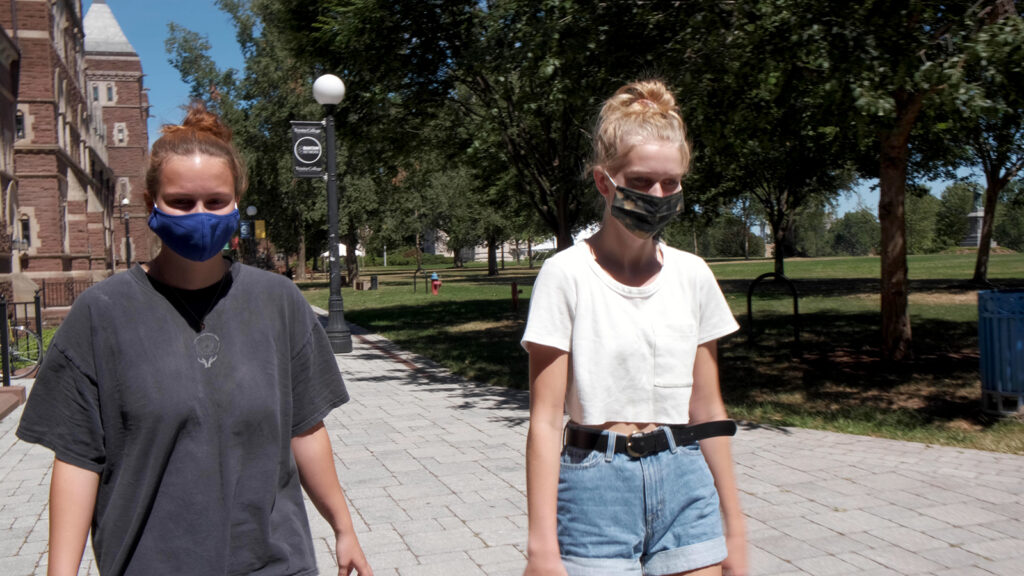 Vice President for Student Success and Enrollment Management Joe DiChristina said that the campuswide adjustments made during the green or yellow alert levels allow students to participate in activities that help bring Trinity to life. "I see and hear students taking part in choir practices, athletic exercise, and meetings, all in accordance with the guidelines," he said. "I really find it to be uplifting as I walk about campus." DiChristina added that students are appreciating the ability to be with one another and are following the policies and procedures to do so safely.
Athletics & Recreation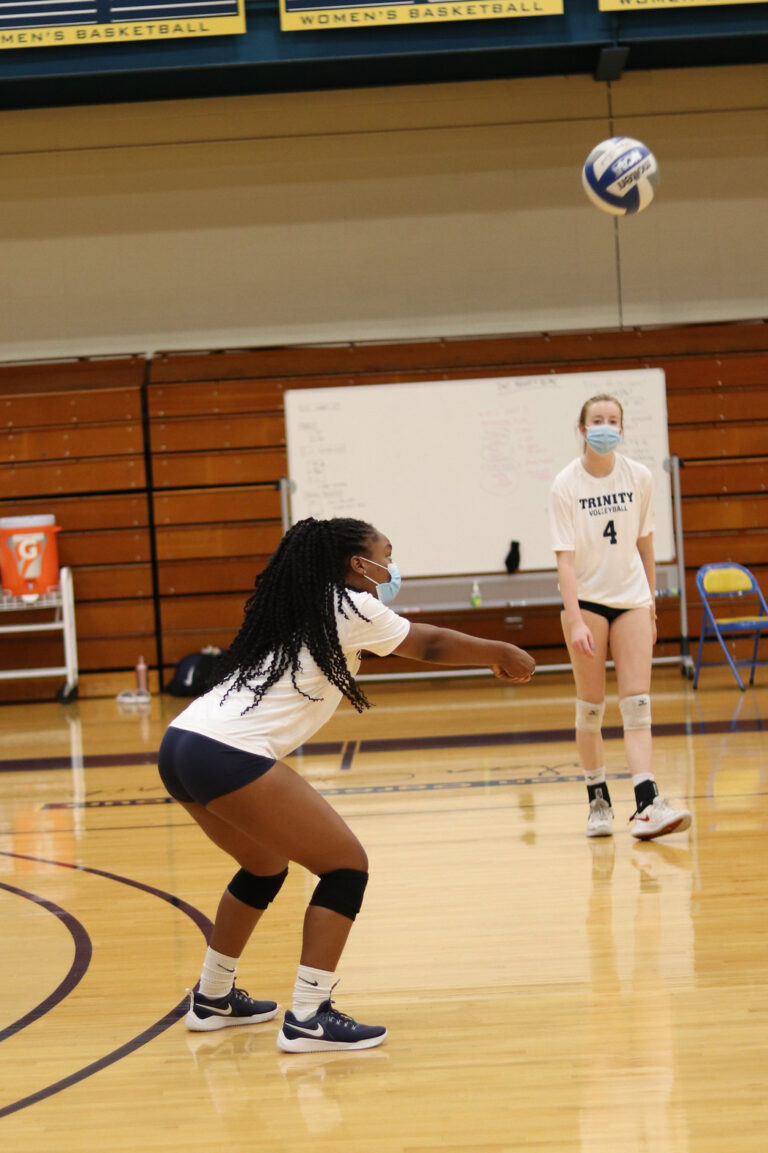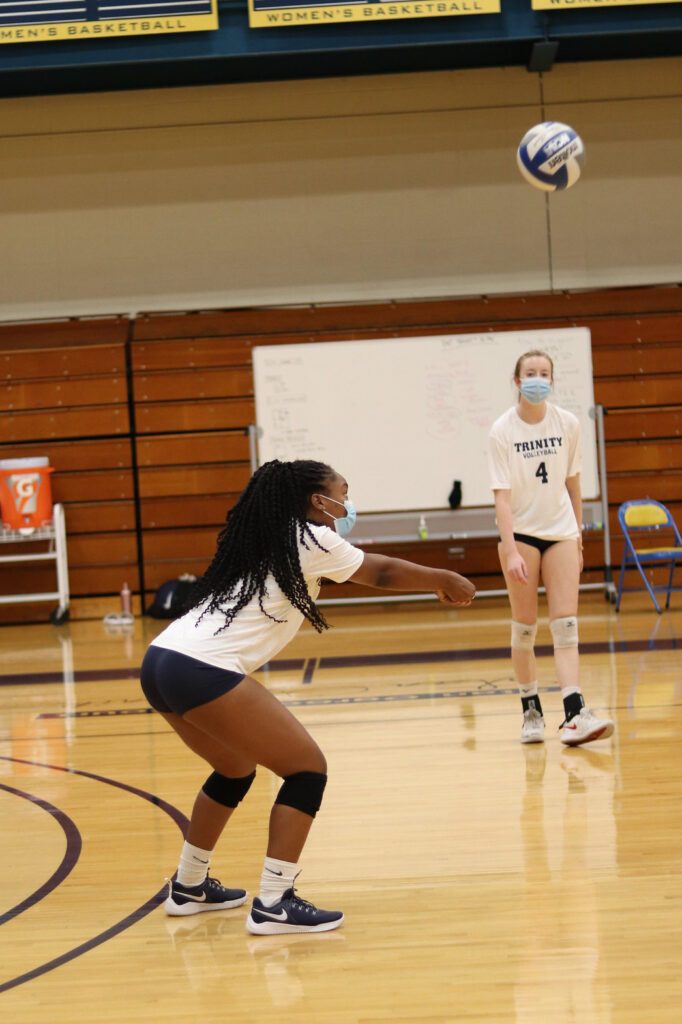 Trinity athletic teams resumed holding practices on October 21, according to Athletic Director Drew Galbraith. "Teams are currently allowed to practice in small groups—12 athletes outdoors and six indoors—with social distancing protocols of over 6 feet apart, masks on, and coach supervision," he said. "Drills are focused on individual skill development and contact is not permitted."
Galbraith acknowledged that practices this semester look different than in the past. "Coaches have developed practice plans and workouts that not only allow for our student-athletes to focus on honing skills and improving their fitness, but also abide by all safety precautions necessary," said Galbraith. "As important as development in our sports is, these practices play a significant role in helping our student-athletes and coaches build relationships and teams."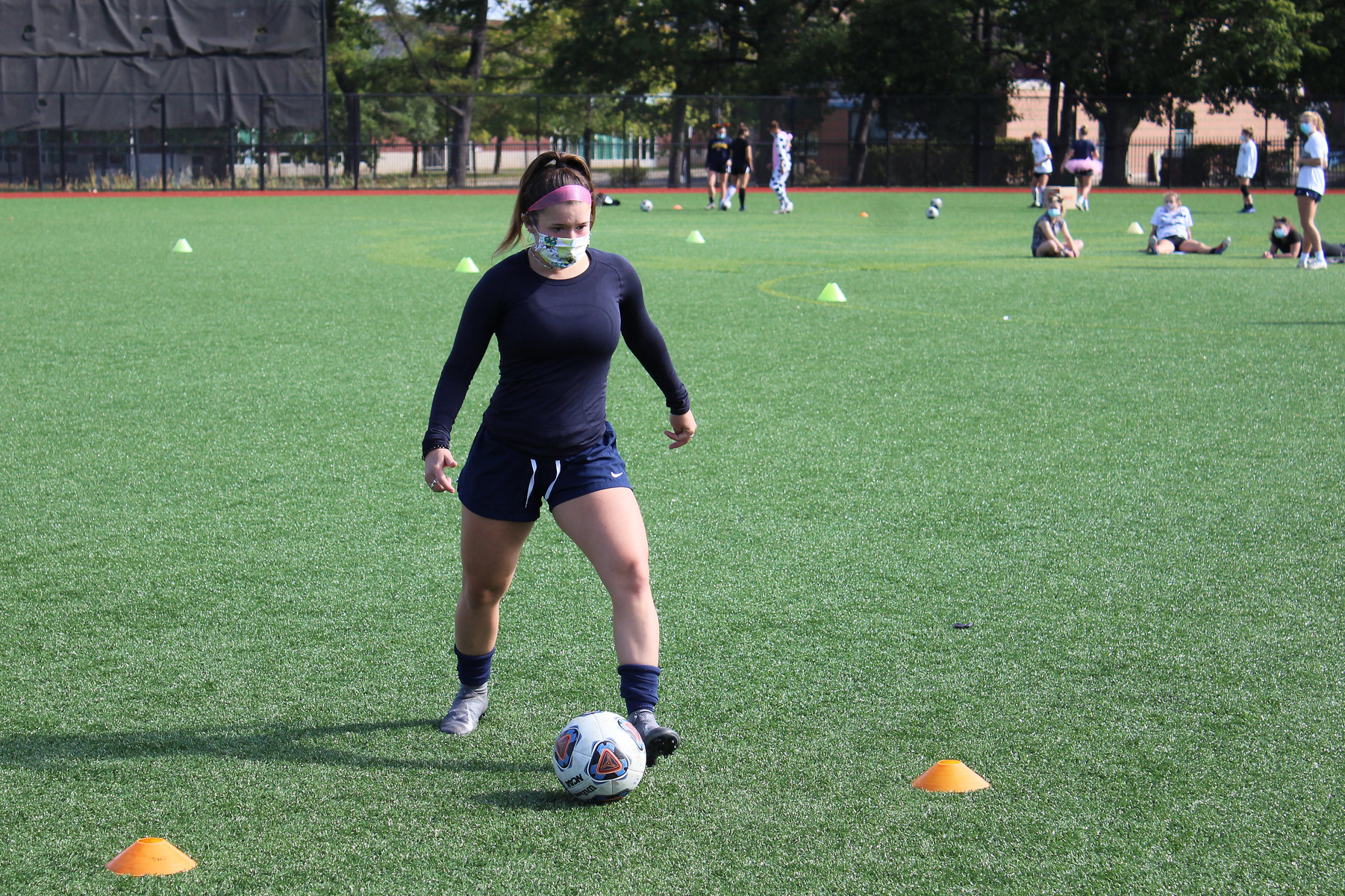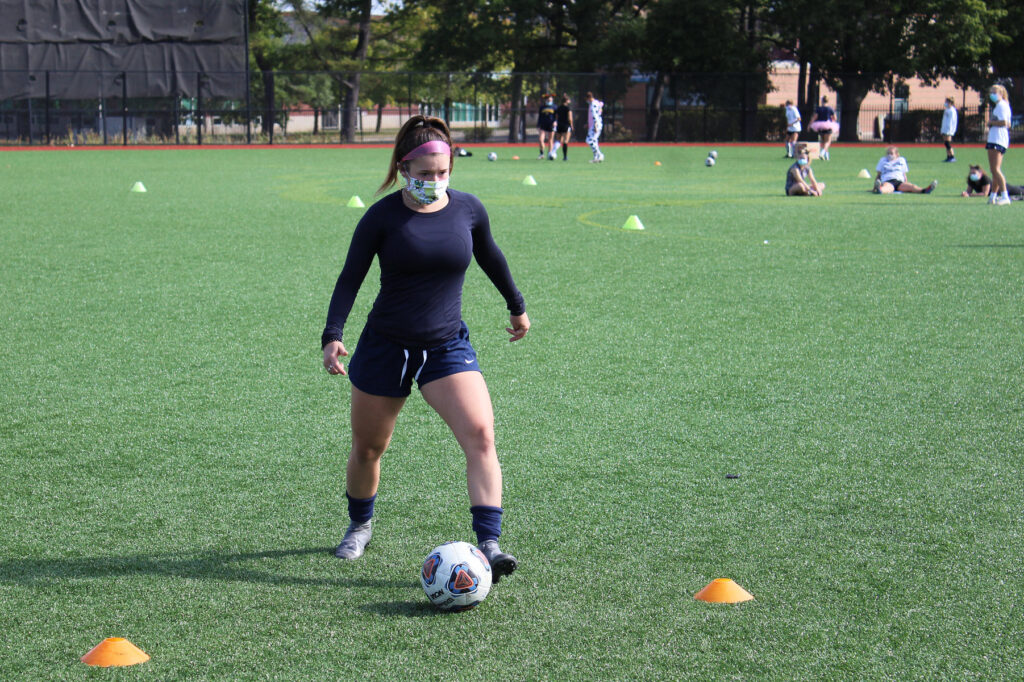 Rachael Schroeder, the head coach of the women's soccer team, said, "It's great to be able to be together again and have some form of team camaraderie again. Although we practice in smaller groups, we are all happy to be together and playing." She said that since team physical activity is so important right now, her team's goal is to prioritize both team unity and improving skills.
To allow practices to occur daily, Galbraith said that there are numerous regulations which Trinity athletics follow. "We are abiding by campus, state, and NCAA guidelines—adhering to group size limitations, wearing masks, and social distancing—with all teams supervised by a coach," Galbraith said. In addition, "At the start of each practice, coaches are checking each student-athlete's CoVerified app and also providing a temperature screening," said Galbraith, "and practice times are staggered to allow for teams to exit facilities and avoid overlap." Galbraith noted that the sports medicine staff has moved many of its pre-practice services to an outdoor tent.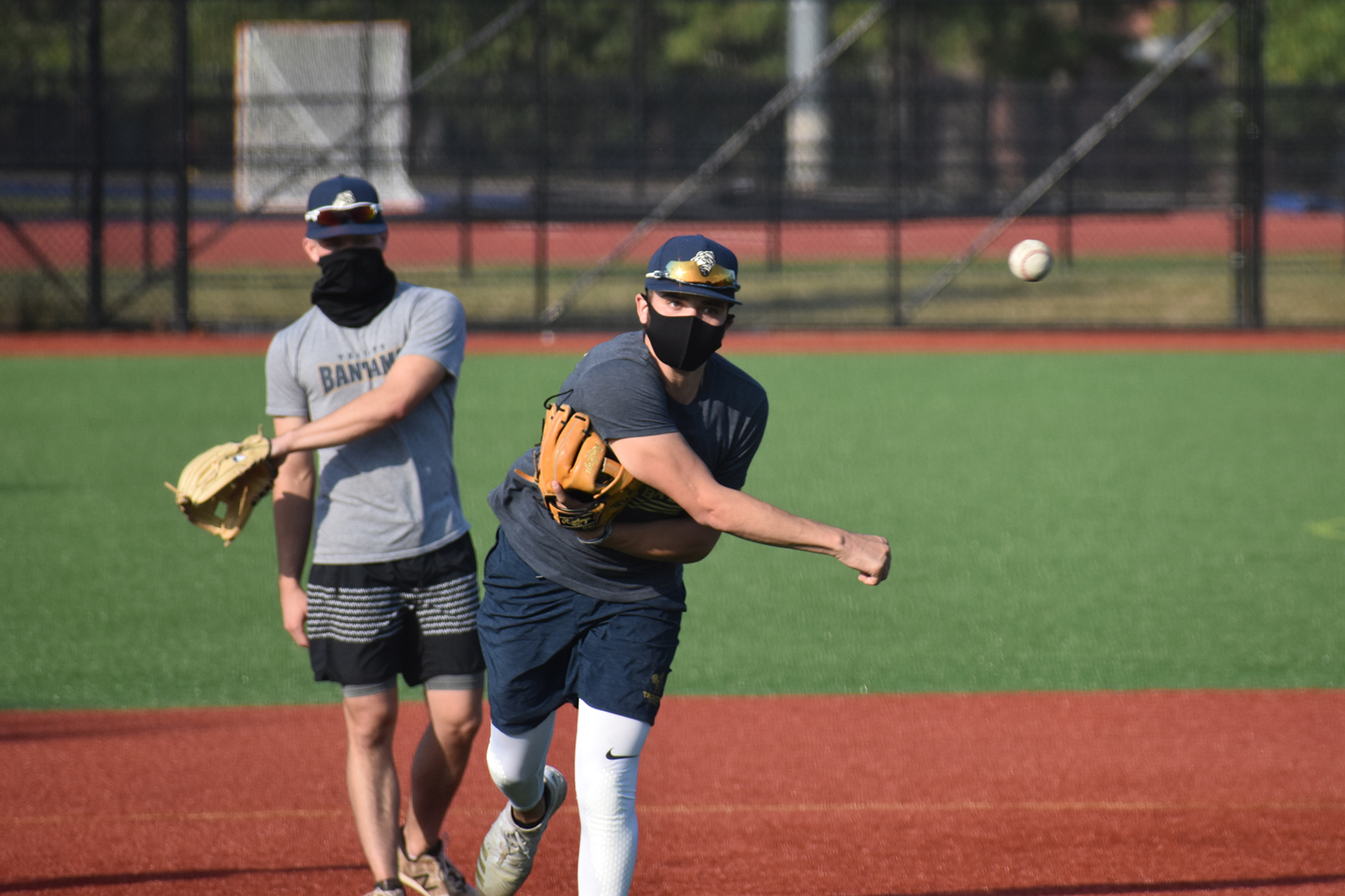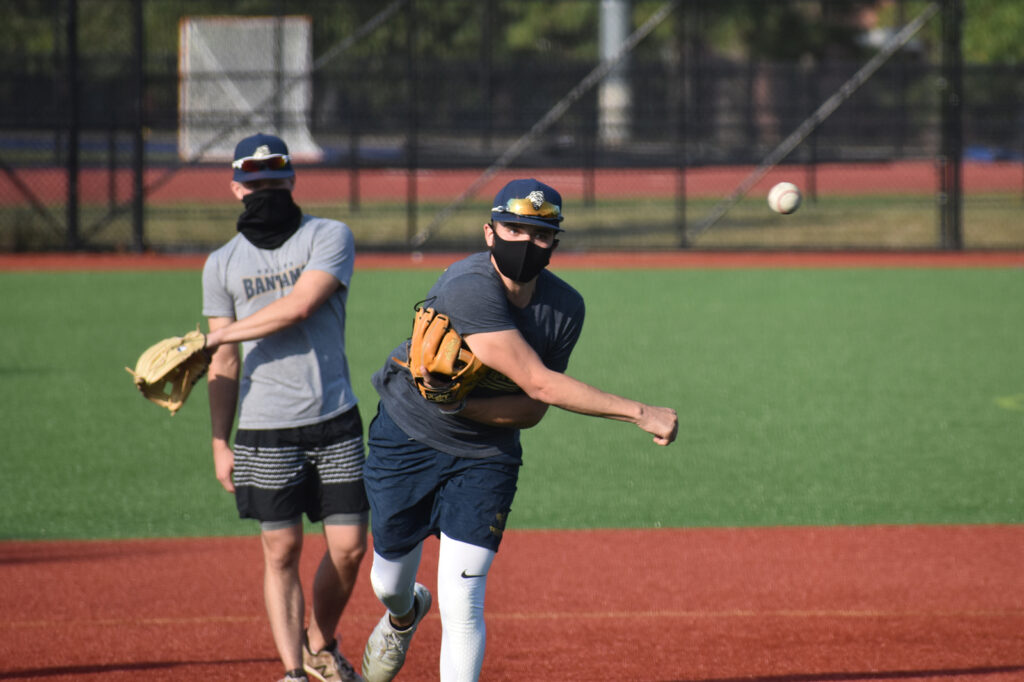 Trinity softball player Gillian Birk '21 said that after not having a spring season last spring, it has been a welcome change to be able to practice again. "Being outside and getting exercise has been a great way to de-stress," said Birk. "It is nice to have some normalcy within athletics in a time of so much uncertainty."
Many students are also taking part in the 2020 National Recreation Movement Project and the Connecticut Collegiate Virtual 5K. The Ferris Athletic Center is open for scheduled exercise times as of October 21. All students may access the track at Jessee/Miller Field to engage individually in passive recreation such as walking or jogging.
Chapel Music
Christopher Houlihan '09, the John Rose College Organist-and-Directorship Distinguished Chair of Chapel Music and Adjunct Professor of Music, ex officio, said that Chapel music activities that were happening via Zoom are taking place in person again as of October 21. "Choirs are now able to rehearse in small groups—wearing masks and standing 6 feet apart, of course," said Houlihan. "Trinity College Gospel Choir rehearses in groups of up to 12 outside under a tent and The Chapel Singers are currently rehearsing in groups up to six in the Chapel cloister, which has fantastic acoustics."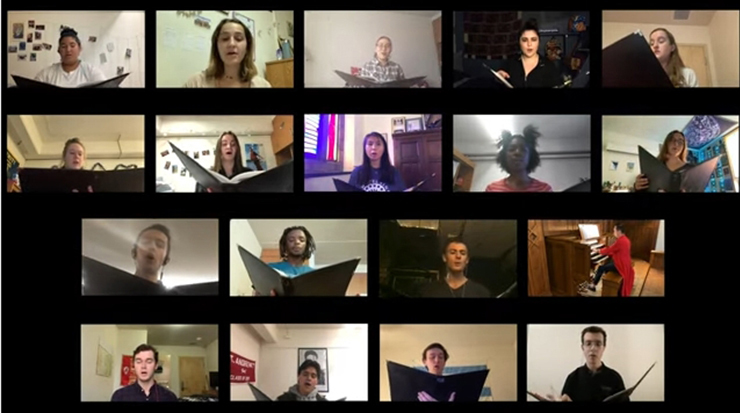 Houlihan said that rehearsals over Zoom were challenging, since it was difficult to make music synchronously and hear one another sing. "Now that we can gather in person, the choir can actually begin to become a choir—learning to breathe together, sing in time together, and blend their voices," said Houlihan.
Zachary Schurman '22, treasurer of The Chapel Singers, said that being able to practice together in person has been a positive change because it has allowed him to engage more closely in music with his friends. "There is something special about making music with other people that is not the same when you're alone," said Schurman.
"Singing is frequently cited to have mental health benefits, and a return to in-person music-making is especially welcome during this difficult semester," Houlihan added. "All students, as well as faculty and staff, should support their full selves—body, mind, and soul—perhaps especially so during a pandemic, and making music is frequently cited to have positive psychological effects."
See a video of The Chapel Singers below.
All Trinity community members are encouraged to check the college's COVID-19 dashboard for the most up-to-date information about the current COVID-19 Campus Alert Level.