Back to News
Shawn Olstein '22 Receives Fulbright Award to Teach English in Taiwan
Alumni
posted
by Andrew J. Concatelli and Kate Whitman '23
Recent Trinity College graduate Shawn Olstein '22 will spend the next year teaching English to students in Taiwan through the Fulbright English Teaching Assistantship program. Olstein learned in August that he had received a Fulbright U.S. Student Program award from the U.S. Department of State and the Fulbright Foreign Scholarship Board.
"I knew that I wanted to go abroad after graduating because I never had a chance to during COVID," said Olstein, who majored in political science and Asian studies at Trinity. "I applied to teach English through Fulbright because it's a change from what I've been used to, which was mostly research. This is a chance to interact with people and learn about the culture. I had worked at Trinity as a first-year mentor and at the VITA tax clinic, so I know I enjoy the experience of working with individuals and guiding them through something."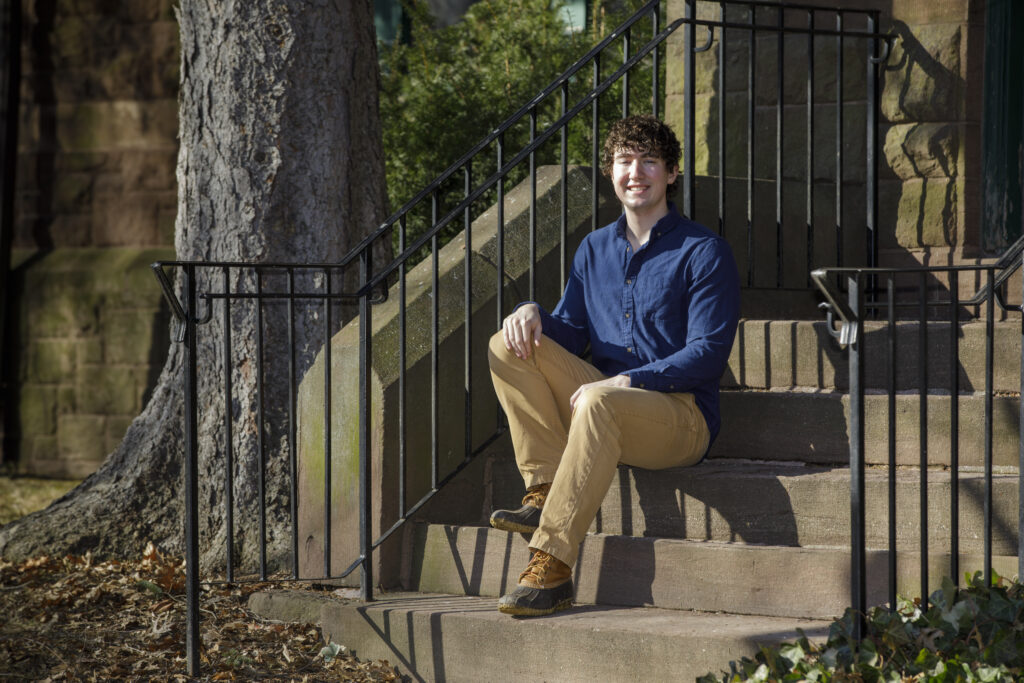 Olstein will be leaving his home in Kinnelon, New Jersey, in September and will live and teach through June 2023 in Yilan, in northeastern Taiwan, outside of the capital city of Taipei. "I chose to be in a more rural location, where I think I'll get a better sense of the culture," he said. He will assist a teacher with English language instruction at a local school. "In Taiwan the largest population speaks Mandarin, while a healthy minority speak Taiwanese Hokkien and modern indigenous languages," Olstein said.
The decision to study Mandarin Chinese at Trinity was one that Olstein considered carefully. He said, "I've always been interested in politics and global affairs. I find studying languages very enjoyable and interesting, and I wanted to choose a language that would be relevant to foreign affairs." Olstein said he was able to work on improving his Mandarin outside of the classroom by practicing with friends at Trinity who spoke the language.
During his time at Trinity, Olstein was a part of the Mock Trial Team and served on the Honor Council. In addition, Olstein served as the president of the Class of 2022 and the president of the Ulmus Literary Society. During his first year at Trinity, Olstein received the First-Year Papers Award and was named a Deans' Scholar for being among the 25 full-time, first-year students with the highest grade point averages at the end of their first year at Trinity. He received the Micki and Hy C. Dworin Award in Asian Studies at Honors Day last spring.
Earlier this year, Olstein was named a 2022 Yenching Scholar by the Yenching Academy of Peking University in China, with an offer of a full fellowship to pursue an interdisciplinary master's degree in China Studies, but he chose to pursue the Fulbright opportunity instead.

Olstein said that Trinity helped position him to receive this honor from Fulbright. "If you want to go on to a graduate degree or get a fellowship, Trinity is a great place to go," he said. "To me, the real advantage of the small class sizes is that you get to know your professors really well and can easily ask questions and build real relationships." Olstein turned to many of these faculty members to write recommendations for him as part of the Fulbright application process.
"The professors who influenced me the most at Trinity are Associate Professor of Political Science Reo Matsuzaki, my advisor, and Assistant Professor of History Clark Alejandrino. Professor of Political Science Stefanie Chambers also wrote a recommendation for me," Olstein said. "And I'm thankful for all the help from Mark Hughes," associate director of grants and fellowships at Trinity.
Matsuzaki said, "Shawn produced a fascinating honors thesis on a topic that would be central to U.S. security, and more fundamentally, the future of democracy itself: Chinese and Russian disinformation campaigns within democracies. The specific focus of the thesis project is on analyzing differences in how the Chinese and Russian governments have sought to shape political discourse in the United States."
Chambers emphasized her commendation of Olstein's thesis in political science. "Shawn is a hard worker who has high expectations of himself. I've also come to see Shawn as someone with strong peer relationships and remarkable collaborative skills," said Chambers.
Olstein's time in Taiwan relates directly to his goals for the future. "I'm next thinking about applying to graduate school after the Fulbright ETA," he said. Olstein hopes to pursue a career in international relations and diplomacy, perhaps with the U.S. Department of State.
The Fulbright Program is the flagship international educational exchange program sponsored by the U.S. government and is designed to increase mutual understanding between the people of the United States and the people of other countries. The primary source of funding for the Fulbright Program is an annual appropriation made by the U.S. Congress to the U.S. Department of State, Bureau of Educational and Cultural Affairs. Participating governments, host institutions, corporations, and foundations in foreign countries and in the United States also provide direct and indirect support. Recipients of Fulbright grants are selected on the basis of academic or professional achievement, as well as demonstrated leadership potential in their fields. The program operates in more than 160 countries worldwide.