Back to News
President Berger-Sweeney Talks about Challenges and Triumphs of Leadership
Trinity in the News
posted
In a new interview, Trinity College President Joanne Berger-Sweeney talks about her success as a leader and about the experiences and advice that have proven to be the most influential in her career.
Berger-Sweeney is among the prominent women leaders featured in the interview series "Infosys: I Am the Future," created by the information technology company Infosys and hosted by Adam Bryant, managing director of ExCo Group.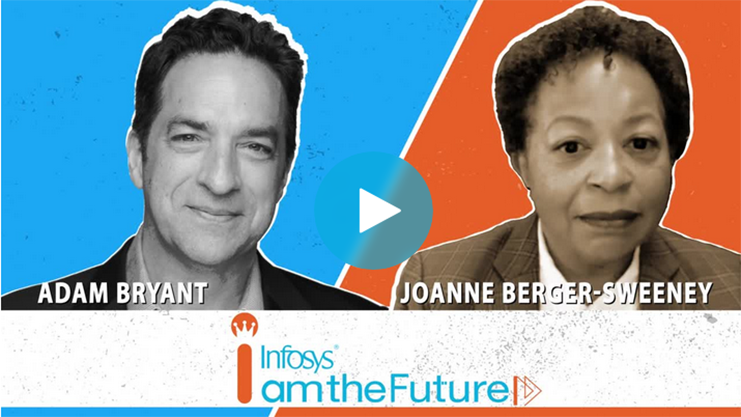 The subjects of the conversation spanned from Berger-Sweeney's upbringing to her 2014 inauguration as Trinity's 22nd president and beyond.
"My mother was executive director of the Los Angeles Girl Scout Council," Berger-Sweeney said during the interview. "She was a leader, she knew how to interact with people, and she believed deeply in higher education. She would wake me up every morning and say, 'You can be anything you want to be.' If you grow up with that kind of confidence, it has a profound influence on the rest of your life."
March is Women's History Month, and Berger-Sweeney was asked about making history at Trinity. "I am the first female and the first person of color to be president of Trinity College, which will be 200 years old next year," she said. "I have heard other women and people of color say that we feel like we have to work harder to prove that we know what we're talking about. I got to where I am because I worked harder, I dug deeper, and I learned how to bring more people into the conversation and to see my point of view."
Watch a video of the full interview and read a transcript of the conversation here. See more Infosys interviews with inspiring women here.
Trinity's partnership with Infosys, announced in September 2018, marks an unprecedented collaboration between a liberal arts college and a global tech giant. It's a national model for fostering new conversations between higher education and industry—and preparing today's students for the future of work.