Back to News
President Berger-Sweeney Discusses 'The Future of Education' in Webinar Hosted by Infosys
Trinity Community
posted
by Andrew J. Concatelli
Trinity College President Joanne Berger-Sweeney participated recently in "The Future of Education," a web-based discussion hosted by global technology company Infosys. Trinity has partnered with Infosys for nearly two years on the Trinity-Infosys Applied Learning Initiative, which includes training courses for new Infosys employees taught by Trinity faculty and staff.
"We're in partnership with Infosys at Trinity College because there are so many bridges that can be built between industry and higher education," Berger-Sweeney said during the June 11 discussion that was streamed live by more than 3,000 registered audience members. "We're trying to infuse some of what we've learned about the liberal arts into the training of their employees, they're helping us understand what employees of the future are going to need, and together we are creating new ways of learning."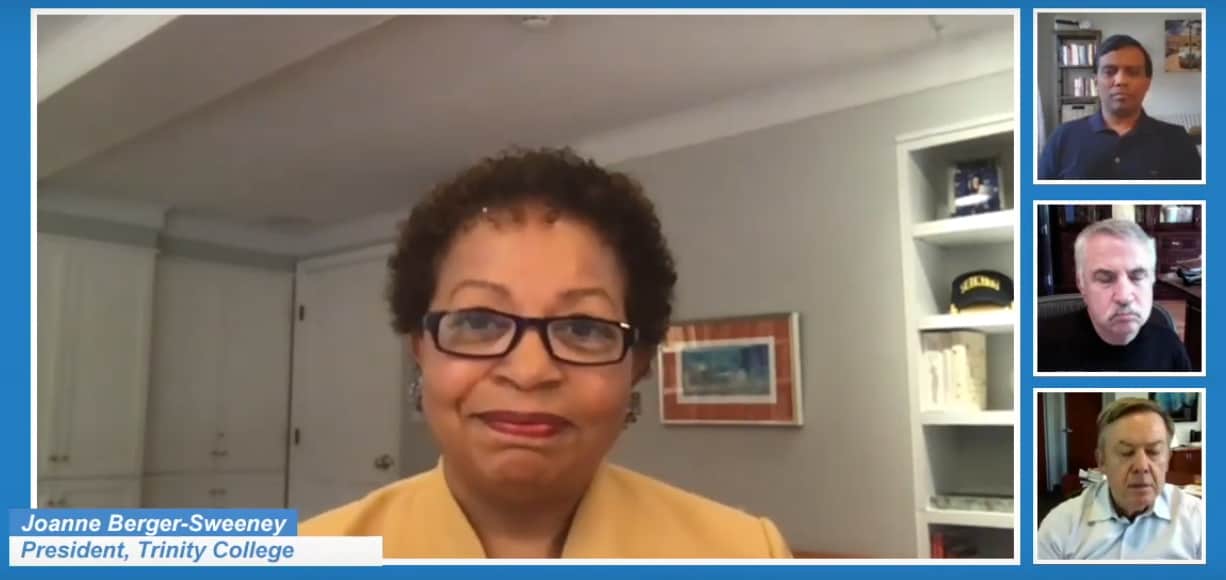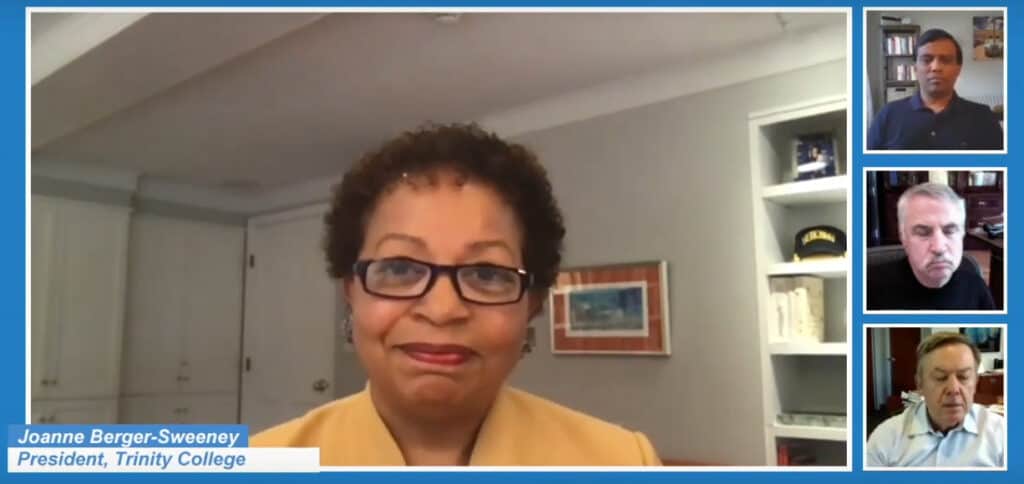 Joining Berger-Sweeney on the online panel were Michael M. Crow, president of Arizona State University, and Thomas L. Friedman, New York Times columnist and Pulitzer Prize winning author. The talk was moderated by Infosys President Ravi Kumar, who has said that liberal arts is "critically important to the future of tech."
The program began with an introduction from Infosys Senior Vice President Ashiss Kumar Dash, who said, "The digital future of education will not wait for tomorrow." The webinar addressed how the move by many educational institutions to remote learning during the COVID-19 pandemic presented an opportunity to consider new models of technology-based experiential learning.
Friedman said he believes the technology will become cheaper, more productive, and more accessible. "I do think this pandemic is going to accelerate the tools of online learning," he said.
Berger-Sweeney added, "There were aspects of the remote education that worked very well, but I think it helped us understand that the entire learning environment is more than the class that you take during a two-hour period [in the classroom] … Now our faculty members are using this summer to figure out how to be more effective with online learning."
Kumar asked whether the liberal arts will continue to play a role in preparing people for jobs, even when computers are handling greater levels of problem-solving. "The most important thing is how to find new questions, and I think that is exactly what the liberal arts helps us do," Berger-Sweeney said. "There's always a human in the loop. You're always going to need the kinds of skills that liberal arts can develop. We can be on the forefront of interdisciplinarity and connecting things that aren't always connected."
Friedman added that the world today is becoming increasingly "fast, fused, and deep," and organizations have to exist in multiple states at once. "Educators have to think like employers and employers have to think like educators. We are no longer in a binary state," he said.
As Berger-Sweeney spoke about how education lays the groundwork for people to become life-long learners, she said of Trinity, "We do much more than just build skills; we develop active citizens."
Crow added that for-profit colleges often fail because they are based on transactions alone. "The heart of the colleges and universities is not transactional; it's the building of a fundamental core of knowledge," he said.
Former chairman and CEO of PepsiCo Indra Nooyi concluded the program with an address that challenged leaders to rethink course structure and the delivery of education using technology. "How do you give a good blend of foundational humanities disciplines and job skills?" Nooyi said. "I think the time has come to use education as the great equalizer… to develop a better society with more kindness and more humanity."
Click here to view the full webinar.