Mya Peters, a 2018 graduate of Trinity College, has been awarded a prestigious English Teaching Assistantship (ETA) to Thailand through the Fulbright U.S. Student Program. The ETA program places Fulbright grant recipients in classrooms abroad to provide assistance to the local English teachers. ETAs help teach the English language while serving as cultural ambassadors for the United States.
Peters said that the varied study-away experiences she had as a Trinity undergraduate—in Argentina, Brazil, India, and South Africa—taught her the skills of adaptability and cultural sensitivity and deepened her interest in promoting mutual understanding among people from different cultures.
"I am excited to learn about Thai culture while sharing my own culture with those I encounter," said Peters. "I am also excited to learn about Blackness in Thailand as there are indigenous Black native communities, like the Mani people, who reside in Thailand. Thailand is also an uncolonized nation and I am looking forward to learning about Blackness in this context."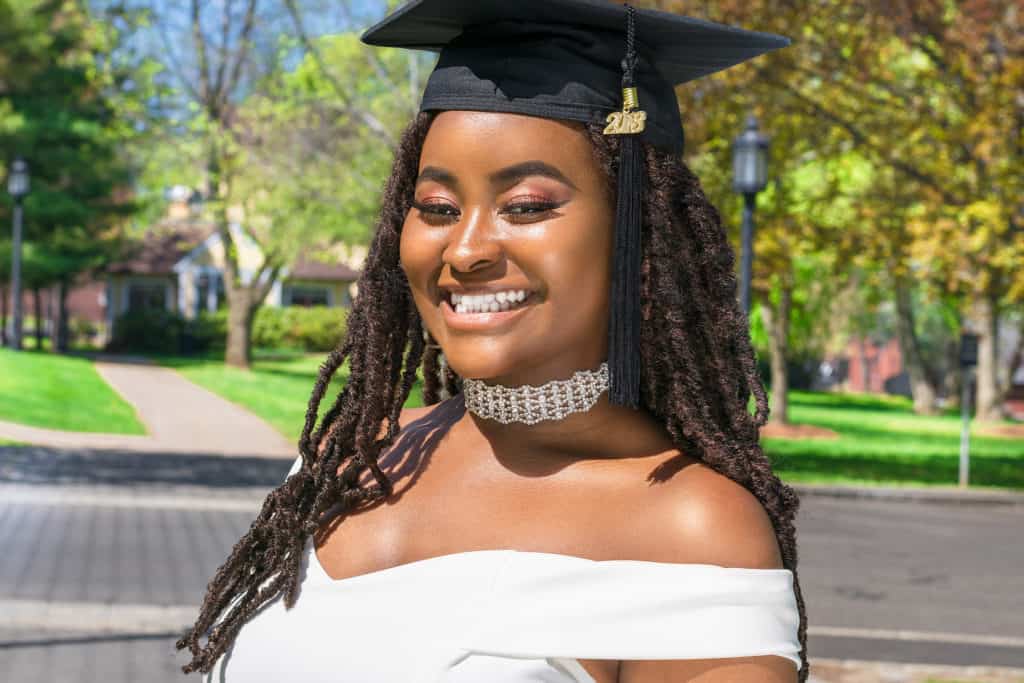 Peters added, "My long-term career goal is to start my own international diversity and inclusion consulting practice. I believe that in order to have the skill set to coach international companies on how they support diverse employees and clients, I must first learn how to teach and understand how others learn. An ETA Fulbright grant to Thailand will enable me to do just that!"
A Posse Scholar from Chicago, Peters was the first in her family to attend and graduate from college. She completed her B.S. in psychology and served as a teaching assistant in Trinity's Department of Psychology. A poet, Peters was president and emcee of the Iron Poet Series at Trinity. Among her other activities, she was co-president of the Do Shakara! African Dance Team, a Multicultural Recruitment Team mentor, and a writing associate and writing coordinator at the Writing Center.
Allan K. Smith Senior Lecturer in English Composition Tennyson O'Donnell, who directs the Writing Center at Trinity, said, "Mya is a fantastic communicator and great writer—important skills that will come in handy while she works in Thailand as a Fulbright ETA. There is an artistry to teaching and tutoring that makes each learning situation a wonderful mystery to solve. Mya is great at welcoming each new learner and helping them to figure out how to be successful as writers."
Associate Professor of Psychology Laura Holt '00 added, "As my teaching assistant, Mya provided helpful feedback on several aspects of my course, suggestions that I valued highly and implemented during the course of the semester. She even instituted a first-time support mechanism for students to receive feedback on their writing assignments. Overall, Mya demonstrated that she was an astute listener and had an upbeat and optimistic attitude that made her a positive presence in the classroom."
Since returning to Chicago after graduation, Peters has worked as the midwest campus engagement representative for Diversity Abroad and as a community engagement consultant for Westlawn Youth Network, supporting youth development programs in Greater Chicago. She recently accepted an executive management fellow position at Chicago Scholars, where she'll work until departing for Thailand.
"Mya is a great example of a recent graduate whose Trinity education and experiences positioned her perfectly to compete for a Fulbright grant," said Anne Lundberg, director of fellowships and the Fulbright program adviser at Trinity. "Participating in InterArts, volunteering in local schools, serving as a writing associate, and studying abroad gave Mya the skills and cultural awareness so highly prized in Fulbright citizen-ambassadors." Endorsing and supporting recent alumni applying for graduate fellowships is an important function of her office, Lundberg noted.
Three members of the Trinity College Class of 2019 also have been awarded 2019–20 U.S. Student Fulbright English Teaching Assistantships: Elizabeth Patino '19 for Mexico, Mariyann Soulemane '19 for Malaysia, and Maria Warns '19 for Russia. (Look for stories on these Fulbright ETA awardees to be posted soon on Trinity's website.)
The Fulbright U.S. Student Program is the largest U.S. exchange program offering opportunities for students and young professionals to undertake international graduate study, advanced research, university teaching, and primary and secondary school teaching worldwide. The program currently awards approximately 1,900 grants annually in all fields of study and operates in more than 140 countries worldwide.