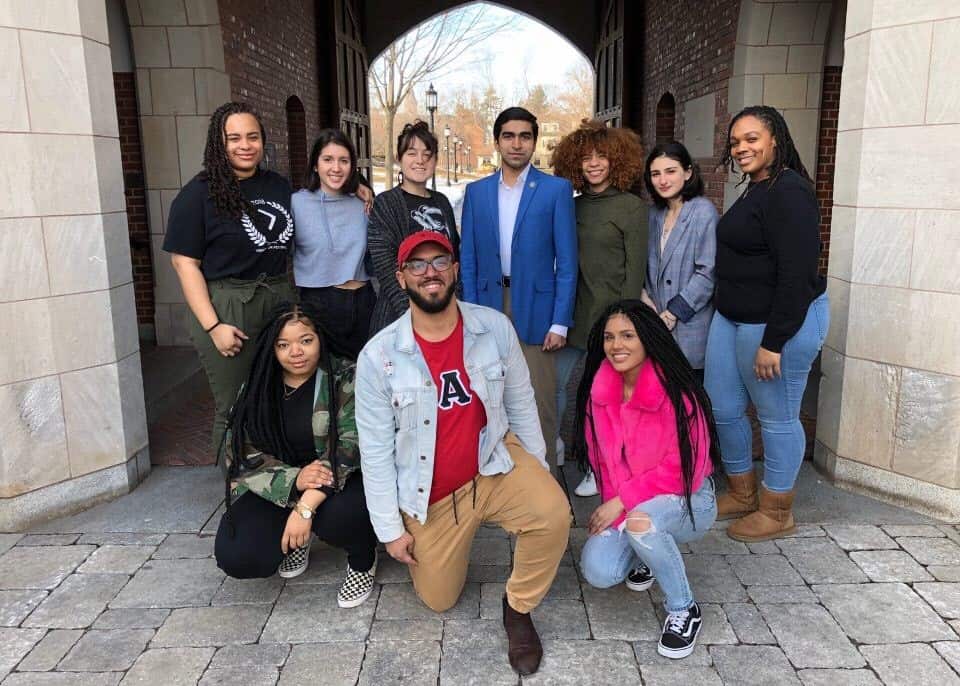 Read the Fall 2018 MRT Newsletter.
Heyssis Castillo
Boston, MA
Class of 2022
heyssis.castillo@trincoll.edu 
High School: Codman Academy Charter Public Schools
Major(s): Undecided
Favorite Trinity Course: Analyzing Schools 200
Favorite Trinity Professor: Professor Maurice Wade
Extracurricular Activities: First-Year Representative of the Men of Color Alliance, Public Relations Chair of the Multicultural Affairs Council, First-Year vocalist for the Trinity Quirks A Cappella Group
Why I chose Trinity: Trinity was the only institution I visited that gave me a sense of belonging. As soon as I stepped onto campus and connected with students and faculty, I knew that I was supposed to be here. Trinity also encourages students to explore different majors throughout their first-year and part of sophomore year. Lastly, I am grateful for the support I have received on this journey from peers and from the different resources offered on campus. 
Masho Jmukhadze
Republic of Georgia
Class of 2022
mariam.jmukhadze@trincoll.edu

High School: Phillips Academy Andover
Major(s): International Studies and Economics
Favorite Trinity Course: Intro to Comparative Politics
Favorite Trinity Professor: Professor Anthony Messina
Extracurricular Activities: Davis Scholar, Tour Guide, Multicultural Recruitment Team Intern
Why I chose Trinity: I wanted to be at a college where I could maintain the sense of community I had in high school. I looked for a place where I could be close to my professors and talk to them for help or advice. Trinity provides  those two things while giving me plethora of opportunities outside excellent academics. The Cities Program also stood out to me as I want to learn more about how my city and other cities work globally. 
Shahnila Malik
Montreal, Canada
Class of 2020
shahnila.malik@trincoll.edu

High School: Collegiate Institute for Math and Science
Major(s): Engineering; Concentration in Biomedical
Favorite Trinity course: Differential Equations
Favorite professor: Professor Kyle Knickerbocker
Extracurricular Activities: President of the House of Peace (Middle Eastern organization on campus), Promoting Respect for Inclusive Diversity in Education (P.R.I.D.E.) leader, student worker at the Mather Front Desk
Why I chose Trinity: The small size classes allows for direct interaction with the professors and Trinity has a very effective career center (Center for Student Success and Career Development) that allows for internships and academic programs to happen. The campus is welcoming, and it has incredible study abroad opportunities. 
Giana Moreno
Berwyn, Illinois
Class of 2020
giana.moreno@trincoll.edu

High School: Trinity High School
Major: International Studies and Anthropology
Favorite Trinity Course: Mass Media, Pop Culture, and Social Reality
Favorite Professor: Timothy Landry and Jonny Williams
Extracurricular Activities: Community service Chair Of La Voz Latina, P.R.I.D.E (Promoting Respect and Inclusive Diversity in Education) Leader, Intern for the Multicultural recruitment team, dancer on the Elemental Dance Team, Barista at the Underground Cafe, organizer of Trinity's Temple of Hip Hop.
Favorite Place in Hartford: Fire and Spice, an all-vegan Jamaican restaurant.
Professional/Career Goals: Although I do not have a particular career my desires yearn for, I do know that I want to travel our world as a proponent of peace. My only goal is to become something larger than myself while encouraging others to be their best versions.
Why I Chose Trinity: I chose Trinity for its community-whether it be the intimate relationships created with professors or the vitality of students lounging in the Underground Cafe, there is always community present on campus. In addition, I also admired the proximity of being in a culturally-rich city. Hartford is a beautiful place and there is lots to learn by simply walking through the neighborhood.

Neve Rivera
Chicago, Illinois
Class of 2020
neve.rivera@trincoll.edu

High School:

William Jones College Preparatory


Major:

International Studies and Educational Studies


Favorite Professor: Professor Lestz and Professor Euraque: These two professors have left an everlasting impact on my perspective of life – the endless opportunities to learn, to travel, reasons to laugh.
Extracurricular Activities:

President of La Voz Latina, Senior Admissions Associate, Chicago Posse Scholar 2020


Why I Chose Trinity:

Moving from Chicago to Hartford was a tough decision to make at 17 years old, but it was a decision I will never regret! I chose Trinity because of the vast resources it offers its students. To name a few, the diverse selection of study abroad opportunities, small class sizes, and the number of opportunities available to develop leadership skills, on and off campus.

Jerry J. Rodriguez
Dorchester, MA
Class of 2020
jerry.rodriguez@trincoll.edu
High School: Boston Latin Academy
Major(s): Political Science and Human Rights
Favorite Trinity Course: Higher Education in America
Favorite Trinity Professor: Professor Stefanie Chambers
Extracurricular Activities: President of Latino America Unida Lambda Alpha Upsilon Fraternity Inc. (LAU), Vice President of La Voz Latina (LVL), Senior P.R.I.D.E Leader
Why I Chose Trinity: I chose Trinity because it was my number one school! Trinity was very well-rounded and a small school, which I prefer as it allows me to develop one on one relationship with my professors. The campus also has amazing aesthetics and awesome cultural clubs that students can join. Lastly, Trinity offers unique majors and several diverse study abroad options!
Jess Semblante
Class of 2021
Grants Pass, OR
jessica.semblante@trincoll.edu
High School: Grants Pass High School
Major(s): Educational Studies
Favorite Trinity Course: Special Education
Favorite Trinity Professor: Kyle Evans
Extracurricular Activities: Public Affairs Officer for H2OPE TC, Big Brothers Big Sisters elementary school mentor at HMTCA, member of The Mill, intern for Hartford Foundation for Public Giving Research Project
Favorite Place in Hartford: El Caribe (Dominican Restaurant)
Professional/Career Goals: I plan to work in copywriting while I earn my master's degree in social work, eventually fulfilling my goal to become a school social worker.
Why I chose Trinity: I chose Trinity because of its close-knit community and environment, both in and out of the classroom. I loved that the classes were small, and teachers were accessible to students. I also fell for the idea of living in such a culturally diverse city as Hartford!
Muhammad Zeb
Corpus Christi, TX
Class of 2021
muhammad.zeb@trincoll.edu
High School: ​Calallen High School
Major(s): Economics and Political Science
Favorite Trinity Courses: ​Financial Markets & Institutions, Civic Engagement & Community, Analyzing and Communicating Financial Data
Favorite Trinity Professor: ​Dr. Abigail Williamson and Dr. Christopher Hoag
Extracurricular Activities: ​Intern at Congressman John Larson's office, Honor Council, The Catalyst Leadership Corps., Founder of The Heritage Bridge Foundation, The Trinity College Investment Club
Why I chose Trinity: ​My choice to attend Trinity College can be described in one word: Growth. Trinity has enabled me to interact closely with distinguished faculty members in a mentorship inspiring manner and has already offered academic and co-curricular opportunities that are often only accessible to upperclassmen in larger academic institutions. Trinity teaches students to transform theoretical knowledge from class to tangible change through its proximity to downtown Hartford and to become change markers in any field they choose.