Back to News
Patino '19 to Teach English in Mexico through Fulbright ETA
Academics
posted
by Kathy Andrews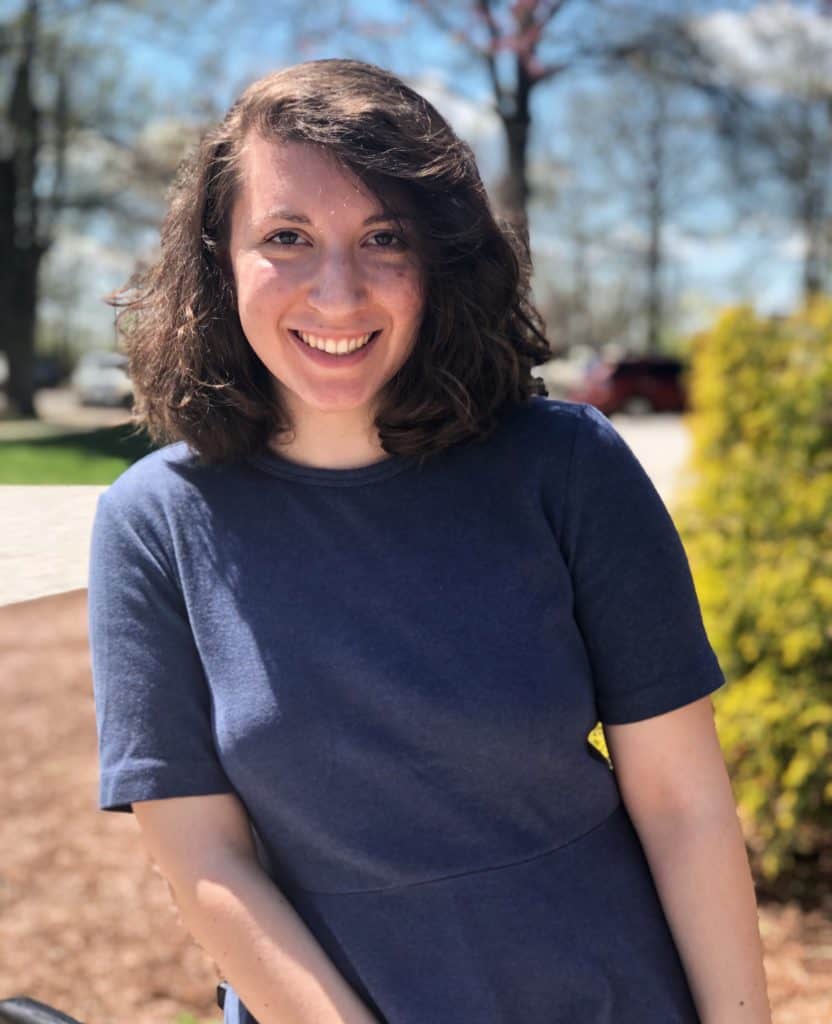 Hartford, Connecticut, April 30, 2019—Elizabeth Patino '19, who will receive a B.A. from Trinity College this May, has been awarded a Fulbright English Teaching Assistantship (ETA) to Mexico.
Patino, from Holmes, New York, is a President's Fellow at Trinity, representing the Language and Culture Studies Department. She is double majoring in international studies and Hispanic studies, with an Arabic minor. A U.S. citizen whose multicultural background includes Ecuadorian, Belgian, and Greek heritage, Patino has always had a strong interest in Latin American literature and culture. During her junior year, she studied and traveled in Argentina, Chile, and Uruguay. "I became keenly interested in Mexico when I took a class on 21st-century Mexican literature, which focused on human rights, border issues, globalization, and identity," she said.
The ETA program places Fulbright grant recipients in classrooms in foreign countries to provide assistance to the local English teachers. ETAs help teach the English language while serving as cultural ambassadors for the United States. Patino said that, in addition to teaching, she looks forward to pursuing a storytelling project in Mexico. "For me, storytelling has provided a pathway for cross-cultural communication."
At Trinity, Patino has been a teaching assistant for advanced Spanish grammar and composition, a Spanish tutor, and a first-year seminar mentor. She has worked as an admissions receptionist and completed an education and outreach internship with the Connecticut Department of Consumer Protection in Hartford. Her extracurricular activities included serving on Trinity's Bicentennial Strategic Planning Commission, on the First-Year Papers editorial board, with the JELLO (January Experience of Living, Learning, and Outreach) community service program, and as a Cinestudio volunteer.
Patino said she was inspired to travel to Mexico after taking two Mexican literature classes with Diana Aldrete, visiting assistant professor of language and culture studies. "Elizabeth is the perfect representation of an ideal student," said Aldrete. "Her creative and intellectual spirit always added to our discussions as she internalized and processed her own subjectivity after reading any material. She is also such a caring and committed person, and I know she will bring so much to the program and to people in Mexico."
Patino's internship supervisor at the Connecticut Department of Consumer Protection was Catherine Blinder, the department's chief of education and outreach. Upon learning that Patino was awarded a Fulbright ETA, Blinder said she was not surprised in the least. "Elizabeth quickly became an integral part of the commissioner's staff and took a leadership role with the other interns. She is a natural teacher and holds a deep understanding of both the opportunities and challenges of cross-cultural work. She will make a real difference in people's lives through her work in Mexico," said Blinder.
Anne Lundberg, director of fellowships and Trinity's Fulbright program adviser, agreed. "In the intensely competitive Fulbright selection process, Elizabeth clearly impressed the Mexico Fulbright Commission with her cultural sensitivity and teaching credentials," Lundberg said. "She is intrepid, intellectually mature, and immensely curious about how language, literature, and social experiences shape our understanding of the world. The role of Fulbright scholar as cultural ambassador is tailor-made for Elizabeth."
Two other members of the Trinity College Class of 2019 have been awarded 2019–20 U.S. Student Fulbright English Teaching Assistantships: Mariyann Soulemane '19 for Malaysia and Maria Warns '19 for Russia. Additionally, recent graduate Mya Peters '18 has been awarded a 2019–20 U.S. Student Fulbright ETA for Thailand. (Look for stories on these Fulbright ETA awardees to be posted on Trinity's website.)
The Fulbright U.S. Student Program is the largest U.S. exchange program offering opportunities for students and young professionals to undertake international graduate study, advanced research, university teaching, and primary and secondary school teaching worldwide. The program currently awards approximately 1,900 grants annually in all fields of study and operates in more than 140 countries worldwide.