Back to News
Mariyann Soulemane '19 Awarded Fulbright U.S. Student ETA
Academics
posted
by Kathy Andrews
Hartford, Connecticut, May 14, 2019—Mariyann Soulemane '19, who will receive a B.A. from Trinity College on May 19, has been awarded a Fulbright English Teaching Assistantship (ETA) to Malaysia. The ETA program places Fulbright grant recipients in classrooms in foreign countries to provide assistance to the local English teachers. ETAs help teach the English language while serving as cultural ambassadors for the United States.
An international studies major and French studies minor at Trinity, Soulemane graduated from Norwalk High School (Norwalk, Connecticut).
While still in high school, Soulemane fundraised for and participated in a Volunteering Solutions trip during summer 2014 to Surin, Thailand, where she helped teach English to primary school students. She studied away twice while at Trinity, first spending a semester in Paris, where she immersed herself in the French language and culture after having taken several years of French. She also studied in Cape Town, South Africa, completing an internship there with the Heal the Hood project, which works to create a network of youth artists. These experiences helped spark Soulemane's passion for assisting students in improving language skills and in creating valuable educational moments.
In Hartford, Soulemane also pursued teaching and mentoring opportunities, volunteering with a kindergarten class at the Expeditionary Learning Academy at Moylan Street (ELAMS), and mentoring middle school students at Hartford Magnet Trinity College Academy (HMTCA) through the Jones-Zimmermann Academic Mentoring Program.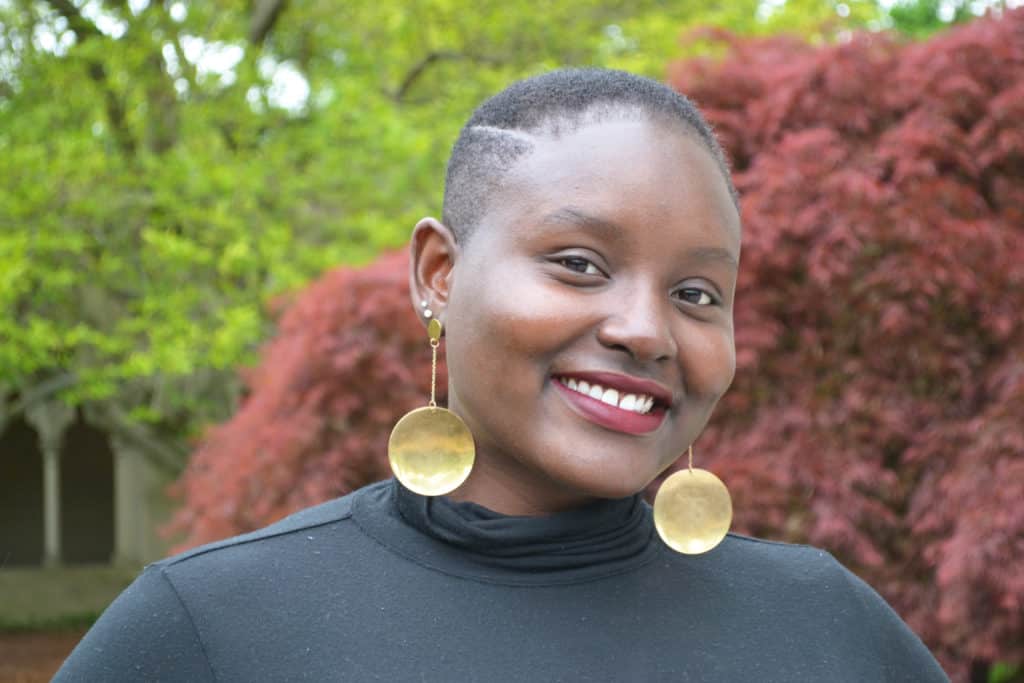 "As a Fulbright ETA in Malaysia, I plan to immerse myself in the culture, learning about the educational system and finding ways to grant people their fundamental right to a high-quality, inclusive education," said Soulemane.
"In addition to classroom teaching, I look forward to sharing my love of dance," she said. "I have skills in various dance forms, including African and hip hop dance, and consider dance to be an ideal vehicle for cross-cultural communication. I would also be thrilled to learn more about dance as part of Malay culture. I enjoy educating myself about different cultures through travel," she added.
Maurice Wade, professor of philosophy, said, "Mariyann was a member of my first-year seminar and also worked with me on a project to construct an online archive of Caribbean anti-colonial thought. She was a pleasure to work with in both instances—bright, hard-working, and always in good spirits!"
Charles A. Dana Research Associate Professor of Language and Culture Studies Sara Kippur said, "I have had the pleasure of having Mariyann as a student in my French courses. The tenacity, good humor, and energy she brings to learning a language will serve her well as she makes the transition to teaching students in Malaysia."
Soulemane noted that after completing her Fulbright ETA and before pursuing a master's degree, she would like to work in global affairs with nonprofit organizations focused on providing educational opportunities for disadvantaged students.
Among Soulemane's extracurricular activities, she was community service chair and social media chair for Imani, the Black Student Union; a mentor in WGRAC's Big Sister/Little Sister program; a member of the African dance group, Do Shakara!; and a First-Year Orientation leader.
"With her love of teaching and her language skills, Mariyann is an ideal candidate for the Fulbright ETA program," said Anne Lundberg, director of fellowships and Fulbright program adviser at Trinity. "She clearly thrives in complex environments and brings an acute understanding of multicultural communities and challenges. I can't wait to hear all about her Fulbright experience in Malaysia!"
Two other members of the Trinity College Class of 2019 have been awarded 2019–20 U.S. Student Fulbright English Teaching Assistantships: Elizabeth Patino '19 for Mexico and Maria Warns '19 for Russia. Additionally, recent graduate Mya Peters '18 has been awarded a 2019–20 U.S. Student Fulbright ETA for Thailand. (Look for stories on these Fulbright ETA awardees to be posted on Trinity's website.)
The Fulbright U.S. Student Program is the largest U.S. exchange program offering opportunities for students and young professionals to undertake international graduate study, advanced research, university teaching, and primary and secondary school teaching worldwide. The program currently awards approximately 1,900 grants annually in all fields of study and operates in more than 140 countries worldwide.