Back to News
'Forming a Path to Follow': Internships Help First-Year Students Find Their Way
Hartford
posted
by Andrew J. Concatelli
Trinity's Kelter Career Leadership Program offers first-year students the opportunity to take part in internships with Hartford-based organizations early in their college careers.
The program invites select incoming students to design their college experience and life beyond Trinity through personal development and hands-on learning. "The goal of the Kelter Career Leadership Program is to introduce students to design thinking, so they can be creative problem solvers for the way that they design their Trinity experience," said Joseph M. Catrino, lead facilitator of the program and Trinity's executive director of career and life design.
Through readings, reflections, and interactive exercises during bi-weekly meetings, the 30 students in this year's cohort have worked as a community of peers to become leaders on campus, in the community, and beyond, Catrino said. In the spring semester of their first year, students are placed in a six-week internship with a Hartford-based organization.
Maria Dyane '17, M'19, international student program coordinator and career and life design coach at Trinity, said that students are matched with internships that align with their interests as much as possible. "This internship often gets them their first professional, hands-on experience. It's an opportunity for them to open their minds and explore new things," she said. "They get to know themselves, which is really important in this phase of their journey."
Hear more from students who had Hartford-based internships this spring through the Kelter Career Leadership Program:
Makayla Cervantes '26—Bristol, CT
Internship: Hartford Office of U.S. Senator Richard Blumenthal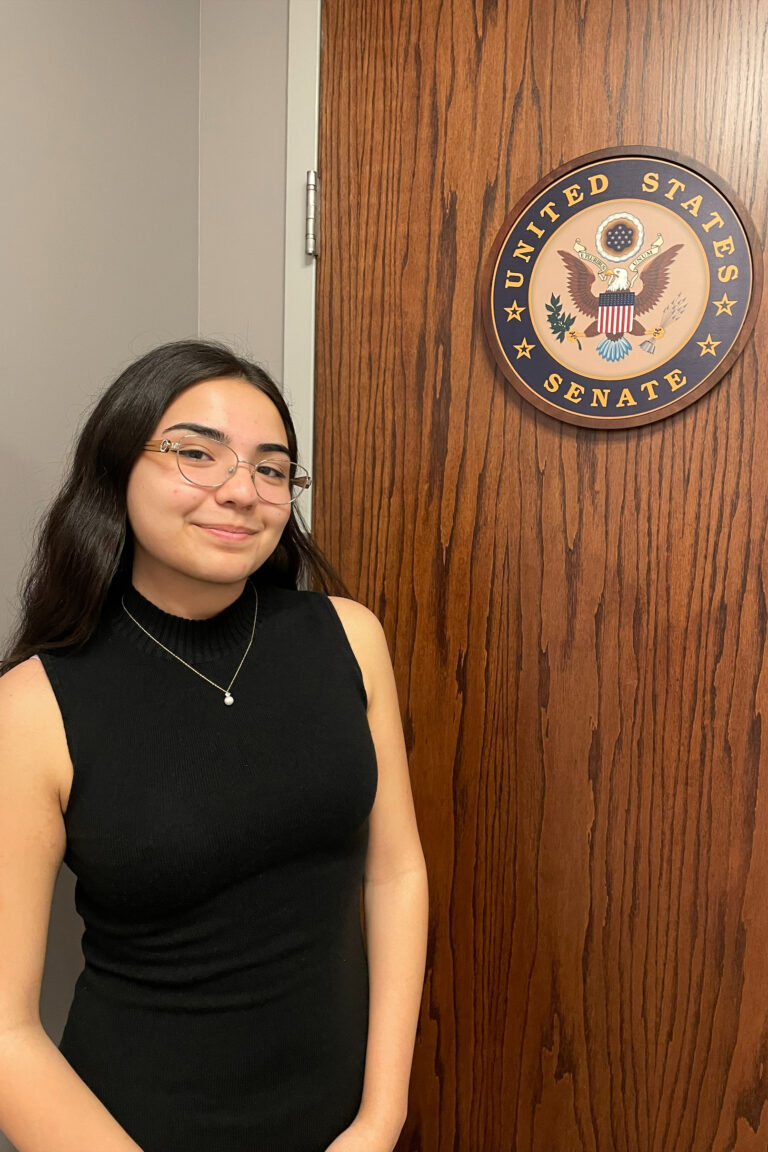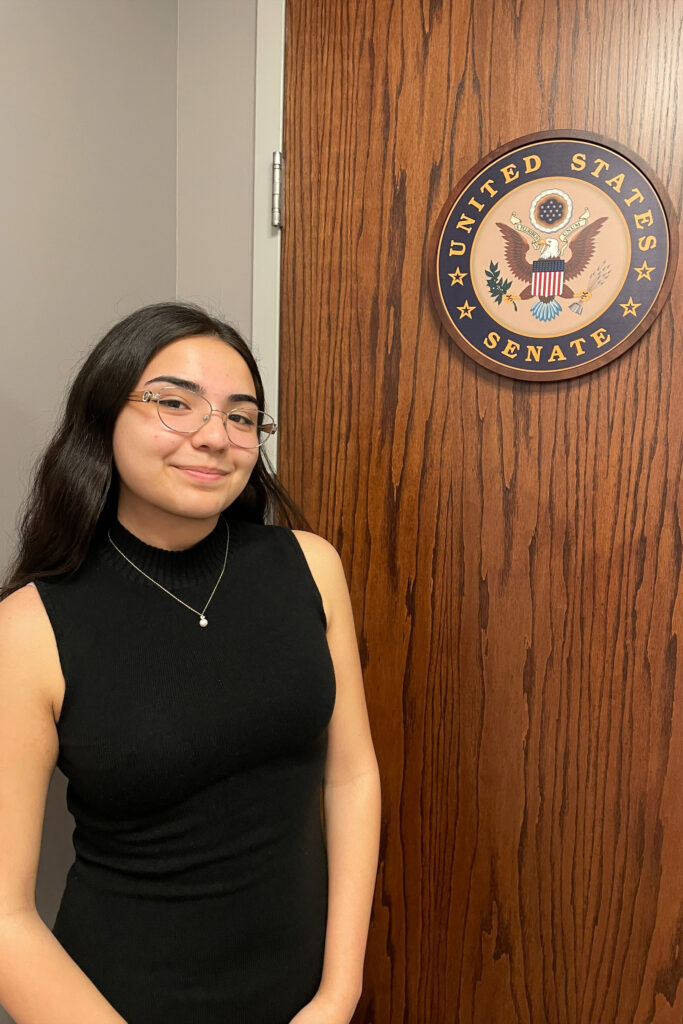 What has it been like to intern in U.S. Senator Richard Blumenthal's office?
When I applied to Trinity, I knew I wanted to explore more about political science, especially how policy is created. When I got the opportunity to work at the senator's office, my mind was blown. I couldn't believe it. It's always been a dream of mine to work with a senator or representative. Twice a week, my co-intern and I answer calls from constituents with inquiries or issues, whether they want to give opinions to the senator about bills they want him to oppose or approve of, or something for the senator to pay more attention to, or to help get connected with services. In the internship, you represent the senator and you learn how to deal with people. You want to make sure people are happy after they call and that they are given the right information on the senator's behalf. We were taught to be respectful with constituents and how to handle information dealing with different cases. You never know who's going to call. At first I was a little bit nervous, but I've learned to love it. 
What have you learned from the Kelter Career Leadership Program?
In the first semester we worked with the Connecticut Invention Convention. It became a good way of understanding how to work toward a goal, especially in your first year at college. I developed some skills relating to how to think for myself and research different things. The internship part of the program is a good way to see if you're interested in something, while also meeting a specific goal. It offers a new experience that you possibly wouldn't have looked at beforehand.
How do you think this internship may impact your future plans at Trinity or your career?
Doing this internship made me realize how much I really do enjoy political science. It was the hands-on aspect of working with people that I learned to love. It reinvigorated the reason I wanted to study political science. You get to see the process of how legislation—from the ground up—goes to the representatives that you're working with. I believe that it's something that will be a very important aspect in me continuing a possible career where I combine my planned majors in political science and economics. I feel privileged to have done something like this in my first year at Trinity.
Peter Haddad '26—Buffalo, New York
Internship: Charter Oak Boxing Academy (COBA)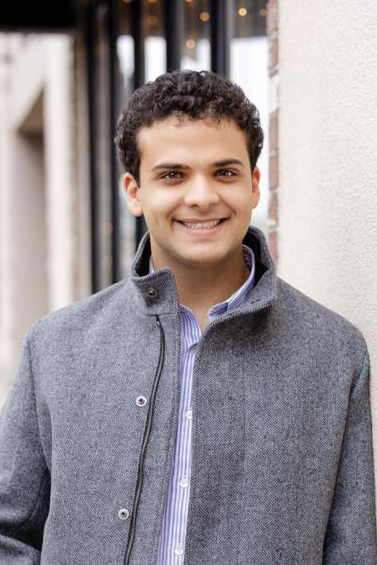 What has it been like to intern with Charter Oak Boxing Academy?
My experience with COBA is very positive and I have found it to be interesting. I've learned about Coach Johnny Callas' career as a professional boxing coach and social worker. I've learned a lot about empathy and how to keep an open mind and never judge people. I've also worked on my communication, especially by talking to the kids, and on how to be organized in an office space and running an organization efficiently. All the staff are very close, so it feels like a family when I'm there. COBA does some mental health and psychological evaluations, and that ties me to my major in neuroscience. They recently offered a presentation to parents with information from psychologists and social workers about children's mental health. It's a great thing you wouldn't necessarily expect at a boxing gym. A lot of my internship is spent filing and organizing paperwork for the organization. COBA is for the community, working for the kids and doing what's in the kids' best interests.
What have you learned from the Kelter Career Leadership Program?
Being admitted into the Kelter program was a deciding factor for me in coming to Trinity. We talk about communication skills, public speaking, how to work on planning out your life, and always being prepared for failure and how to respond when that happens. It's also great to work on personal skills such as presenting yourself and introducing yourself in a professional way. For me, the Kelter program has supported a transition from being a child to being an adult, and learning what comes with that.
How do you think this internship may impact your future plans at Trinity or your career?
I plan on going to medical school; I feel like this has helped me develop more of an interest in the brain, neurology, psychiatry, and psychological disorders. Going through a program like this has given me a great deal of positive exposure during my first year at Trinity and encouraged an interest I didn't know I had. Overall, it's developed my social and professional skills a lot. I think it's forming a path for me to follow.
Lillian McDonald '26—Columbia Falls, Montana
Internship: TheaterWorks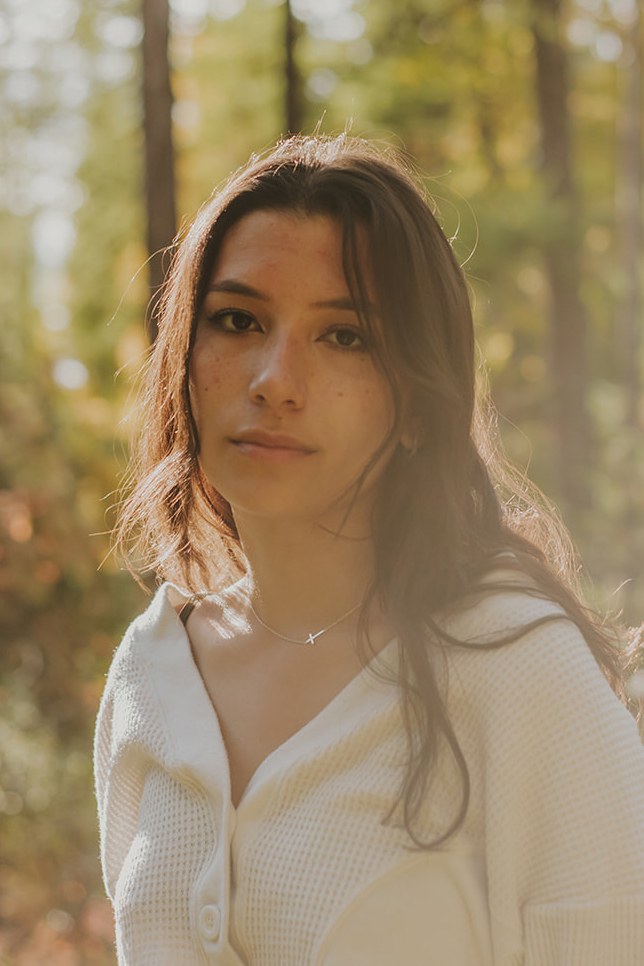 What has it been like to intern at TheaterWorks?
I'm interested in studying creative writing and studio arts. I'm not super into theater, but TheaterWorks is really cool—they do a lot of interesting shows. I've worked a lot with production mainly, like painting scenic flats in the scene shop. I've been working on the set for The Rembrandt [on stage through May 14], making the walls looks like concrete. It's cool to see the behind-the-scenes aspect of everything, to be able to walk on a set and see how it's built from the ground up and see how much work goes into even a short show. On a few occasions I did do front-of-house work, helping out with the guests. A lot of times I'll get to watch the shows they put on and listen to the talks or the special musical guests they have. It's a chill environment, and it's nice to get off campus. I'm grateful for this opportunity.
What have you learned from the Kelter Career Leadership Program?
A lot of the skills we talk about and try to develop in our Kelter meetings are how to interact with professionals, how to get the most out of an experience, how we can strengthen our resumes, and how to keep an open mind with these opportunities. It's really great to know I have Joe Catrino and Maria Dyane as resources on campus if I ever need anything, especially coming from out of state and not really having previous connections here. They introduce you to the professional world—like one week we talked all about networking—and you can hear about other people's experiences.
How do you think this internship may impact your future plans at Trinity or your career?
I did plan on doing internships during my time at Trinity, but I didn't think I would have an internship in my first year. I think it's important to supplement your education with internships. This has been an experience to add to my resume and it's made me more confident in working environments. Kelter helps you to evaluate the experiences you're getting and how you can use those to market yourself. It makes me feel more confident in my abilities.