Back to News
First Summit Innovation Challenge Promotes Entrepreneurship among Trinity Students
Trinity College recently hosted the first Summit Innovation Challenge to promote entrepreneurship on campus through a "Shark Tank"-like competition that featured students pitching their inventions.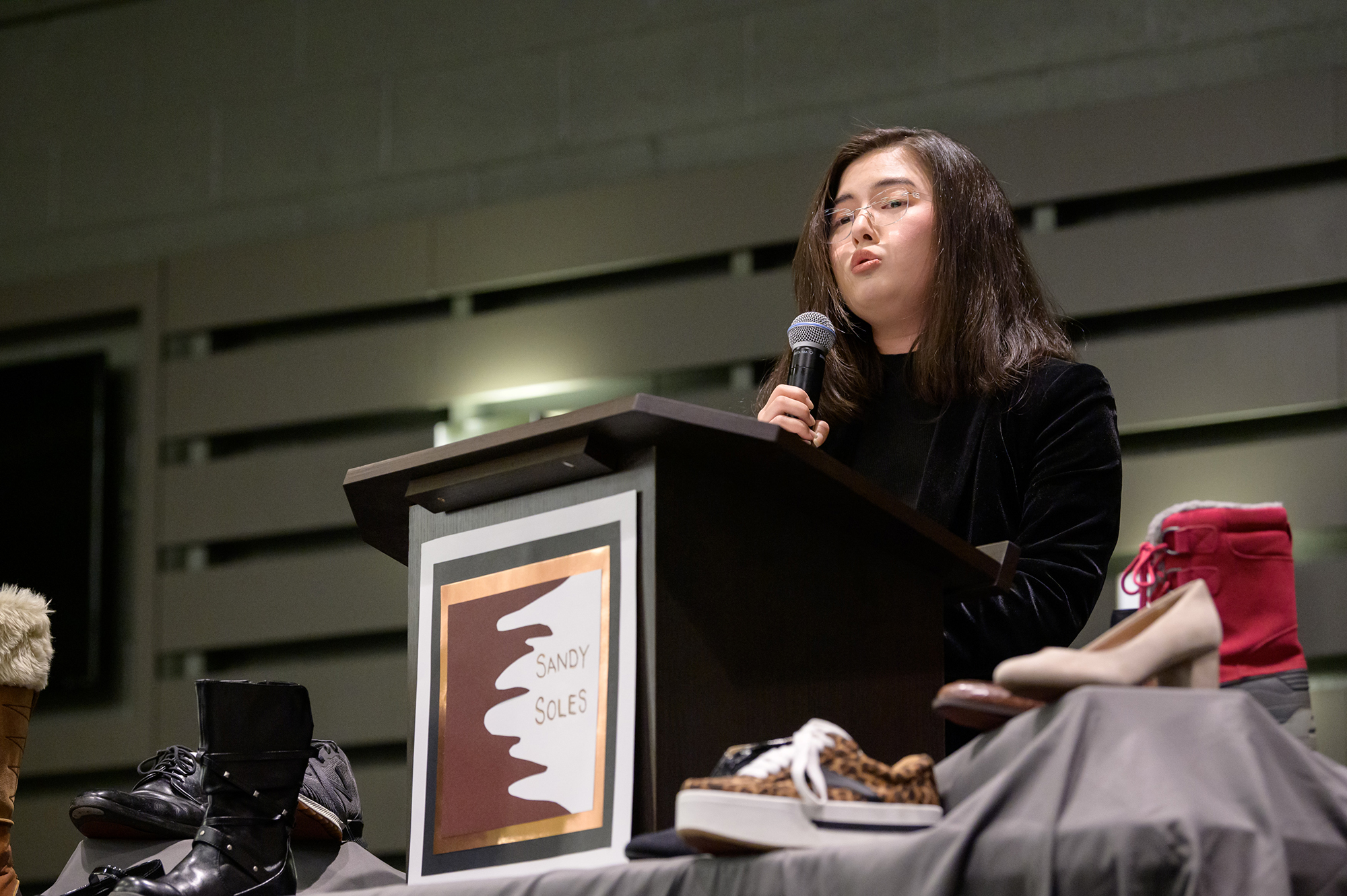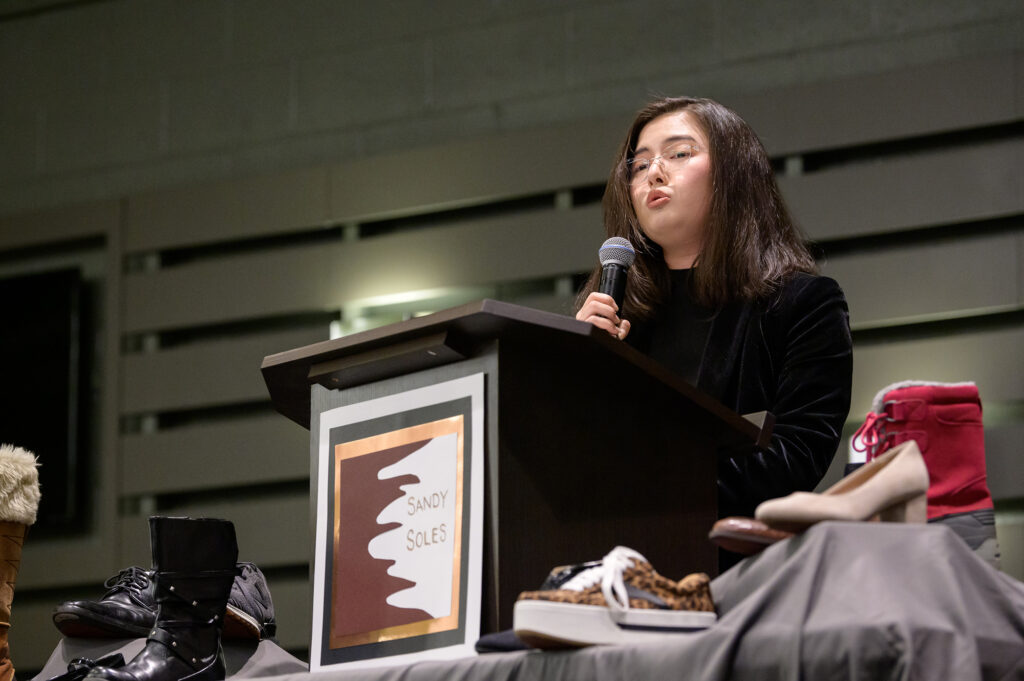 Five first-year students in the Kelter Career Leadership Program brought their inventions before judges at the Cornelia Center on March 2 as a way to showcase leadership development and design thinking skills. Trisha Mohan '26 won first place with her invention, the CandleCover, and Jade Mellitz '26 won second place with her invention, Sandy Soles.
The competition was co-sponsored by Trinity's Career and Life Design Center and Entrepreneurship Center, in partnership with the Connecticut Invention Convention. The Connecticut Invention Convention is an educational organization that encourages K-12 students to learn entrepreneurial and STEM skills as creative problem-solvers and critical thinkers.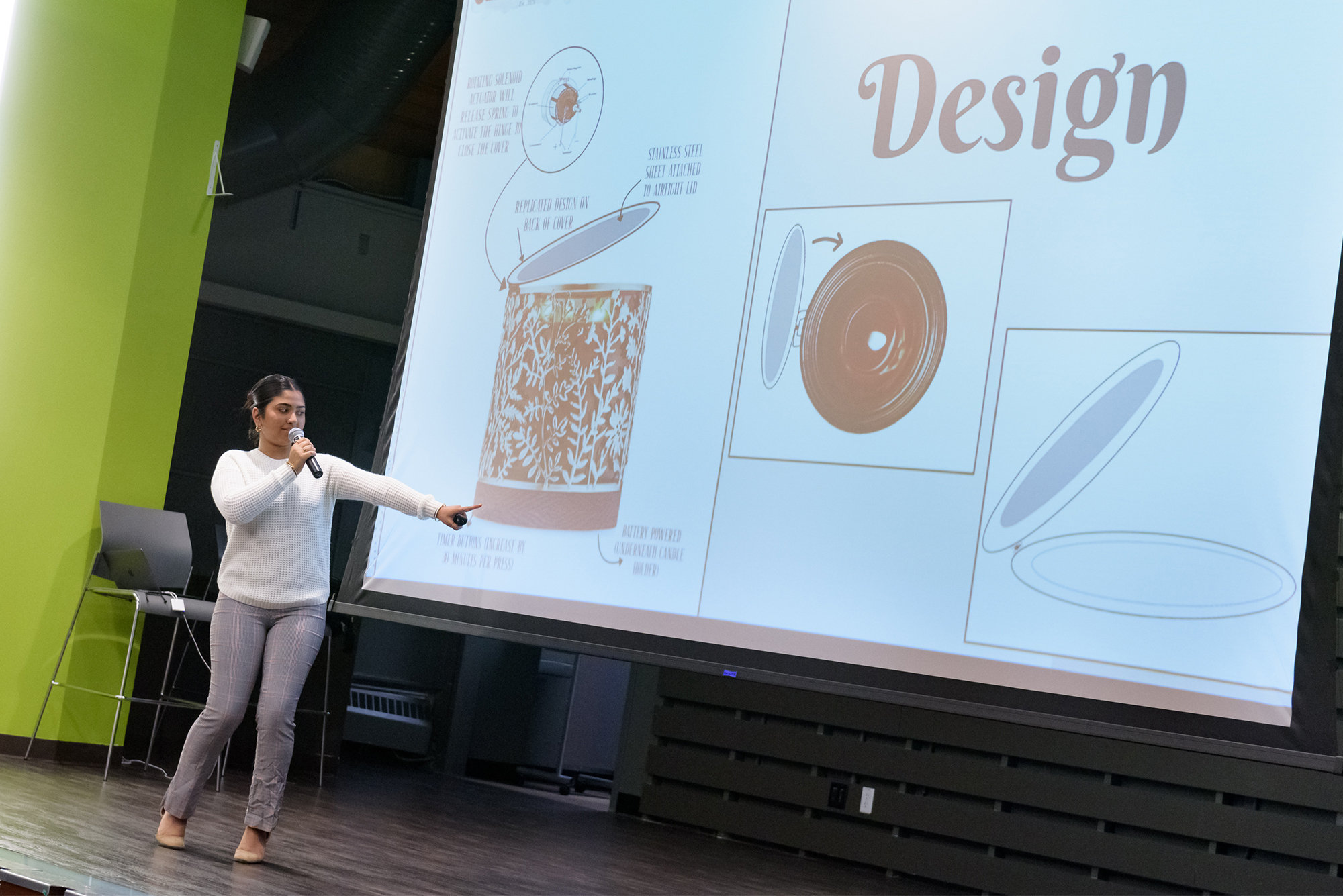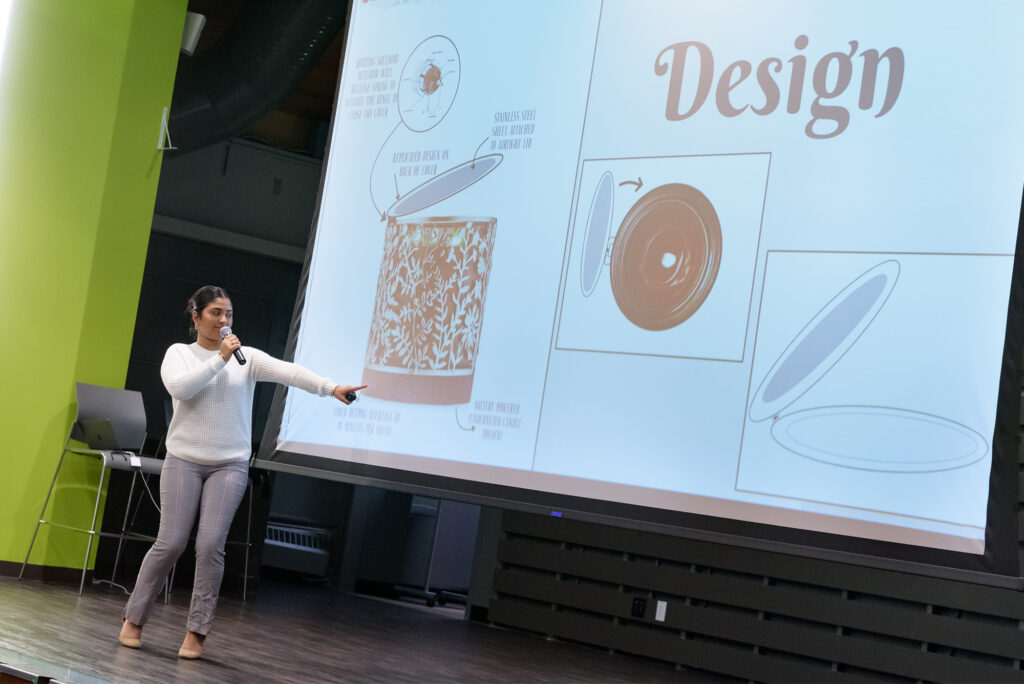 Danny Briere, director of Trinity's Entrepreneurship Center, views this collaboration as beneficial for Trinity students. "The idea is that we are purposefully launching programs that are trying to create these next-generation skills for students in their first and second years, so they can take advantage of them later on in their college career, and their post-college career," Briere said.
According to Joe Catrino, executive director of the Career and Life Design Center, this is the first time the Kelter Career Leadership Program worked with the Connecticut Invention Convention to extend its K-12 program to college students. Connecting this program with the Career and Life Design Center's goals, Catrino said, "We use design thinking in having students consider, 'How can you design a Trinity experience for yourself in your first-year and beyond?' They frame it as, 'How can you use design thinking to solve everyday problems to become an inventor?'"
In the fall semester, the students in the Kelter Career Leadership Program participated in brainstorming and developing their inventions for the Summit Innovation Challenge. Students then submitted videos of their invention proposals to be chosen as one of the top five finalists, who then worked with alumni entrepreneurs to refine their pitches.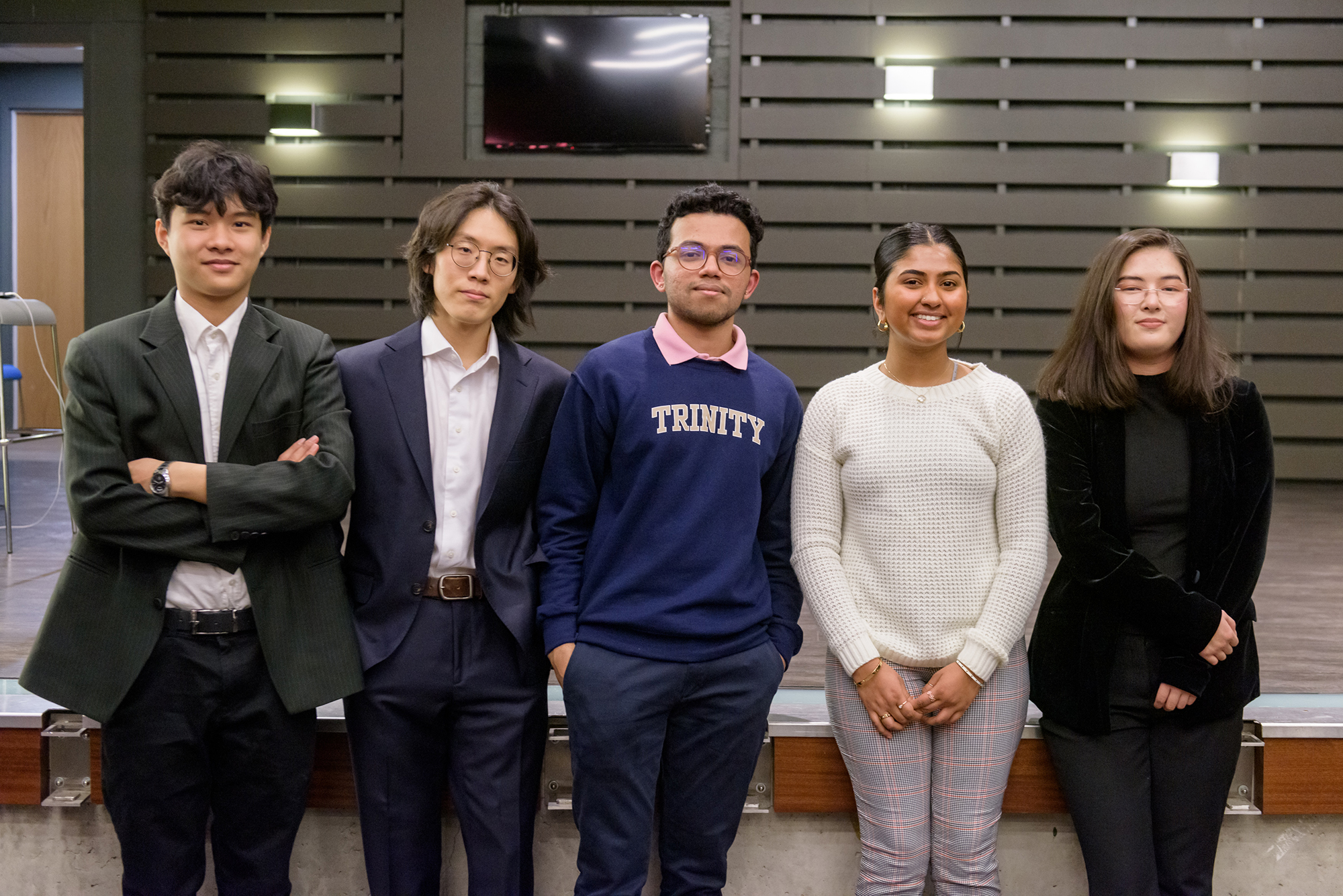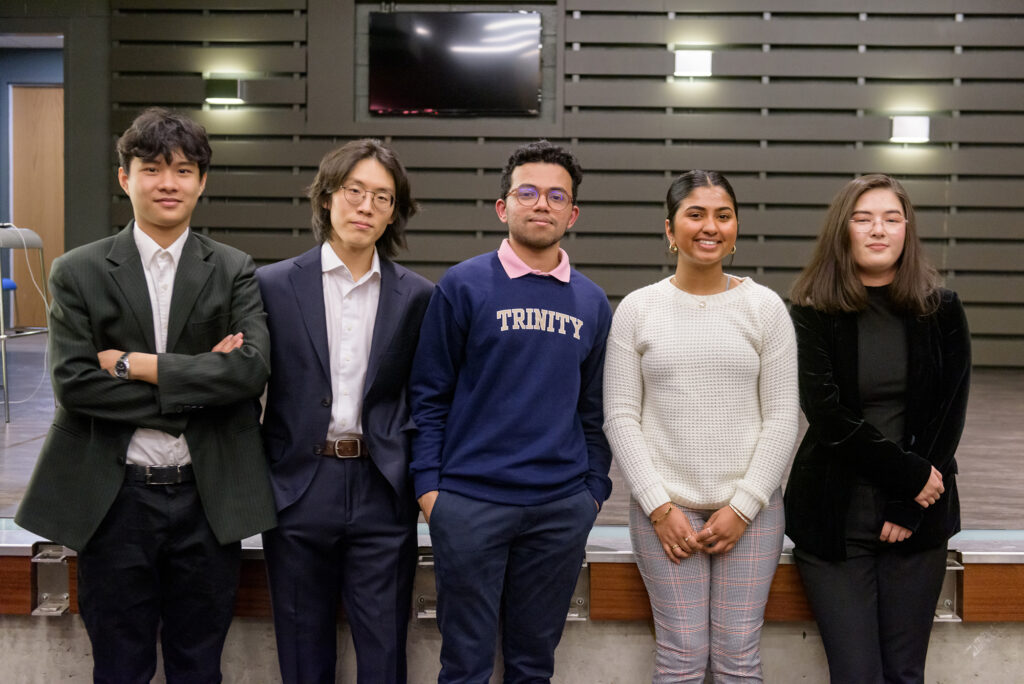 Mohan and Mellitz came up with two different situations for which their inventions provide solutions. During Mohan's five-minute pitch, she introduced how her battery-powered CandleCover invention, which would automatically cover a candle to put out its flame, relates to her personal experience. "The constant gift that I always get—be it my birthday, Valentine's Day, Christmas—is candles, yet it's the one gift that I cannot use because my parents are paranoid about our house burning down if forget about the flame. In reality, even though I like to make fun of it, it is a genuine concern," Mohan said.
Mellitz's pitch for her invention of the anti-slip Sandy Soles pads stems from personal challenges with shoe soles not having enough traction to walk safely on black ice. "Sandy Soles was born from my own family's experience with black ice," Mellitz said. "My mother fractured her wrist three years in a row falling on black ice; her final fall resulted in reconstructive surgery."
The other finalists and their mentors were: Ki Hwang '26, who developed Hop Search and was mentored by Masumi Nakamura '97; Tu Hoang Vu '26, mentored by Steve Woodworth '93 to pitch The Easer: Instant Panic Easing Device; and Shashwath Sunkum '26, who pitched the invention Tenzing and was mentored by Rick Cleary '85.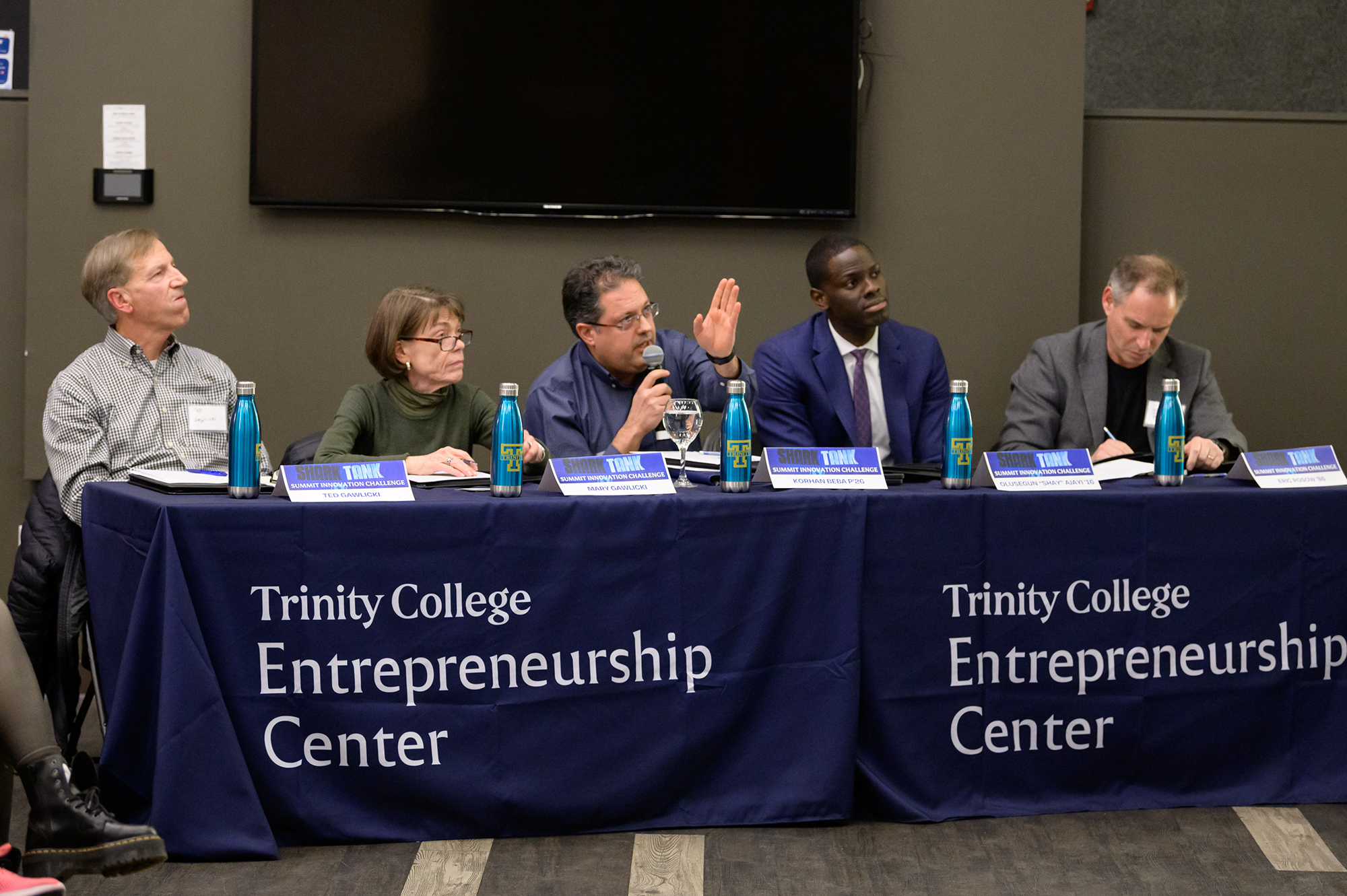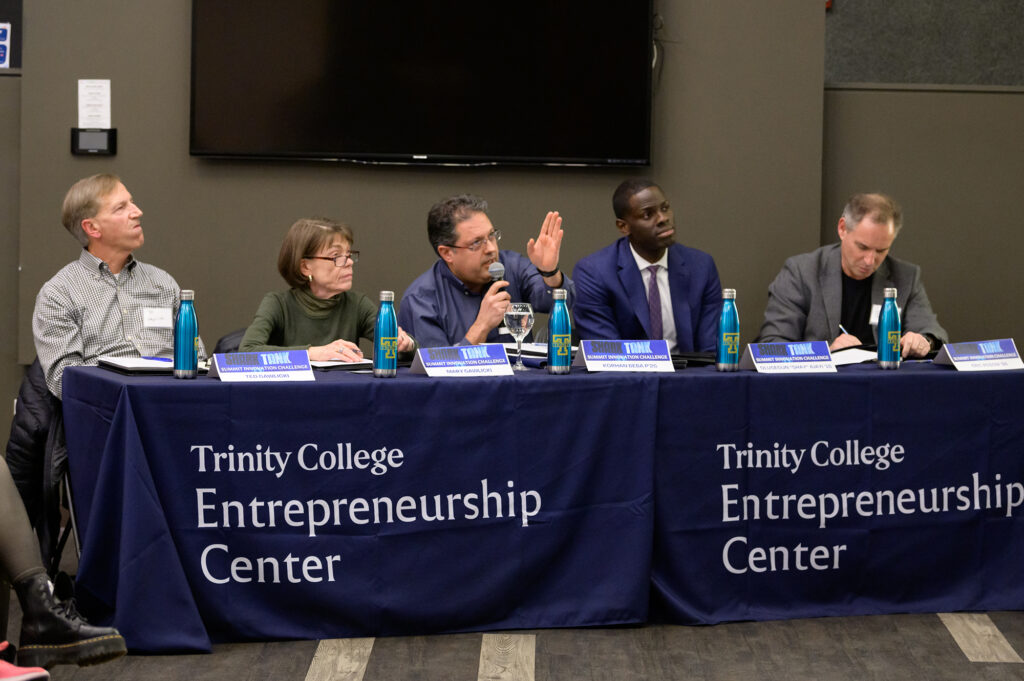 Five judges including alumni, parents, and supporters of the Connecticut Invention Convention determined the winners. Olusegun "Shay" Ajayi '16, director of operations at Hartford Hospital and Funston Trustee on Trinity College's Board of Trustees, said that their judging criteria was based on defining the problem statement, practicality, solution, enthusiasm, and passion.
Ajayi added that Mohan and Mellitz stood out among the finalists. "[Mohan's] project was very heavily data-driven, including market research, speaking to vendors, and getting pricing costs, while [Mellitz's] project had showmanship, dedication, and passion," Ajayi said. "I think ultimately these two related it back to their personal lives, and giving the practical invention approach to solve the problems is what made it better. Ultimately, all the students did that, but the two candidates that we chose did it in a more feasible manner."
Mohan's experience working on her invention enabled her to pitch her invention's production costs and areas for improvement to an audience. With the support of her mentor, Aimee Brown '74, and her father, who is a design engineer, she demonstrated poise responding to the judges' feedback.
"I feel like accepting faults and also just being charismatic during your presentation gives interest to the investors, because a huge part of entrepreneurship is gaining those connections and also gaining investors. It's just the way you present yourself to people and accepting those faults when they point out flaws that are legitimate," Mohan said.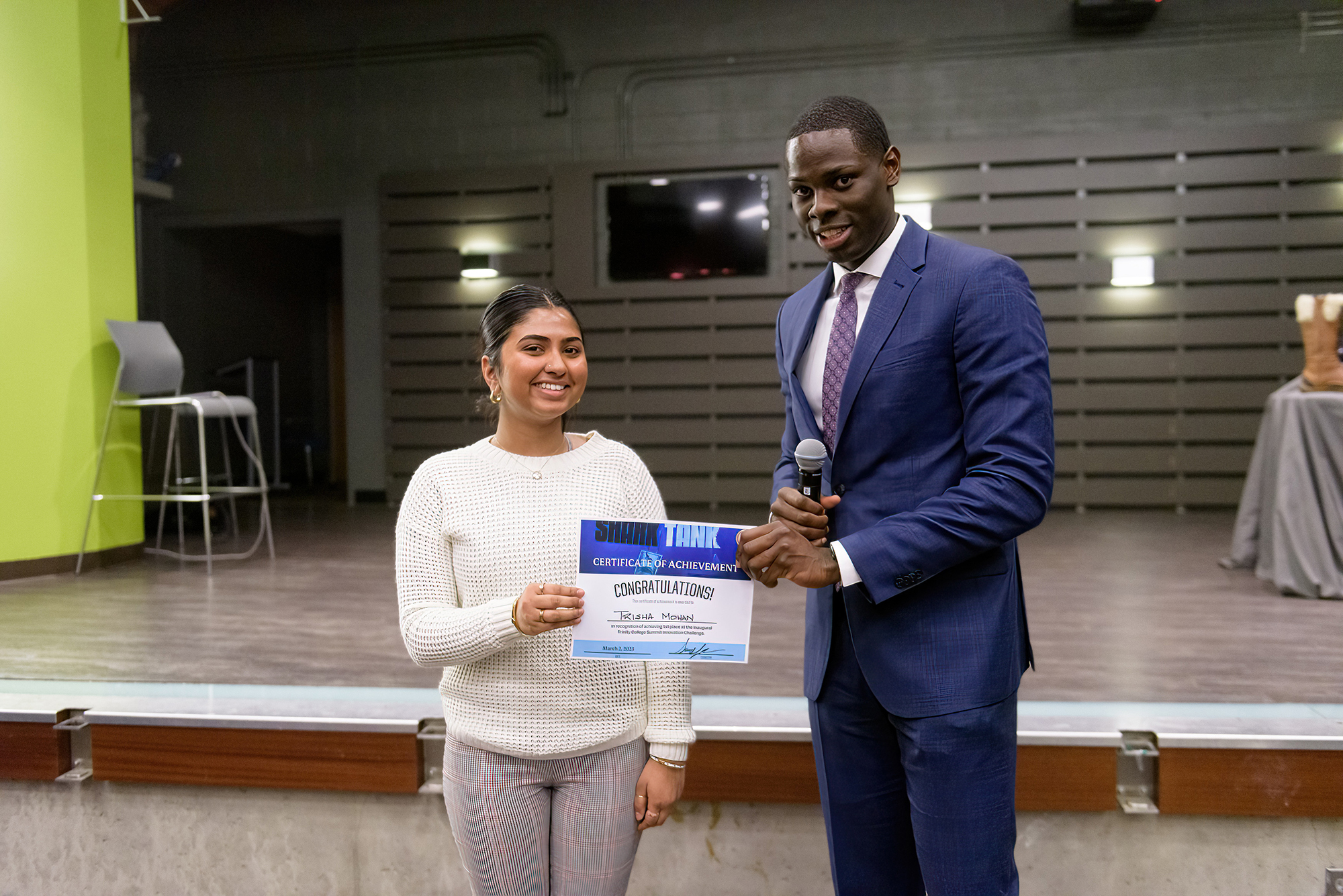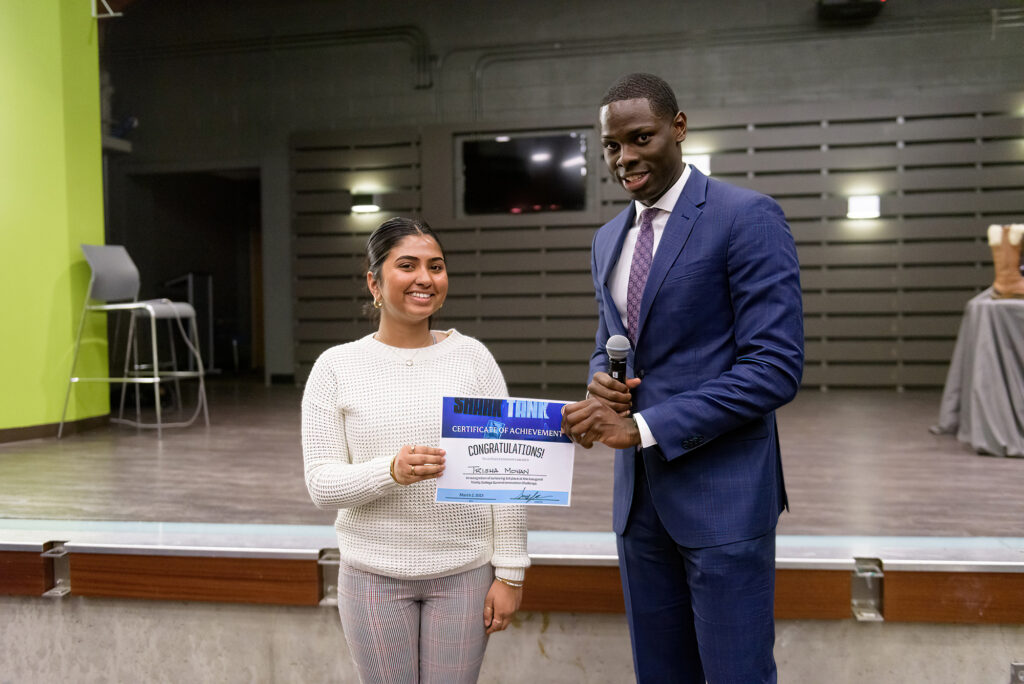 The Summit Innovation Challenge offered possibilities for entrepreneurship to be integral for first-year students' future academic interests. "From doing this project, I did learn that I really do like the aspect of design in general and it was fun for me to make the logos and design the product," Mohan said. "Being able to use technology to draw the candle cover itself and use software to make the logos, it made me want to potentially pursue a career in marketing just so I could use those skills in that aspect."
Mellitz's presentation included mockups of her product with the help of her mentor, Trinity Trustee Liz Elting '87, which she demonstrated on the soles of sneakers, boots, and even high heels. She also saw her invention of the Sandy Soles leading to a pathway for entrepreneurship in her life. "I definitely see this in stores, in family stores, Walmart, Target, Dollar Tree. I'm also taking into consideration making my own website to sell my product. That's the direction I hope to go in," Mellitz said.
Catrino said that the first Summit Innovation Challenge opened doors for students to see the entrepreneurship resources available to them at the Career Life and Design Center and the Entrepreneurship Center. "There are a lot of students who have their own businesses, inventions, and start-up companies. I just think students need to know that there are avenues for them to pursue here," Catrino said. "We want students to come to college to get these really tremendous human skills that stem from the liberal arts and leverage them as entrepreneurs."
The Entrepreneurship Center also promotes that entrepreneurial skills are not strictly for those with interests in inventing or starting a company, and that entrepreneurship can apply to students of diverse backgrounds and career interests.
Briere said, "I want to have something that gets people thinking innovatively and entrepreneurially, regardless if they want to start a company, because no matter what career you go into, if you can think with an innovative mindset and entrepreneurial mindset, you're going to do a lot better in those careers. Creative problem-solving, no matter what you're going to do in life, is a life-long skill."
See more photos from the Summit Innovation Challenge below.
Explore the Gallery
The First Summit Innovation Challenge
Explore the Gallery
The First Summit Innovation Challenge