Welcome to the Queer Resource Center at 114 Crescent St.
View our spaces below and feel free to contact us at QRC@trincoll.edu with any questions.
Director of LGBTQ+ Life Office

Visit the QRC during our "open center hours" or schedule an appointment to talk to QRC Director.
The Director of LGBTQ+ Life is Trinity's LGBTQ student support services specialist. This college staff member is here to provide individual support and advocacy for issues related to sexual orientation and gender identity, campus education and outreach on LGBTQ+ issues, develop opportunities for LGBTQ community and leadership development, and provide institutional guidance to the College on matters of LGBTQ equity, access, compliance and opportunities for institutional improvements on these areas.
Visit the QRC Director if you want to talk to someone about issues with personal identity development; coming-out at home or school; fitting in and finding community at Trinity and Hartford; issues with friends and roommates; recommendations for good reads and movies; places to explore and have fun; places for mental, emotional, and physical support that are LGBTQ safe & affirming; places to start gender transition services near Hartford; research ideas and support for LGBTQ topics in class; a place to talk about experiences of discrimination or harassment and support for filing a formal report; a place to talk about cool ideas for new LGBTQ programs and events at Trinity; information on how to be supportive to your LGBTQ roommate, friends, or family members ; or… anything else you can think of. Stop by, call, or email – That's what we are here for.
QRC Book and Media Library
The resource center library includes books, videos, DVDs, magazines, pamphlets, and guides relating to LGBTQ+ issues, sexuality, and gender identity. Our collection is a mixture of donated materials and as well as our own and has been growing rapidly over the past few years! The collection extends across the categories of fiction, non-fiction, memoir, legal histories and reference, academic texts, health, human rights, LGBT politics, LGBT advocacy, and informational works provided by local and national Non-Profit LGBT organizations. If you would like to donate any book or media items please email QRC@trincoll.edu.
Conference Meeting Room
The Conference Room is located on the 1st floor of the QRC. This space is used for educational programming, small discussion groups, and student meetings. This space may be ideal for small or intimate class gathering and can comfortably host 10 -12 people.
During unscheduled hours, this is often a great place for students to hang out and do some homework, study, or take a coffee or tea break.​​
QRC Lounge and Computer Lab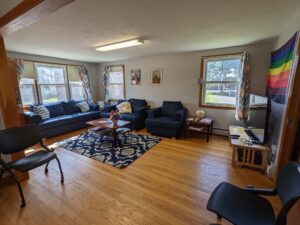 This is the main social area of the QRC located on the 2nd floor. It is A/V ready and is a great place to plan small events and receptions. It is a great space to hang out and do homework. Its home to many
TV, movie, and board game nights for students. The QRC Computer Lab offers 2 desktops for student use along with a printer.
Trinity LGBTQ Club Offices ( EROS Eboard Office)
This office is accessible to the E-board members Trinity's LGBTQ+ student organizations. It is the EROS Eboard point location for organization planning, records, and supplies.
Temporary Housing Room

The QRC maintains a room at all times that is available for temporary, short-term, emergency housing relocation. This space can be requested if there is a critical error in housing assignment, or an issue with a roommate around one's sexuality or gender identity that has resulted in a student feeling unsafe or unwelcome in their current dormitory assignment. A student may stay as a guest in this room temporarily while residence life corrects an issue, mediates a conflict, or can offer a permanent room change.
QRC Kitchen

The QRC has a fully operational kitchen, with stove, oven, microwave, refrigerator, and cookware materials.
Students can take advantage of the kitchen to cook meals and bake for special club events and fundraisers. If you reserve the QRC for a dinner event you may cook or use the kitchen to heat up food. The kitchen is always stocked with free coffee and tea for students to enjoy!
There is NO alcohol storage allowed in the QRC and consumption within the Center is prohibited unless a special event has been arranged and registered with the QRC, College, and State officials.
If you use the kitchen for an event or private use, you are required to fully clean up workspace and all cookware/dishware before leaving the premises.