Located at 114 Crescent St. at Trinity College, the QRC offers an affirming safe space for the LGBTQI and ally community.
Our Center serves as the hub for LGBTQ+ life on campus and provides social and educational programming, meeting space, and hang out place for students, faculty, and staff.
Due to COVID-19 restrictions, the QRC currently does not have open-door hours as in the past. For questions regarding meeting-room capacity and card access and to make an appointment with someone who can assist with issues related to LGBTQ+ life, please contact the director of WGRAC, Laura Lockwood, at laura.lockwood@trincoll.edu.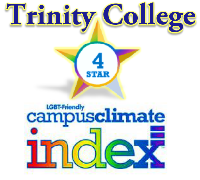 Trinity College participates in the National Campus Climate Assessment for LGBT Life. To view our annual index score and report please click here.
GET IN TOUCH
Queer Resource Center
Laura Lockwood
Women & Gender Resource Action Center (WGRAC)
Trinity College
300 Summit Street
Hartford, CT 06106

Monday - Friday, 9:00 a.m. - 5:00 p.m.