Located at 114 Crescent St. at Trinity College, the QRC offers an affirming safe space for the LGBTQI and ally community.
Our Center serves as the hub for LGBTQ+ life on campus and provides social and educational programming, meeting space, and hang out place for students, faculty, and staff.
Center Hours
Currently due to the state of our country and our campus, the QRC will not have open door hours as in the past nor will students be able to request access to the QRC at this time.
The director of LGBTQ+ Life, Carrie Robinson, has departed from the college. If someone would like to meet with an interim contact person, appointments can be booked by emailing Laura Lockwood, director of the Women & Gender Resource Action Center (WGRAC) at: Laura.Lockwood@trincoll.edu.

Hours of operation for the QRC are:
Monday- Friday: 9:00am- 5:00pm
At these times, the center is open to all members of the Trinity College student, staff, and faculty communities. During these hours, the center is staffed by the QRC Director or a student worker who can help utilize resources; provide information about LGBTQ+ issues on campus and in the community; provide tours; help organize events; and provide information about LGBTQ+ community volunteer efforts.
Contact us at QRC@trincoll.edu or call our offices at (860) 987-6273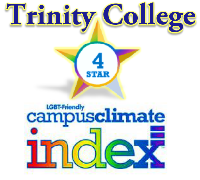 Trinity College participates in the National Campus Climate Assessment for LGBT Life. To view our annual index score and report please click here.
GET IN TOUCH
Queer Resource Center
Laura Lockwood
Women & Gender Resource Action Center (WGRAC)
Trinity College
300 Summit Street
Hartford, CT 06106

Monday - Friday, 9:00 a.m. - 5:00 p.m.