Located at 114 Crescent St. on the Trinity College Campus, the QRC offers an affirming safe space for the LGBTQIA+ and ally community.
About us:
Our Center serves as the hub for LGBTQ+ life on campus and provides social and educational programming, meeting space, and hang out place for students, faculty, and staff.
During the Academic Year the QRC generally offers 'open center hours' from 9:00 am – 5:00pm. These hours are subject to change due to staff availability and changes in COVID restrictions. You are welcome to make an appointment or drop in anytime you see our rainbow "Open" sign.
For questions regarding meeting-room reservations and capacities, individual card access, or to make an appointment with someone who can assist with issues related to LGBTQ+ life, please contact the director of LGBTQ+ life, Crystal Nieves, at Crystal.Nieves@trincoll.edu.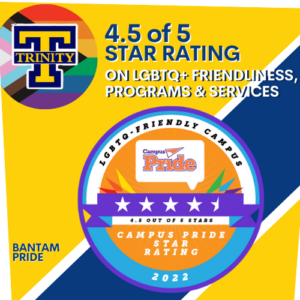 Trinity's National Campus Climate Index Score:
Trinity College participates in the National Campus Climate Assessment for LGBTQ+ Life that is managed by Campus Pride and the National Consortium of Higher Education LGBT Resource Professionals. We are proud to have achieved a 4.5 of 5 star rating and look forward to continually improving our campus policies, services, and programs for LGBTQ+ Life.
To view our annual index score and report card please click here.
Supporting the QRC and LGBTQ+ Life at Trinity:
Students, families, and Alumni can support the work of the Queer Resource Center by giving to LGBTQ+ life. When you make a gift to Trinity College you can designate all or part of your gift to support LGBTQ+ life by selecting other and writing in "Queer Resource Center" in the gift designation area. Your support helps us with operation and program costs, new programs and initiatives, and helps us support LGBTQ+ student leadership development experiences.
Give Here.
LGBTQ+ Foundations & Allyship web-course:
The Queer Resource Center welcomes students, faculty, and staff to take a new self-paced Moodle course called LGBTQ+ Foundations & Allyship. This course is designed to help members of the Trinity community gain a baseline understanding and awareness of LGBTQIA+ related concepts and experiences; learn about campus resources; and develop their allyship skills. There are currently over 1,000 members of our community enrolled and completing this web training!
The course takes about 60 – 75 mins to complete in one sitting though you are welcome to take it at your own pace.
It will save your progress automatically.  Fill out this short sign-up form here to be enrolled.
**This course also serves as our web-based training for the Trinity Safe Zone Program – Trinity's visible support network for the LGBTQ+ community. Upon completion, participants may choose whether or not to join the Trinity Safe Zone program and become a member.
GET IN TOUCH
Queer Resource Center
Crystal Nieves
Trinity College Queer Resource Center
114 Crescent St. Hartford, CT 06106

Monday - Friday, 9:00 a.m. - 5:00 p.m.