The Formal Organizations program (FORG) offers a rich variety of courses and an Interdisciplinary Minor steeped in the liberal arts tradition. FORG courses explore and analyze from a social science perspective the organizations in which people learn, work, socialize, and serve their communities. FORG courses study various types of organizations, their internal structures (hierarchies and teams), interactions between organizations and markets, and incentives and norms that shape behaviors and workplace cultures within organizations.
FORG is an interdisciplinary liberal arts field that integrates a wide range of disciplines: economics, history, philosophy, psychology, public policy, and sociology. As a FORG student, you will learn the language or discourse of organizational studies, and the discourse of individual motivation and decision-making. You will learn also to identify strengths and flaws of an organization, as well as strategies for adapting organizations to new situations. FORG will help to prepare you for entrepreneurship or leadership in the modern, dynamic landscape of organizations in civil society.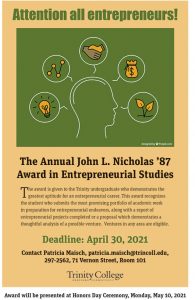 Attention all entrepreneurs! Submissions are now open for the Annual John L. Nicholas '87 Award in Entrepreneurial Studies. Learn more about this opportunity here.
GET IN TOUCH
Formal Organizations and the Shelby Cullom Davis Endowment
Patricia Maisch, Program Coordinator
Trinity College
300 Summit Street
Hartford, CT 06106