Finding Your Academic Path
Trinity's Center for Academic Advising is the go-to place for students seeking assistance with choosing a major—and more.
"What are you thinking of majoring in?" It's an oft-dreaded question for students who haven't yet decided on a major. Fortunately, Trinity has the Center for Academic Advising (CAA), a go-to place for students as they make the academic transition to college during their first few years on campus and consider possible majors and minors.
The CAA is located on the lower level of the admissions building, along with the Center for Student Success and Career Development. In addition to assisting first- and second-year students with navigating the process of choosing a major, five CAA faculty fellows are available to help address the general academic advising needs of any Trinity student.
The CAA offers a variety of hours (including Sunday evenings) during which students can drop in with a question, although scheduling an appointment in advance is always welcome. The center is embedded in the Bantam Network, with each faculty fellow serving as an academic mentor for two Bantam Network nests. Faculty fellows work closely with the nests' Trinsition Fellows to ensure that students seeking academic guidance get their questions answered and/or get connected to the right resource on campus.
Lisa-Anne Foster, director of the CAA and a faculty fellow—as well as associate professor of biology—said the center focuses on helping students in their first one to two years to lay the groundwork for their academic success. In addition to one-on-one counseling, the CAA offers information sessions for small groups of students to get together with one or more of the faculty fellows. Sessions are held in different locations around campus—sometimes in a residence hall common room—and offer a relaxed atmosphere for discussing academic interests and possible majors and minors.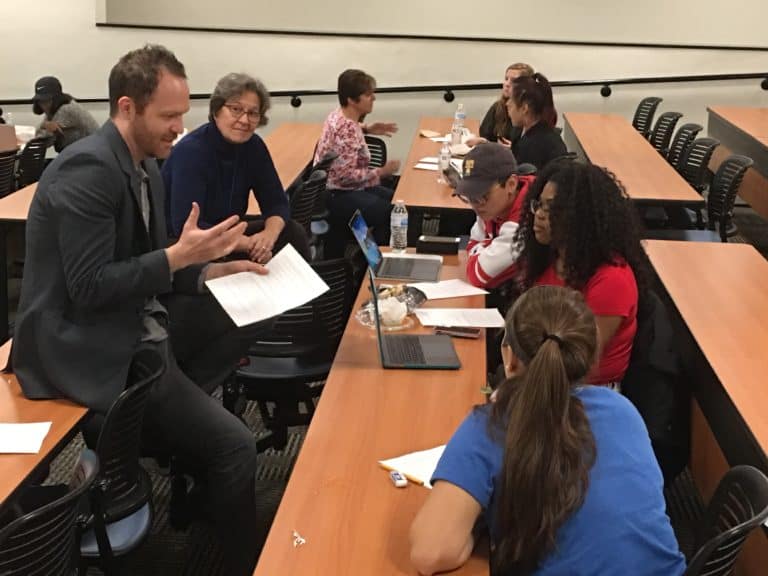 After attending a CAA-hosted information session, Mathieu Aguilar '21 said, "I came away with a detailed list of important steps, such as where to get the declaration form [the Registrar's Office], reading up on requirements for my intended majors, and a plan for contacting department chairs and program directors."
Trinity students declare their majors during the spring of sophomore year, though some decide on majors before then. Aguilar, from Cerritos, California, plans to double major in philosophy and public policy and law. Following the CAA session, he made an appointment to meet one-on-one with Faculty Fellow Shane Ewegen, associate professor of philosophy. "Professor Ewegen gave me insights to help put together my class road map. He helped me visualize what needs to be accomplished and when everything should be completed."
As a first-year student, Olivia Louthen '22 visited the CAA during her first semester on campus. She met with Faculty Fellow David Branning, associate professor of physics, for some help navigating course selection. "I'm definitely the kind of person who wants to know what I'm getting myself into," said Louthen, from Chicago, who has economics and Hispanic studies in mind as her prospective majors. "Talking it through with Professor Branning helped me feel more organized and ready to plan ahead for courses to take next semester and beyond," she said.
Louthen noted that, in addition to visiting the CAA, she recommends talking with one's first-year seminar adviser for academic advice and help with brainstorming.
In addition to Foster, Ewegen, and Branning, also serving as faculty fellows are Paula Russo, associate professor of mathematics, and Irene Papoulis, principal lecturer in the Allan K. Smith Center for Writing and Rhetoric. Biographical info about each of the faculty fellows as well as advising hours at the CAA are posted on the CAA website.
Foster, the advising fellow for the Lemon and Washington nests, said that for many students, Sunday evenings from 6:00 to 8:00 have turned out to be an especially popular time to stop by the center. "As the weekend is winding down, it's a time when students are thinking about the week ahead. For some, that's an ideal time to stop in for academic consultation."
The Center for Academic Advising, which launched in the fall 2018 semester, came out of the collegewide strategic planning process that culminated in fall 2017 with the approval of the strategic plan, Summit, by Trinity's Board of Trustees. The CAA is closely engaged with other relevant campus offices—Student Life, Study Away, Career Development, Student Accessibility, and the Counseling and Wellness Center—and also is available to faculty members seeking academic advising resources and advice.
Written by Kathy Andrews
Header photo by Nick Caito