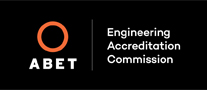 The B.S. in Engineering degree, accredited by the Engineering Accreditation Commission of ABET, https://www.abet.org , under the General Criteria, requires completion of core mathematics, science, and engineering courses; engineering electives; and a year-long senior capstone design project. Engineering core courses and electives provide exposure to the engineering sciences and serve as bridges linking basic mathematics and science to the creative process of engineering design. The senior capstone design project, which requires ENGR 483 and 484, engages students, working in close collaboration with their faculty advisers, in the process of creating an engineering system from inception to implementation and testing. This process requires students to consider such design criteria as economic and environmental costs and constraints, aesthetics, reliability, and complexity, and to write formal design specifications, evaluate alternatives, synthesize a system, and evaluate its performance. Firmly grounded in the traditional liberal arts, the B.S. in Engineering program emphasizes a rigorous curriculum and incorporates newer fields and interdisciplinary approaches.
The educational objectives of the B.S. in Engineering program are the following:
Trinity engineering graduates apply their broad liberal arts education and firm foundation in engineering fundamentals to diverse fields of endeavor.
Early in their careers, Trinity engineering graduates pursue varied positions in industry or graduate school in engineering and related fields.
Trinity engineering graduates demonstrate professional growth, provide leadership, and contribute to the needs of society.
Students pursuing the B.S. in Engineering may choose elective course pathways in electrical, mechanical, computer, or biomedical engineering concentrations. Concentrations provide additional engineering course selections beyond basic mathematics, science, and engineering science, to satisfy an individual's interest and prepare students to carry out the senior capstone design project. Students may design their own B.S. program in consultation with an engineering faculty adviser. Such programs must satisfy the basic mathematics and science requirements, the core engineering requirements, and include at least 13.5 Trinity course credits of engineering topics, including ENGR 483 and 484. The engineering faculty adviser works with each student in tailoring a program that includes an appropriate mix of engineering science and design.
Electrical engineering concentration— Courses emphasize semiconductor electronics, integrated circuit design, communication theory, digital signal processing, digital logic design, and microprocessor system design and interfacing.
Mechanical engineering concentration— Courses include the study of mechanical systems (statics, dynamics, solid mechanics, and fluid mechanics), and thermal systems (thermodynamics and heat transfer).
Biomedical engineering concentration—Built upon a solid foundation in the biological and physical sciences and core engineering areas, elective courses allow students to pursue particular interests in such areas as electrophysiology, biomechanics, biofluid dynamics, biosignal processing, or bioinstrumentation.
Computer engineering concentration—Courses emphasize the mathematical and physical bases for designing digital computer systems. Laboratory projects in digital logic, microprocessor systems, software design, semiconductor electronics, and integrated circuit design provide hands-on experience in integrating hardware and software.
For a summary sheet of requirements for B.S. in Engineering, click here.