The Office of the Dean of the Faculty and Vice President for Academic Affairs functions as a coordinated team, supporting faculty, students, and staff at Trinity. Learn more about the academic deans, our dedicated staff professionals, and faculty directors.
Academic Deans
Sonia Cardenas, Interim Dean of the Faculty and Vice President for Academic Affairs, Vice President for Strategic Initiatives and Innovation, and Professor of Political Science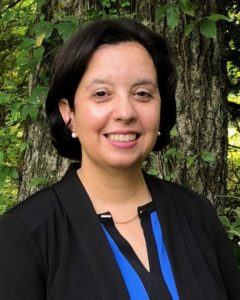 Responsibilities:  Appointments and promotions; academic programs; faculty development and mentoring; academic centers and institutes; global study and urban educational programs; as well as strategic academic planning, including position allocations, the academic budget, academic assessments, graduate studies and intersessions; and various strategic initiatives, including Trinity's downtown campus and academic capital planning.  Contact:  Sonia.Cardenas@trincoll.edu.  Williams Memorial.  860-297-4193.
Anne Lambright, Dean of Academic Affairs and Professor of Language and Culture Studies
Responsibilities: Oversees the Allan K. Smith Center for Writing and Rhetoric, Art History, Chemistry, Classics, Economics, Educational Studies, English, Environmental Science, Film Studies, History, Mathematics, Music, Neuroscience, Political Science, Religion, Sociology, Urban Studies, first-year seminars and gateway programs, as well as the following groups and committees: Curriculum Committee, Faculty Diversity Working Group, Emergency Management Team, in addition to all issues related to academic advising. Contact: anne.lambright@trincoll.edu/ (Williams Memorial 226, 860-297-2433)
Administrative Staff
Sylvia W. DeMore, Special Assistant to the Dean of Faculty

Assists the dean with all matters pertaining to the Appointments & Promotions and Educational Policy Committees, contract renewals, appointment letters, leave requests, faculty profiles, and faculty searches.  She also assists the Ann Plato Search Committee. Contact:  Williams Memorial 228, 860-297-2152/ sylvia.demore@trincoll.edu
Dania Field, Associate Director of Intersession Programs and Special Assistant for Strategic Initiatives
Plays a key role in leading the summer and J-term intersessions for Academic Affairs, and assists the Vice President for Academic Affairs on coordinating major strategic initiatives at the College, including the partnership with Infosys and programming at Constitution Plaza.  Contact:  Downes Memorial 106, 860-297-5331/ dania.field@trincoll.edu
Ashley Hebert, Assistant to the Vice President for Academic Affairs and Dean of Faculty Office

Manages the Deans' calendars and the daily flow of activity within the Dean of Faculty's Office. Contact: Williams Memorial 118, 860-297-2144 / ashley.hebert@trincoll.edu.
Patricia Moody, Director of Academic Finance

Oversees the various budgets for which the Dean's Office has responsibility.  Pat also tracks expenses, performs budget analysis, and processes Academic Affairs faculty and staff reimbursement requests and invoices, and develops budgets for study away programs.  She is the liaison to the Business Office and represents the Dean's Office on the Benefits Committee. Contact: Williams Memorial 230, 860-297-2128/ patricia.moody@trincoll.edu
​Leo Schuchert, Coordinator of First Year Academic Experiences & Special Assistant to the Deans of Academic Affairs

Manages logistical aspects of the first-year seminars and gateways, including the mentors program; coordinates the academic components of the Starting Out system for incoming students; provides administrative support to the Deans of Academic Affairs on a variety of projects, including Curriculum Committee, Faculty Research Committee, Summer Research Program, and academic advising.  Contact:  Williams Memorial 231, 860-297-5368/ leo.schuchert@trincoll.edu
Faculty Directors, 2019-20
Tennyson O'Donnell, Director of First-Year Seminars and Director, Allan K. Smith Center for Writing and Rhetoric and Allan K. Smith Senior Lecturer in English Composition

Responsible for overseeing all aspects of first-year seminars, including supporting both instructors and students. Contact: tennyson.odonnell@trincoll.edu
Irene Papoulis, Director of First-Year Seminars and Faculty Development and Principal Lecturer in the Allan K. Smith Center for Writing and Rhetoric
Responsible for overseeing first-year seminars, including all aspects of faculty development. Contact: irene.papoulis@trincoll.edu
Sarah Raskin, Director of Faculty Mentoring and Charles A. Dana Professor of Psychology and Neuroscience
Responsible for supporting faculty and student research grants, in addition to creating mentoring programs for faculty, developing resources for new chairs/directors, facilitating conversations about workload, and recommending changes to the PAI system and course evaluations. Contact: sarah.raskin@trincoll.edu

Responsible for supporting learning spaces and digital learning, including program content development for the Trinity-Infosys Applied Learning Initiative and Academy of Lifelong Learning. Contact: jennifer.reganlefebvre@trincoll.edu