Back to News
Urban Planning Grad Student Feature: Daniel Kane
Urban Planning Graduate Certificate
posted
This feature of Daniel Kane M'20 is our first feature of an urban planning graduate student. The first cohort of the graduate certificate in urban planning finished the program in December 2020. Despite its newness, the program has attracted a strong initial cohort, with several more students finishing the program in May 2021.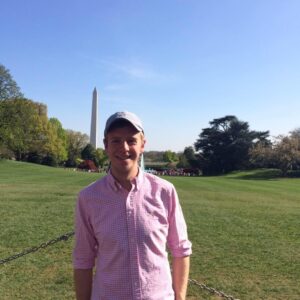 Why did you choose the master's in public policy and graduate certificate in urban planning programs at Trinity?
Even before finishing my undergraduate studies, I planned to pursue a graduate degree. I have always had an interest in politics and government and have experience interning or working for several political campaigns, a state political party, a Hartford lobbying firm, a Connecticut municipality, and a member of Congress. These experiences allowed me to narrow my interests to public policy. I felt that I would be happiest working "behind the scenes"- crafting solutions to public problems and concerns and evaluating existing public policies. I hoped that a master's in public policy would help me develop the skills I needed. I chose Trinity because of the quality of its faculty and its location. I was impressed that many of its faculty have real world policy experience. Learning from them would allow me to develop both a theoretical and, just as important, a practical understanding of the policy process. Moreover, I was drawn to Trinity's urban setting. I knew I wanted to work in Hartford and was interested in tackling the unique obstacles that urban centers face. I understood that Trinity prides itself on engaging with and giving back to its community and wanted to be a part of those efforts.
While taking public policy graduate courses at Trinity, I was able to narrow my interests to a specific policy area- housing. At the time, I was working for the assessor's office in a small city in Connecticut. This allowed me to develop an understanding of the lack of affordable housing in the state, as well as the links between housing and poverty, public health, and educational outcomes. I was then given the opportunity to work on a policy practicum assignment with the Hartford Land Bank, which identifies and acquires vacant, abandoned, and/or distressed properties in Hartford to steward their rehabilitation and return to productive community assets. I learned about the causes of distressed housing and its effect on a city. I also began to closely follow other community-oriented organizations, like the Partnership for Strong Communities and Desegregate Connecticut, and became aware of some proposals, like zoning reform, intended increase the amount and quality of housing resources. When Trinity created a graduate certificate in urban planning, I knew I had to be one of the first students to enroll. In the end, the urban planning courses that I took were some of my favorite at Trinity.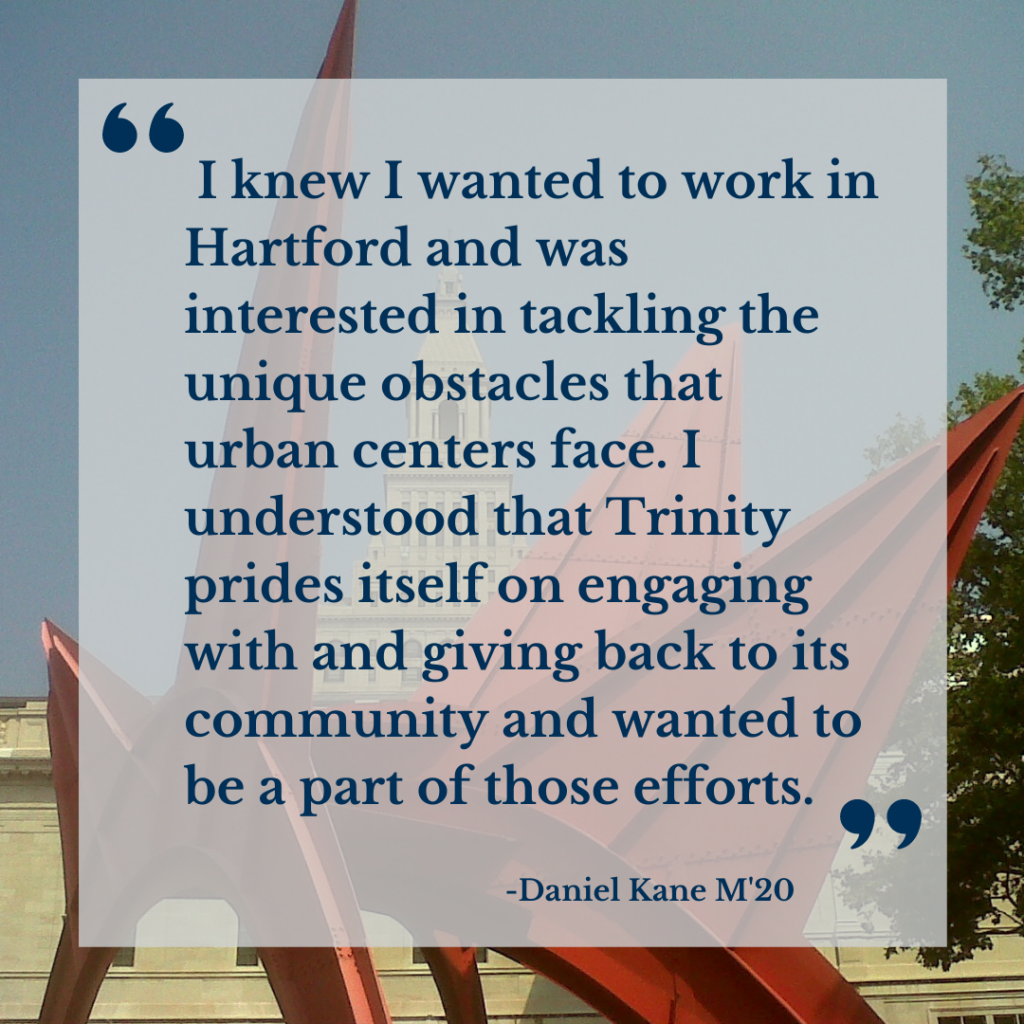 Tell me about your career path and how the programs fit into and supported your career.
I began working in the assessor's office for a small city just a few months before I began the master's in public policy. Working for a municipality while taking courses at Trinity was incredibly helpful. I was able to take what I was learning in the classroom and apply it to my job. For example, I learned how to read and analyze municipal budgets in my Budget Management and Public Policy course. At the same time, I was working on an important piece of an actual budget. My office was responsible for compiling the Grand List, a list of the value of all taxable property within a given town. The Grand List determines the tax revenue that a city will receive and, when compared with a municipality's expenses, the mill or tax rate. My coursework at Trinity allowed me to become a more capable public servant.
I am also confident that my experience at Trinity helped me acquire and succeed in my current position. In the last month, I was hired as a project manager with the Housing Authority of the City of Hartford (HACH). As a project manager, I am responsible for the coordination and implementation of all assigned projects, from the point of planning and development through construction or implementation. These projects mainly include construction, rehabilitation, and disposition of public housing units. At Trinity, I learned about the importance of affordable housing and become versed in the basics of planning theory and practice, especially in Hartford. I received an introduction to regional, environmental, metropolitan, transportation, spatial, and land-use planning issues. I also cultivated relationships with my peers, professors, and local policy professionals. Many of these policy professionals presented guest lectures during my time at Trinity. The knowledge, skills, and connections I developed at Trinity helped me find a career that I love and in which I can make a difference.
What was your favorite class?
My favorite course was Professor Davarian Baldwin's Meds, Eds, Slots, and Stadiums. While the course is offered under the American Studies heading, it counts towards the graduate certificate in urban planning. In the course, I learned about the transition from an economy based on industry and manufacturing to a knowledge-based economy. I began to understand the extent to which colleges, universities, and their medical centers control many cities. They have become the dominant employers, real estate holders, policing agents, and educational and health care providers in cities across the country. At the same time, struggling areas have often looked to sports stadiums and casinos as their salvation from poverty. I was shocked to learn of the often-tumultuous relationship between educational institutions and the cities and neighborhoods that they call home. I was able to analyze the growth of these institutions and the effect of their growth on urban residents. As a sports fan, I was also particularly interested in learning how cities have invested public funds into stadium construction in the hope of driving economic growth. I was able to apply what I learned to the examples of two recent stadium projects in Hartford- Dunkin' Donuts Park and Dillon Stadium. I weighed the costs of these investments against the public benefit they have brought thus far. Meds, Eds, Slots, and Stadiums gave me unique insight into urban power dynamics and the problems that cities continue to face.
What advice do you have for others considering the graduate certificate or master's program?
The best advice I have for students considering the master's or graduate certificate programs is to reach out to and develop relationships with current and former students and Trinity professors and staff. Your interests will likely overlap with those of other students and many are more than happy to speak to you about their experiences. Many former students live and work in the Hartford area and want to give back to current students. I have also found that Trinity professors are committed to helping their students succeed. They will make themselves available and answer any questions you may have. Many have had careers in the public and private sectors and know what it takes to succeed in the professional world. In many cases, they will even help you secure a job after graduation. By connecting with students and professors, you can decide if the master's and graduate certificate programs are right for you.