by Xiangming Chen, Director, the Urban Studies Program
Officially launched in 2013, Trinity's youngest major of Urban Studies has just turned eight years old but will graduate over 150 majors with the Class of 2022 (including a number of self-designed majors before 2013). While these graduates have gone into a variety of careers, a good number of them have pursued diverse and successful urban planning- and architecture-related careers. Below are profiles of two such majors, in their own words.
*****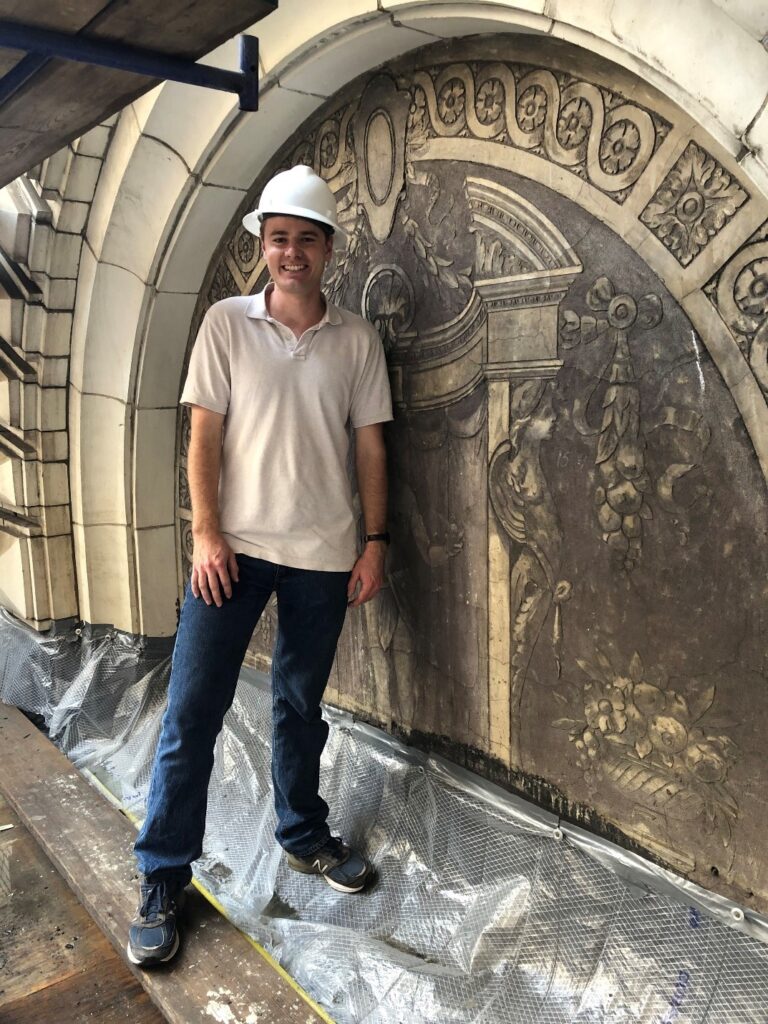 At Trinity, I double majored in Urban Studies and Political Science, and I really enjoyed the interdisciplinary nature of the Center for Urban and Global Studies. Through the Cities Program and the Urban Studies major, I found my passion in studying and working with historic architecture.
After a couple of years working in another field, I enrolled in the M.S. in Historic Preservation Program at the Graduate School of Architecture, Planning and Preservation at Columbia University. I learned a lot during this two-year program, and I am now working in New York for a terra cotta manufacturer called Gladding, McBean. Gladding, McBean is a heritage company that has been making architectural terra cotta and other clay products in Lincoln, CA since 1875. In recent years, the company has been fabricating replacements for damaged terra cotta on historic buildings in New York and around the country.
My job is to work as a surveyor on the ground (mostly on scaffoldings) with a team in New York to measure and document pieces of terra cotta for replacement. It is really fulfilling to be preserving historic buildings and an important trade at the same time, as Gladding, McBean is one of only two terra cotta manufacturers currently operating in the U.S., and the only one which dates back to the original heyday of architectural terra cotta.
— Thomas Briggs Rice '17
I knew from an early age that I wanted to go into architecture and planning. I grew up in an urban environment, had an architect as a dad, played SimCity, loved maps (I'd even draw my own) and was enthralled with the energy and diversity of big cities. As college drew near, I knew that I wanted a broad liberal arts education centered around an urban focus.
CUGS allowed me to pursue a truly interdisciplinary experience, while giving me the tools to delve into the field of planning and design after graduation. Most importantly, it dramatically expanded my horizons, helping me to understand the profound global trend in urbanization and its implications for the climate, social issues and geopolitics. Thanks to my CUGS experience, I spent time traveling and living across the globe in an effort to experience and witness these issues first hand, as it was obvious that they would reflect our collective future.
You can draw a straight line through my experience in the Cities Program and with a self-designed Urban Studies major and American Studies major at Trinity, to pursuing a grad degree at London School of Economics, moving to Nairobi to intern at the United Nations Human Settlements Programme, and then returning to New York and diving into the professional field. Today, I'm a manager and senior planner at New York City's Department of City Planning, where I get to work on some of the most complex projects and policy issues in Manhattan. I count myself lucky to be able to wake up every day with the mission to improve one of the world's greatest cities and steward it for future generations.
— Ezra Moser '10