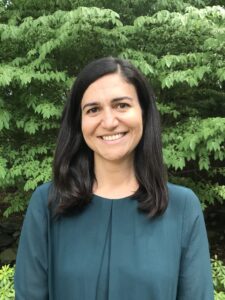 Laura Delgado's interest in studying cities began as an undergraduate when she read the book Heat Wave by Eric Klinenberg. The book looks at the Chicago heat wave of 1995 and the spatial distribution of deaths across the city. "You can see how the ways the city was planned contributed to whether people survived the heat wave," Delgado says, "This got me thinking about cities and our power to improve people's lives through these urban processes."
Delgado began as the Kelter Postdoctoral Fellow in Urban Studies in fall 2020 and will begin a new role at Trinity as Assistant Professor of Urban Studies in fall 2022. She continues to think about the power of policies and institutions to improve people's lives in cities today in her research and teaching. Trinity's location in Hartford and its focus on urban studies and urban research through the Center for Urban and Global Studies (CUGS) are part of what drew Delgado to Trinity. "It's rare to have a liberal arts college in the middle of a city and as an urban planner it's really exciting for me to be able to teach in an urban setting," she says.
Garth Myers, Director of CUGS, says Delgado also "fits perfectly with CUGS and Trinity."  He expands, "Her intellectually rigorous and yet very applied approach to urban research and teaching connects well with our aims at CUGS to play a 'critical role in advancing Trinity's urban and global education on campus, in Hartford, and across the world' – in a way that really brings that abstract mission to life for students."
Delgado is teaching two courses this year – Community Development Strategies, an urban studies course, and the American City, a Cities Program course. In the American City, students are reading Heat Wave, the same book that inspired Delgado as an undergraduate.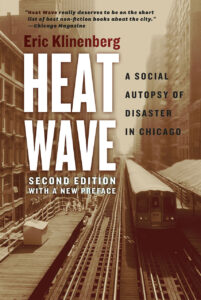 In the American City course, students are exploring topics including industrialization, urban renewal, suburbanization, and gentrification through books, virtual tours, and class discussions. The class recently took a live virtual tour of Hull-House in Chicago to learn about Jane Addams. In addition to Heat Wave, they will read From Steel to Slots about Bethlehem, PA and the postindustrial landscape there, Villa Victoria about a Puerto Rican community in Boston's South End, and How to Kill a City to preface a discussion about gentrification in New Orleans, New York, and Detroit.
Delgado's Community Development Strategies course focuses on strategies that policymakers, institutions, and organizations employ to improve cities, neighborhoods, and people's lives. As part of the course this past fall semester, students were paired with four Hartford organizations for Community Learning projects. Students worked with the Hartford Land Bank, Friends of Zion Hill Cemetery, Breakfast Lunch & Dinner, and Southside Institutions Neighborhood Alliance (SINA) on projects ranging from community surveys to website creation. Delgado learned a lot through the course herself and says, "I've met so many incredible people who are putting their heart and soul into making Hartford a wonderful place in my Community Development Strategies class." The fall partnership with the Hartford Land Bank is extending into the spring semester. Delgado is advising Sulemaan Khalid '23 and Jane Dunbar '23 in the Community Learning Research Fellows on a project to examine residential property ownership.
Outside of the classroom, Delgado's focus as a researcher is on socioeconomic and racial inequalities in community development, housing, and institutions. Her recent research focuses on the role of institutions in cities, examining whether institutions mitigate or exacerbate inequalities across neighborhoods. Her dissertation research focused on immigrant programs at the public libraries in Boston.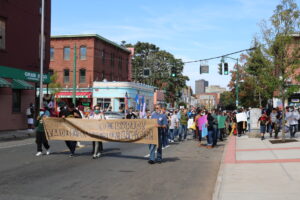 Delgado is continuing her investigation of the role of libraries in the community in Hartford. "Hartford has one of the best library programs in the whole country – it's really impressive," she says. She is starting on a research project on the development of the new Park Street branch of Hartford Public Library (HPL). She is interested in understanding the types of advocacy that led to the point where the neighborhood was able to get a new library. She's also exploring questions about community advocacy now that the library is open. "How are local organizations and groups shaping the services and programs available through the library now that the library is here? What role do these partnerships play in bringing programs to the library and shaping the opportunities and resources available through the branch?" she asks.
Delgado is excited to continue teaching and researching at Trinity and in Hartford beyond her time as Kelter Postdoctoral Fellow in her new role as Assistant Professor. "I've come to love Hartford through my time at Trinity so far. I'm excited to have the opportunity to stay at Trinity and get to know Hartford on a more intimate level," she says.