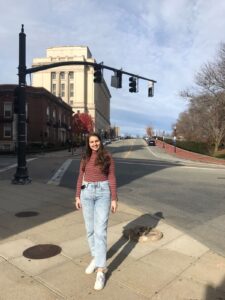 Rocio Fernandez Gutierrez '22 has been involved in Center for Urban and Global Studies (CUGS) programs since her first year at Trinity. In her first year, she was a part of the Cities Program Gateway and studied away over the summer in the China Summer Program. Fernandez went on to double major in Urban Studies and Sociology, and is currently using a CUGS research grant to conduct research for her thesis. Her interest and involvement on campus is broad, and in fall 2021 she took part in the Liberal Arts Action Lab, and she has done internships through the Catalyst, now Kelter Fellows Program at the Career and Life Design Center, with organizations in Hartford, The Center for Latino Progress and Desegregate Connecticut. 
Before attending Trinity College, Fernandez Gutierrez did not know she would study urban studies. When she was invited to the Cities Gateway, she developed an interest in urban studies, which grew as she learned about the interdisciplinary nature of urban studies. She was particularly interested in learning about how cities create social inequality and can be centers for social mobility through urban studies and sociology classes.
In the China Summer Program in 2019, Fernandez Gutierrez saw what other countries do to develop cities, and saw urban development policies in a country that takes a more top-down approach.  She learned about how policies in cities in China compare to those in Hartford. The program was also an opportunity to connect with faculty in CUGS, who later on helped her connect with Hartford organizations and development projects.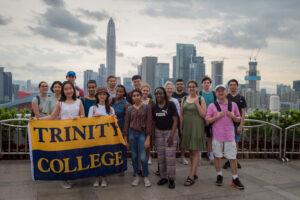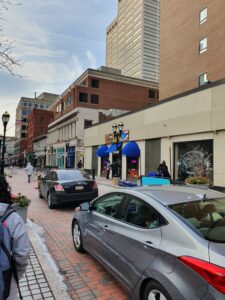 This past year she has been using a CUGS research grant to conduct research on Hartford's revitalization efforts by comparing Pratt Street downtown and Park Street in Frog Hollow with the efforts of the city government at large. Through the pandemic, she was able to still go to local businesses and interview business owners and other players on these streets who take part in efforts for revitalization. Ironically, the pandemic transitioning into more normalcy has forced her research to become more participant-observation due to the business owners becoming more busy with business and reopening. In addition to interviews and participant-observation, she has conducted analyses of police reports on Park Street and Pratt Street. This research is being incorporated into her thesis, with chapters on each street. 
When asked how CUGS has impacted her time at Trinity College, she expressed how CUGS, "has always been a middle point between me and my peers and Hartford. Through its faculty and programs, I learned how to engage and connect successfully between Trinity and Hartford. The faculty have been supportive in my personal and professional goals, and have offered new opportunities to me." For instance, Professor Myers recommended her to be a first year mentor for the Cities Gateway. Rocio Fernandez Gutierrez has been an impactful member of  the CUGS community, and has tapped into the resources CUGS can provide to further herself and her community through the multiplicity of opportunities she has pursued and been offered.