Back to News
Four Years of Community Engaged Scholarship and Work with Wendy Salto '22
When asked what her community engagement work has meant to her at Trinity, Wendy Salto '22 responds, "I feel like it's been my whole experience." Her extensive record of community engagement over her four years here corroborates this sentiment. She has served as an inaugural student member of  the Center for Hartford Engagement and Research (CHER) advisory board, participated in the Community Action Gateway (CACT), and enrolled in Community Learning Research Fellows (CLRF), Public Humanities Collaborative (PHC), and the Liberal Arts Action Lab (LAAL). In addition, she has worked at Trinfo.Café since her sophomore year and as a research assistant for CHER during summer 2021.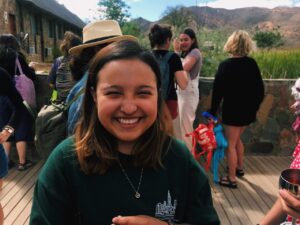 Looking back to her experience as a first-year, Salto says, "After I read the description for the Community Action Gateway, I knew without a doubt I wanted to be part of the program because of the community component. It's a different class than I expected to take in college. I thought I would be in typical lecture classes. To have the opportunity to work with outside organizations while learning simultaneously in the classroom was something I was drawn to." In CACT, Salto worked with Make the Road CT and their group Madres Guerreras in both the fall and spring semesters. During the fall, her group worked on a video project and in the spring they conducted a comparative analysis of schools in the Hartford area. Salto reflected on the impact of working with the same community organization for a full year in CACT. "In my experience, the relationships built with community partners over multiple semesters are stronger. It felt like we were really helping," she says.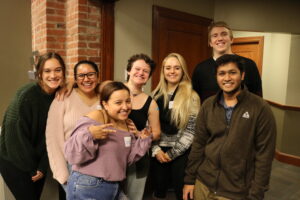 Salto identified a similar feeling among other students while conducting interviews on student community learning experiences as a CHER research assistant. During the interviews, "it stuck with me hearing about the importance of creating longer-term projects beyond the semester. It not only has an impact on the student, but also on the community partner," she describes. Salto's research assistantship was part of a project funded by the Mellon Inclusive Teaching grant through the Center for Teaching and Learning. She worked with fellow student research assistant Bea Dresser '22 and CHER team members Abby Fisher Williamson, Erica Crowley, Beatrice Alicea, and Cynthia Mena. The team investigated the experiences of students of color with Community Learning courses at Trinity.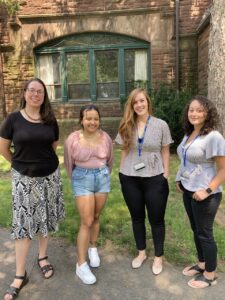 Existing academic literature has a gap in first-hand accounts from students of color about their experiences in service-learning programs. "Wendy has done the incredible work of conducting first-hand interviews and focus groups with students of color at Trinity, which has deeply impacted our understanding and implementation of community-engaged teaching and course development," says Erica Crowley, Director of Community Learning. "None of this work could have been done without the diligence and passion displayed by both Wendy and Bea throughout this process, and their work marks a significant moment in Trinity's community engagement work overall."
Salto was tasked with completing forty interviews and focus groups as part of the research project. "I've done interviews before for assignments in classes, but I've never had to do forty interviews. At the beginning, I was nervous," she reflects. As the summer went on, though, she found that the experience was fun and enlightening. She heard student perspectives she wouldn't have thought of herself. "It resonated with me that I kept hearing how impactful community engagement experiences were," she says.
Part of Salto's preparation for her research assistantship was her time spent in the Fall 2020 Community Learning Research Fellows program, taught by Laura Holt, Charles A. Dana Research Associate Professor of Psychology. In the program she worked with Professor Julie Gamble, Malika Buscaino '23, and the City of Hartford's Commission on Refugee and Immigrant Affairs. Working with commissioner Professor Janet Bauer, the team created a website for the Commission, researched effective ways for them to connect to their target demographic, ran focus groups to gauge how other organizations in Hartford work with immigrants, and suggested social media strategies to help the Commission connect with more people.
Beyond the classroom, Wendy served as a student worker at Trinfo. There, she welcomed community members to the space, helped patrons learn computer skills, created an Instagram page, and served as student social media coordinator. After studying abroad in fall 2021, Salto says, "I'm working at the front desk this semester and it's nice to be back and see regulars walk in. I realize in those moments that I've been working at Trinfo for so long that now I know who the regulars are." She sees Trinfo as one important part of Trinity's connection to Hartford and has experienced the value of spending time as a student in this liminal campus space. "Since working at Trinfo, I've learned new things about Hartford that I didn't know before. It provides a different perspective on my experience being here at Trinity," she says.
To round out her community engagement work at Trinity, Salto is in the Liberal Arts Action Lab (LAAL) this spring. As part of the anti-racist education project, she is working with her team, LAAL director Emily Cummins, and two community partners from Hartford Magnet Trinity College Academy (HMTCA). The team is creating and distributing a survey to collect information on how teachers at HMTCA and other schools view anti-racist education and the efforts of their schools to implement anti-racist education. They are hoping that their findings will allow the teachers to have an informed discussion with their school board.
As Salto approaches graduation in May, she is reflecting on her four years at Trinity. "Looking back, it was classes that were community-based that made my experience worthwhile. It's the thing that I will remember most from my college experience."