Back to News
Researching Inclusive Museums in the Liberal Arts Action Lab
Liberal Arts Action Lab
posted
In the fall of 2022, I had the opportunity to participate in the Inclusive Museum Project at the Liberal Arts Action Lab. Our team consisted of three Trinity College students and three Capital Community College students. We collaborated on a research project aimed at expanding the audience of the Connecticut Historical Society (CHS) over the course of a semester. Our community partners, Ilene Frank and Andrea Rapacz of CHS, posed critical questions for us to investigate: Why do 18-28 year olds in the Hartford area choose to visit the museum? How can the museum attract more diverse visitors? CHS hoped to use the findings from our research to reshape curation of exhibitions, presentation of programs, and marketing activities to broaden museum attendance.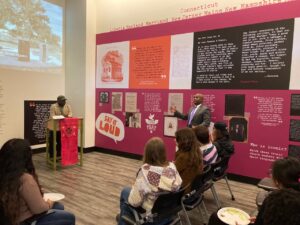 As a team, we worked to identify the reasons behind visitors' interest in CHS and strategies to attract more diverse visitors to the museum. Through a literature review, an online survey, and informal interviews at major local cultural events, we generated recommendations for ways CHS can attract a diverse range of young people to the museum. Our findings indicated that CHS can attract more young people by establishing partnerships with area universities to collaborate on classes, internships, research partnerships, and volunteer opportunities. We also suggest creating a youth advisory board to incorporate young adult participation beyond museum visitation. We created this website to summarize our findings.
To assist CHS in identifying its target audience among current Hartford residents, we conducted a thorough literature review and utilized both qualitative and quantitative data analysis for our research. Early in the process, we discovered that the current CHS audience does not reflect the demographic makeup of Hartford's residents, which trends younger and includes a majority of people of color. Therefore, our team focused on finding ways to make cultural institutions more accessible and enjoyable for the diversity of young adults in Hartford. We aimed to understand why many young audiences in Hartford are not visiting the museum and to offer practical recommendations to address this issue. To achieve this, we collaborated with CHS to study factors intrinsic to individuals (such as race, class, and education level), as well as characteristics of cultural institutions (such as advertising and accessibility).
To ensure the inclusiveness of our data, we also conducted 18 informal interviews at major local cultural events. This opportunity allowed our team members to establish closer connections with Hartford residents who may not have previously engaged with CHS. We learned about the needs of residents for cultural museums, and more generally, saw the potential factors that influence whether they visit the museum.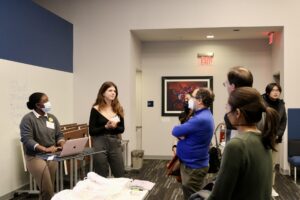 From my perspective, the data collection and analysis part was the most enjoyable but also the most challenging. Our group also distributed an online survey through our community partner's cooperating organizations and social media groups. We received 183 responses, which informed our understanding of CHS's current audience and their views.
As a student majoring in art history, the data analysis part was a brand new experience for me. I was responsible for cleaning and visualizing the survey data. Through this process, I not only developed my skills in using data tools such as Excel, but also refined my sensitivity to data by developing objective and effective criteria for cleaning and analyzing data. This experience has given me more confidence in conducting related research in the future.
My team members also enjoyed the process. Joy Lee, a Capital Community College student on the team, says, "I really enjoyed the teamwork aspect of this program. I think it was beneficial to experience different sides of academic research with the perspectives of students with different majors and experiences than I have."
For me, this experience was beneficial. The research process helped me understand barriers faced by young people and made me want to push for further steps and make changes in practice. Based on this experience, I discovered that losing young audiences is a common and global issue for all types of cultural institutions. As I continue with my Art History major, I hope to continue to study this complex issue.