Back to News
Over 20 Years of Annual Community Service Holiday Drives
Community Service and Civic Engagement
posted
For more than twenty years Trinity's Office of Community Service and Civic Engagement has organized two annual holiday drives — the Thanksgiving Drive and Sponsor-a-Snowman drive — to partner with Hartford organizations providing food and toy donations in the city. The drives have become well-known initiatives since their start in the 1990s. The Thanksgiving Drive has existed since at least 1999 (and perhaps as early as 1997) and the Sponsor-a-Snowman holiday toy drive has existed since 1996.
Joe Barber, Director of Community Service and Civic Engagement, remembers being a new employee in 1996 looking to do something productive for the college and community. Collecting donations for a Thanksgiving and holiday toy drive seemed like a good place to start. The spark for the Thanksgiving Drive came from a student who had raised money to get food into the community for the holiday.  According to Joe Barber, "The student had raised some money but didn't have a beneficiary in mind or any sort of game plan, so I must have worked the phones and found a group that could use turkeys at the last minute—ONE/CHANE (Organized North Easterners and Clay Hill and North End, no longer in existence). We went to Stop and Shop and bought a bunch of turkeys with the money we had and I delivered them the next day.  I was only in my second month on the job, but after that experience I knew we could and should do better.  Going forward we began being more intentional and organized in our approach so that we could have a sustainable, long-running project."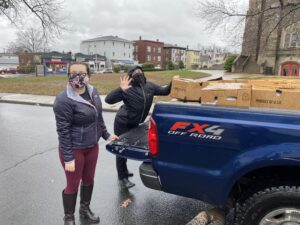 Today, students through the Annual Community Events Staff (ACES), are the primary organizers of the drives.
The drives complement student learning at Trinity by successfully embodying the college's motto to engage, connect and transform. Our ACES members are incredibly dedicated to community involvement, and are eager to form meaningful connections within the Hartford community through the Thanksgiving Food Basket Drive and Sponsor-a-Snowman.- Michaela Anton '22, co-president of ACES.

These drives are very important not only to us as student leaders, but also to our members, peers, and to both the Trinity and Hartford community as a whole. The drives allow us to work on our interpersonal skills by collaborating with other group members, staff and faculty within Trinity, and other adult partners such as the Interval House and A Place of Grace. -Elizabeth Densen '22, co-president of ACES.
Students work with community partner organizations to distribute food to the community. This year, the partners for the drive were Experiential Learning Academy at Moylan School (ELAMS) and A Place of Grace Food Pantry.
This year we were honored to be included in receiving 30 turkeys plus 30 bags of groceries.  We at A Place of Grace truly appreciated the Trinity students' efforts to raise money to make this possible.  And to add to the fun, NBC Connecticut came and gave us a brief stint on the evening news.-Kathie Rovetti, Director of A Place of Grace

With many parents losing jobs or having hours cut back due to the COVID-19 pandemic, the expense of a holiday meal, particularly for those who have large families, is one that just would not have been possible this year. Our partners, like Trinity, have been a bright spot in an otherwise very dark time for many of us. -Christine McCarthy, Principal of ELAMS
The drive continued as usual in 2020, with 100 Thanksgiving baskets given to Hartford families. Thanks to the generosity of the Trinity community, more funds were raised than ever before.
Kevin MacDermott, Head Coach of Trinity Men's Rowing, has volunteered for the Thanksgiving Drive for many years. "A number of years ago Joe and I started loading up the Trinity rowing truck," recalls MacDermott. Speaking about why he continues to volunteer for the drive year after year, he says "I love the city, I love the college, I love Joe, I love the Office of Community Service and all they do. I find tremendous value in anything I can do to help support their work."
The surplus funds from this year's Thanksgiving Drive were used to supplement donations given to the Sponsor-a-Snowman drive. The Sponsor-a-Snowman drive has consistently worked with Interval House (www.intervalhousect.org), a domestic violence program, over the past 25 years. In that time, the drive has provided gifts to around 130 children each year who are current or past clients of Interval House, based on the gift preference list supplied by the organization.  For 2020, the pandemic prevented toy delivery, but students orchestrated a gift card drive for about ninety-five children.
After more than two decades of partnering with Hartford organizations on these two holiday drives, we are hopeful the tradition will continue for years to come.