This academic year, Trinity is connecting in new ways with Hartford Magnet Trinity College Academy (HMTCA), the inter-district magnet school located in the Learning Corridor. A growing number of HMTCA students will take classes on Trinity's campus and Trinity students will have new opportunities to mentor and tutor at HMTCA.
The HMTCA-Trinity Partnership maintains the relationship between Trinity and HMTCA, creating opportunities for students and faculty at both institutions to build connections and learn from each other. Led by new partnership program manager Liliana Polley, recent initiatives include the return of HMTCA's back-to-school barbecue on the Main Quad at Trinity, a new classroom space dedicated for HMTCA classes, the enrollment of ten high school seniors in fall courses at Trinity, a new tutoring program in development, and an advisory board for the partnership. "The last few months have been a reflection of Trinity's commitment to the partnership with HMTCA," says Polley. "We are working tirelessly to strengthen the relationship between HMTCA and Trinity College."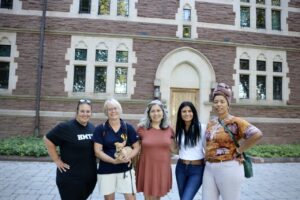 To kick off the new school year on August 24th, HMTCA hosted their back to school barbecue at Trinity. After several years without the annual high school tradition, students gathered with family, teachers, and representatives from Trinity. Over two hundred HMTCA students and their families enjoyed spending time together on the Main Quad. "It was really nice to welcome HMTCA families and students back on the Trinity campus at our Back to School BBQ this year," says Sonia Tamburo, HMTCA high school counselor and high school team leader.
As the year begins, HMTCA has a new dedicated classroom space on Trinity's campus. John Dlugosz, Learning Spaces Manager and Media Technology Specialist, went above and beyond to work with other Trinity colleagues on securing a classroom in Woodward Hall. Around sixty HMTCA seniors will take their English class at Trinity this fall in the classroom space. In addition, ten HMTCA seniors are enrolled in college classes at Trinity this semester. Tamburo says, "We look forward to uplifting our partnership with Trinity College as our eligible seniors take Trinity College classes and our seniors take Senior English on Trinity's campus."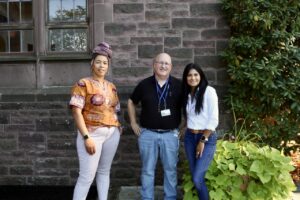 A new tutoring program is set to begin this fall also. It aims to match eight Trinity students as mentors to fifteen HMTCA students. The pairs will meet twice a week after school from 2:45-4:00pm for tutoring and homework help. High school students will be recommended by teachers and guidance counselors. The program is set to begin in early October and is currently recruiting Trinity students to serve as mentors. Interested students can reach out to [email protected] for more information. The tutoring program will build on the history of the long-running Jones-Zimmerman Academic Mentoring Program (J-Z AMP).
To ensure these programs and all aspects of the partnership have continued support, Polley has assembled an advisory board for the partnership. HMTCA administrators, faculty, and parents will meet with Trinity College faculty, staff, administrators. Former HMTCA student and current Trinity student Maria Vicuna '24 will join the group. They will meet twice per semester to discuss new ideas and ways to strengthen the partnership and ensure its sustainability.
"Our goal is to ensure that HMTCA students and families feel welcome on campus and can access Trinity's resources, while Trinity students and faculty have learning and research opportunities at the school. I am excited about the upcoming school year, and I look forward to more opportunities to welcome HMTCA students, families, and staff to Trinity," Polley reflects.
The HMTCA-Trinity Partnership Advisory Board consists of
From HMTCA:
Richard Quinn – HMTCA Principal
Sherrille Payne – HMTCA Executive Assistant
Janice Andrews – HMTCA Magnet Specialist
Summer Tate, M. Ed. MFA – HMTCA English Teacher
Sonia Tamburro – HMTCA High School Counselor / HS Team Leader
Nancy Mendez – HMTCA Parent
Melissa Cavanaugh – HMTCA Social Studies Teacher
From Trinity:
Liliana Polley, HMTCA-Trinity Partnership Program Manager
Elise Castillo, Assistant Professor, Educational Studies
Kyle Smith, Senior Associate Director of Admissions
Drew Galbraith, Director of Athletics
Tennyson O'Donnell, Director, Allan K. Smith Center for Writing and Rhetoric, Senior Director, Center for Academic and Experiential Advising, Director, First Year Seminar Program
Maria Vicuna '24