Back to News
Lucia Leone '22 Leads Students to Make Connections through Best Buddies
Community Service and Civic Engagement
posted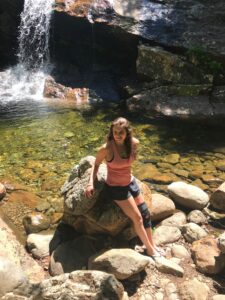 Lucia Leone '22 is a senior biochemistry major interested in pre-med, a Cinestudio coordinator, part of the Health Fellows program, a member of ACES (the Annual Community Service Event Staff), and an intern and ambassador at the Career and Life Design Center. With all of her studies and activities, how does she unwind at the end of the week? By hanging out with her friends in Best Buddies.
Leone is co-president of the Trinity chapter of Best Buddies, a student organization through the Office of Community Service and Civic Engagement. Best Buddies creates opportunities for friendship between neurotypical people and people with intellectual and developmental disabilities. At Trinity, students involved with Best Buddies create friendships with students at the Wethersfield Transitional Academy (WTA). Having a break from the demands of being a student is one big benefit for the buddies from Trinity and WTA. "Having a stressful week and knowing I'm going to hang out at a Sunday Best Buddies gathering helps me reset and get ready for the rest of the week," says Leone.
The buddies usually get together one to two times per month. One meet-up is a lunch at the dining hall at Mather Hall, while the other is usually a holiday gathering. Coming to campus is a special experience for the WTA students. "They always get so excited, especially when it's their first time coming," says Leone, "They ask so many questions. It's a different experience for them since they have most of their subjects in one classroom."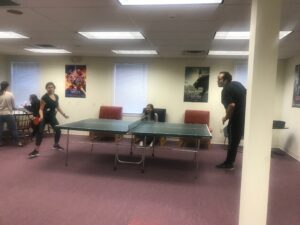 During the 2020-2021 school year, the buddies met virtually during lunch hour. The virtual sessions included an ice-breaker, games, and a themed Kahoot activity. The adjustment to virtual for COVID "was different and it was hard because we didn't have the one-one-one connections that we usually get in-person." The group made the best of it, nonetheless, and Leone says, "It was nice for all of us to have a break from school."
Coming back to in-person meetings this fall, Leone recalls that, "There were some people I hadn't seen for years so that was really amazing to see them face to face again." Those connections are the best part about being involved with Best Buddies. Leone has connected not only with the buddies at WTA, but has also gotten to know Trinity students she wouldn't have otherwise crossed paths with.
In addition to forging new connections, Leone says that Best Buddies helps Trinity students gain an understanding and acceptance of differences. "Even if people appear different, they aren't as different as you think. They still have the same interests, go to the same places, and have the same hobbies," explains Leone.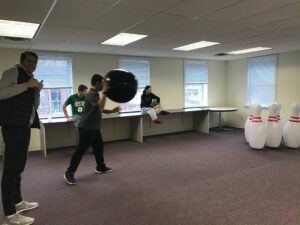 This spring semester will be Leone's last as a student in Best Buddies. Her involvement as a student in Best Buddies began years ago, even before her time at Trinity. She joined Best Buddies in high school with her older brother who has autism. Now, at the end of her time as a leader in Best Buddies, Leone is thinking of ways to ensure the friendship between the Trinity and WTA buddies remains strong and consistent even after she leaves.
Trinity students interested in joining Lucia and the other buddies for their monthly meet-ups can reach out to [email protected].