Back to News
Designing Community Learning: Ancient Worlds in Our Community with Dr. Kelly P. Dugan
Community Learning
posted
 In Community Learning courses, professors, students, and community members work together in a mutual relationship to engage and enhance learning. Community Learning is part of the Center for Hartford Engagement and Research (CHER) at Trinity. In 2018, CHER started CLiFF (Community Learning Faculty Fellows) to help professors develop curriculum and teach Community Learning courses.
One of the Community Learning Faculty Fellows this year is Dr. Kelly P. Dugan, Visiting Assistant Professor of Classical Studies at Trinity. 
Dr. Dugan is teaching the Community Learning course Ancient Worlds in Our Community for the third time in Fall 2021. This course is partnering with the Latin Club at Hartford Magnet Trinity College Academy (HMTCA), the grades 6-12 middle and high school across from Trinity. Dr. Dugan works closely with Mrs. Carrie Keena, World Language Faculty and Spanish Teacher at HMTCA, to collaborate and conduct the class. When Trinity students go into the classroom to teach the middle schoolers, Mrs. Keena is also there to guide them and be another mentor as they develop their teaching skills.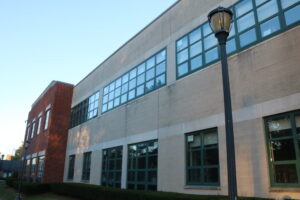 The Trinity students enrolled in the course create three or more mythology activities to teach middle schoolers. These activities are fun, engaging, and send important messages about culture and experience. With the broad umbrella of ancient mythology, students learn not only about Greek and Roman mythology, but this semester Trinity students created and taught activities focusing on Mesoamerican myth and the founding of Tenochtitlan as well as Celtic myth and the adventures of Finn McCool. In this way, Trinity students and middle schoolers learn about global mythologies and make connections in new ways to their own lives.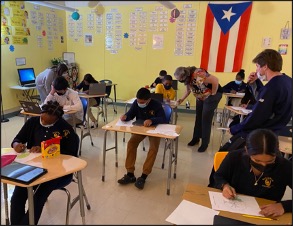 Dr. Dugan holds a PhD in Language and Literacy Education and wrote her 2020 dissertation on antiracism and restorative justice in ancient studies education. For Ancient Worlds in Our Community, Dugan teaches Trinity students about the history of discrimination in education and how to design mindful curriculum that serves students first and disrupts hateful narratives. "The focus is on the sixth graders and their experiences. We want to have the best, most positive impact, fronting the joy. The goal is storytelling, these are the foundations. If we can teach young children the many ways storytelling informs our experiences, we can more easily approach the conversations and narratives of race and racism now and in the future," says Dugan.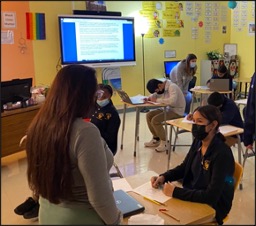 Dr. Dugan expressed how being a Community Learning Faculty Fellow in CLiFF "has provided much needed opportunities to reflect on and improve my own relationships with Mrs. Keena at HMTCA and the sixth grade students." Her advice to other professors wanting to adopt Community Learning in their own teaching is to "build relationships with community partners intentionally and mindfully from the beginning." 
In CLiFF, and through CHER, professors can get assistance continuing community partnerships Trinity has had in the past, or forming new partnerships. Director of Community Learning, Erica Crowley, shared that Trinity has almost 200 recent partnerships, and runs about 20 Community Learning courses per semester. She supports faculty who are members of CLiFF, as well as other faculty interested in community engagement across the College. Any faculty interested in Community Learning can invite community partners to be a guest speaker in their class, or attend community partners' events in Hartford. Crowley explains that, "Community Learning is important because it provides students and faculty the opportunity to think creatively and deepen students' learning while also forwarding the work that community partners are already doing."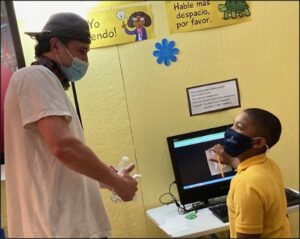 Community Learning has been a part of Trinity College for about 25 years now. It has been adopted as a part of the culture in many ways, such as through the Community Action Gateway and Community Learning courses, but there is always potential to strengthen and improve these relationships with the surrounding community at Trinity. "Relationships [with community partners] can start very small and over time relationships build to turn into something more significant. Kelly's work is a prime example of the kind of partnership development that carries long-term potential," says Crowley.

**All photos taken by Dr. Kelly P. Dugan and Mrs. Carrie Keena