Back to News
Community Action Gateway Student Team Works with Health Equity Solutions
Community Action Gateway
posted
During the spring of my senior year of high school, my acceptance email to Trinity College was shortly followed by an invitation to apply to the Community Action Gateway. I never anticipated the tremendous impact the program would have on my experience at Trinity. The Community Action Gateway (CACT) is a first-year program made up of students who applied and demonstrated interest in social change and community engagement. Over the course of their first year at Trinity, Community Action students study theories behind social change, learn how to engage with their community meaningfully, and collaborate and connect with people making change across Hartford. Community Action projects both connect students with the community and provide partners with additional resources to support their work. For our fall 2021 semester, in the CACT first year seminar "Envisioning Social Change," my team worked with Health Equity Solutions (HES), a Hartford-based organization advocating for health equity across Connecticut.  Our team worked with HES to create a 1-minute video responding to the partner's communicated needs.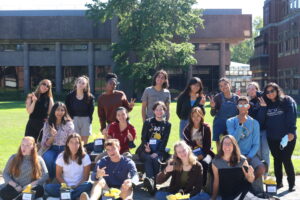 Other student teams in the class worked with an array of Hartford-based organizations, collaborating with Free Center, Night Fall, and Desiree Primus' "Mayor Carrie Saxon-Perry" project on 1-minute videos. Instructed by Professor Abigail Williamson, we spent the semester learning about Hartford, our positionality as Trinity students, how to meaningfully engage with the community, and the basics of research and video editing. Simultaneously, we spent time collaborating with and getting to know our partners, conducting interviews and research, as well as putting our video editing skills to the test.
To ensure that all students were effectively and meaningfully engaging with our community partners, any fieldwork we did was coupled with in-class work that prepared us for a given task. Before we even spoke to our partners, we spent about a week of class discussing the importance of valuing community partners and how to effectively show our gratitude, interest, and respect. This aspect of the course was fundamental to the success of our projects and relationships with our community partners. I also think it's part of what makes CACT such a special space. As first-year students, we are afforded the opportunities to get involved with the community from the moment we step on campus. But, more importantly, we are taught how to do it genuinely and meaningfully.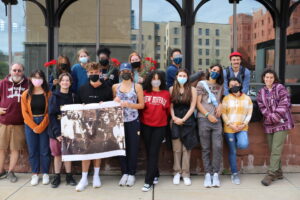 Our project started with a whole-class meet-and-greet where each team met with their community partner to get to know each other. It was an excellent opportunity to build strong rapport and trust––a key focus of the course. We introduced ourselves, why we were interested in CACT, and our goals for the video project. HES was looking for a brief video that communicated their vision, spoke a bit about their work, and provided information on how community members can get engaged. The project was supervised by Samantha Lew, a Policy Analyst and Advocacy Specialist at HES.
After our initial meet and greet, it was time for us to get our feet wet. We conducted several journalistic interviews with the HES team, inquiring about the organization's work, vision, and goals. In developing these videos, we collected footage, but we also learned a great deal about HES and the importance of advocating for equitable health. Health equity ensures that all people have access to optimal health no matter their race, ethnicity, culture, or socioeconomic status. We spoke with team members about what drives their passion for health equity and learned how integral the voice of the community is to their work. The bulk of our footage came from these interviews, but we also collected b-roll and went on outings to get shots of Hartford.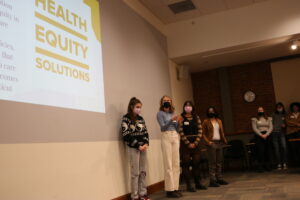 After conducting the interviews, we transcribed them and started drafting a storyboard for the video. Throughout the project, we had an ongoing dialogue with Sam and the HES team to ensure the video matched their vision. After drafting the storyboard, we sent it to Sam and her team for approval and got to work putting together the video.
Before drafting our videos, we also had an in-class video workshop with David Tatem, an Instructional Technologist at Trinity. We learned about the basics of operating iMovie, how to make seamless edits, and collect quality footage. We were also provided useful resources like websites to find music for and improve the audio of our videos. This workshop provided us with the foundational skills to generate a quality product for our partners.
After a few more rounds of edits and feedback from the HES team, the video was complete! We capped off the semester with a final share-back session. We invited all of our community partners and previous Community Action students to a presentation of our final projects. After the presentations, we also had small group discussions about Trinity's community engagement and learning initiatives. We reflected on both student and partner experiences during the project and future hopes for the Community Action Gateway program.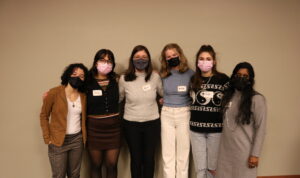 As a class, we learned about more than just the amazing initiatives across Hartford––we also gained a well-rounded understanding of the importance of each organization's work. Through class discussion, readings, research, and fieldwork, we all gained a greater, more comprehensive understanding of each organization's impact on the community. Through working with HES, I've gained a better understanding of what health equity is, its exigence in Hartford, and how I can best advocate for it. My team member Anna Grant-Bolton felt similarly:
I am so grateful for all I have learned from the incredible people and efforts of HES. Through our partnership with HES, I not only learned about the critical process of grassroots advocacy and policymaking, but how important relationships are to change-making and social justice work. From collaborating with HES I learned that community action begins with listening and connection, learning to use the voices of those most impacted by health injustice to direct action.

–Anna Grant-Bolton, 2021-2022 Community Action Student
Moreover, the time we spent preparing to build an effective partnership paid off. HES Deputy Director Ayeha Clarke reported that the organization valued the collaboration:
The pandemic has urged us to think about community engagement creatively to ensure accessibility is our number one priority when reaching out to community members and partners. In collaboration with the Community Action Gateway Program at Trinity College, Health Equity Solutions worked with incredible first-year Trinity students eager to learn why and how they can address systemic change in our state and on the local level. The Center for Hartford Engagement & Research at Trinity College has offered our organization that and so much more, and we are incredibly grateful for their partnership.

– Ayesha Clarke, Deputy Director of Health Equity Solutions 
This project feels like just the beginning of opportunities to connect, learn with, and get to know Hartford. Before coming to Trinity, I never thought about my relationship with the community. After my first semester of Community Action, it is clear to me that getting to know Hartford is non-negotiable. If I didn't engage, I'd not only be doing a disservice to the community but to myself as well. During the Spring semester, Community Action students will be collaborating with more community partners, conducting an array of research projects specialized to each partner's needs. I look forward to my Spring semester in CACT and future opportunities to grow my relationship with Hartford these next four years––and well into the future.
________________________________
In the Community Action Gateway, first-year students learn how to create community change with community activists, neighborhood organizers, government leaders, non-profit directors, journalists, and social entrepreneurs in Hartford. If you have questions about the Gateway, contact Director of Community Learning [email protected].