Back to News
Community Action Gateway Launches Spring 2022 Projects: Community Organizing, Carrie Saxon Perry, Cultural Humility, and Frog Hollow Oral History
Community Learning
posted
One of the most important components of the Community Action Gateway is to help students understand the multiple ways that social change is happening in the city. This semester, the 2021-22 cohort is jumping into social change projects with Southside Institutions Neighborhood Alliance (SINA), the Center for Leadership & Justice, Kamora's Cultural Corner, and Desiree Primus at SAND Elementary for a special project on Carrie Saxon Perry. Students and partners alike have been flexible and willing to take on the challenge of working together in a hybrid format – meeting regularly over Zoom or at local coffee shops, allowing flexibility in project plans, and editing communications products using collaborative platforms.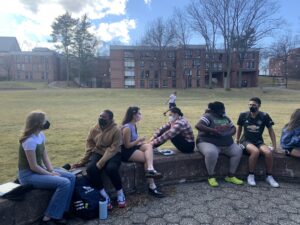 This academic year has presented an incredible number of challenges and opportunities for all of us. A global pandemic, economic shifts, calls for racial and gender justice, the realities of social isolation, struggle, and loss alongside attention to community care and discussions of mental health – and the list goes on. The Community Action Gateway has provided an opportunity for students to engage in reflection on social change work and contribute to our community in ways that are safe and meaningful. Each week we explore a different topic: the basics of community-based research, developing good interview skills and techniques, analyzing and visualizing data, creating work plans and managing partnerships, building trust with each other and community, making public presentations and communicating about social change issues, reflecting on organizing, movements and self care within this context, and more. Much of our partnership work is rooted in the principles of emergent social change and an emergent curriculum, inspired the students' reflections on adrienne maree brown's Emergent Strategy: Shaping Change, Changing Worlds.
This semester, students also have the opportunity to attend various events in Hartford and hear from local experts including Hartford area Historian Steve Thornton from The Shoeleather History Project, organizers from Mutual Aid Hartford and the CT Black and Brown Student Union, and more.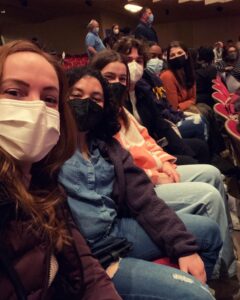 In the coming weeks we will explore more of Hartford including seeing a film at the on-campus independent movie theater Cinestudio, visiting local museums like The Wadsworth Atheneum, checking out local eateries like Parkville Market, El Sarape, and El Mercado, and various arts and culture events around the city. None of these community building activities would be possible without the work of our dedicated Community Action mentors Essence Smith '24, Abby Nick '24, and Renita Washington '22.
To put their classroom and community learning into action, student teams are working with community partners on social change projects. Each team is working with their community partner on a research project and a communications project based on the partner's needs. Read about our spring project teams below.
---
Base Building and Community Organizing -Center for Leadership & Justice
Anna Grant-Bolton '25, Jack White '25, James Maciel Andrews '25, and Myri Ayala '25 with community partner Juan Fonseca Tapia
The Center for Leadership & Justice is engaged in broad-based community and multi-faith organizing with the goal of building enough relational power to bring about systemic justice in Greater Hartford. CLJ organizers support leaders in identifying, researching, and taking action on issues that impact them. One recent issue campaign example in Hartford was the success of the #NoMoreSlumlords campaign. As the CLJ continues to grow their staff and engage base-building and organizing in various neighborhoods surrounding Trinity, they asked us to analyze and visualize public data about Housing code violations, work with community leaders on a housing code policy analysis, conduct background research on housing oversight structures, and generate print and digital communications products about how to join the CLJ's campaigns.
---
Carrie Saxon Perry Archive – SAND Elementary
Aisha Carothers '25, Olivia Silvey '25, and Amna Zeb '25 with community partner Desiree Primus
In 1987, Carrie Saxon Perry was the first African-American woman elected mayor of Hartford–a first for any New England city. She was an outspoken barrier-breaker who brought people together and advocated fiercely for city residents. After her service as Hartford Mayor, Perry became active in the Greater Hartford branch of the N.A.A.C.P. and served as its president from 2004 to 2008. This project will focus on highlighting and preserving her achievements and legacy during her time as mayor. For research, Desiree asks for continued secondary archival research and primary source oral interview collection that explores questions about Mayor Perry's influences, leadership approach, and lasting impact on the community. For communications, Desiree asks for flyers and social media graphics for the announcement of a Carrie Saxon Perry mural, and a presentation about the former Mayor to 5th graders at SAND Elementary School.
---
Cultural Humility and Afro-Centric Education – Kamora's Cultural Corner
Mina Arenella '25, Ava Caudle '25, Reese San Diego '25, and Shayla Whitaker '25 with community partner Kamora Herrington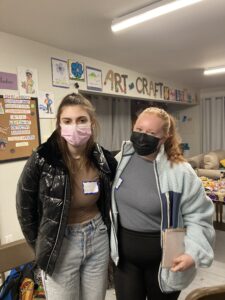 Kamora's Cultural Corner provides both a metaphoric and physical space to learn to use the gifts and privileges of our unique and shared identities. Approaching cultural humility through a Black Queer and Afrocentric perspective the KCC creates and navigates Brave Spaces with the intention of building and supporting organic community connections through consultations, trainings, workshops, community conversations and community partnerships. Kamora asked us for help with for 1) a literature review on the social emotional outcomes for students exposed to an afro-centric education, accompanied by a written and visual executive summary and 2) written field observations and infographic visual summaries of KCC Cultural Humility Sessions which are held virtually on Wednesdays from 5-6pm, with two in-person community conversations at Community First School.
---
The Frog Hollow People's Oral History Archive – Southside Institutions Neighborhood Alliance (SINA)

Jules Bourbeau '25, Jenissa Cortes '25, and Jeremias Vazquez '25 with community partner Logan Singerman
In Fall 2021, Trinity's Liberal Arts Action Lab students worked with community partners at the Southside Institutions Neighborhood Alliance (SINA) on the Frog Hollow Storytelling project. In collaboration with residents and leaders of the Frog Hollow Community, the group assembled a multimedia archive documenting the neighborhood's lived history, experiences, and public art. This archive contains content for four "Tour Lines": Community Spaces, Public Art, Frog Hollow Heroes, and Voices of Frog Hollow. During launch of the Frog Hollow Heroes murals, located on Park Street and Broad Street, SINA collected 200 email list recipients interested in hearing about the future of the project. For research, SINA asks for help gathering community input from this list, conducting additional bilingual oral history interviews, an archival scan of the existing Frog Hollow People's Oral History archive and the Hispanic Hartford archive to identify key content for a digital, guided walking tour. For a communications component, SINA asks for a mock up digital walking tour using different platforms, as they explore which is best for the future of the project. To further support the project, Claudia Soto-Canetti '22 and James Michielli '23, two students enrolled in Associate Professor of Language and Cultural Studies Sara Kippur's Task of the Translator course, are taking on additional credit through Community Learning independent study to translate the existing web content and oral history transcripts from English to Spanish.
---
In the Community Action Gateway, first-year students learn how to create community change with community activists, neighborhood organizers, government leaders, non-profit directors, journalists, and social entrepreneurs in Hartford. If you have questions about the Gateway, contact Director of Community Learning [email protected]