Back to News
Community Action Gateway Students Research Hartford Changemakers
Community Action Gateway
posted
This past fall, students in the Community Action Gateway collaborated with the Hartford History Center to tell the stories of Hartford changemakers. The Community Action Gateway (CACT) is a selective first-year program made up of students who demonstrate interest in social change and community engagement. Over the course of their first year at Trinity, Community Action students study theories behind social change, learn how to engage with their community meaningfully, and collaborate and connect with people making change across Hartford. Community Action projects both connect students with the community and provide partners with additional resources to support their work.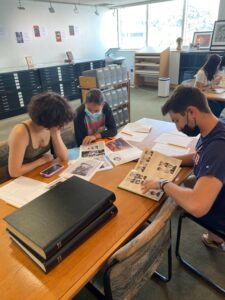 This semester, in collaboration with the Hartford History Center, five groups of Community Action students created profiles to add to the Hartford Changemakers collection, an online archive of reference materials on Black, Latinx, and Indigenous historical figures who made a difference in their communities. Each group of students was tasked with researching a Hartford changemaker and learning about their story through archival research and interviews.
A key component of the Community Action Gateway is getting students connected with Hartford––both the city and the community. The Hartford Changemakers Project encourages students to dive right into the history of Hartford and get to know the city as soon as they get to Trinity. "Their research on Hartford Changemakers helped students to feel more connected to the city of Hartford, its vibrant communities, and its rich history," says Community Action 101 instructor Professor Elise Castillo.
CACT Student Gabrielle Marcuccio '26 talks about how the Changemakers project affected her relationship with the city: "I grew up in Hartford county, so this project was definitely impactful for me. I recently had a conversation with another Trinity student where we reflected on how Hartford is often portrayed as lacking potential––but how this isn't true. This project helped further illuminate the potential that exists in Hartford. There are many Hartford residents working to transform spaces and create meaningful change. Hartford is a place where people live and create and grow."
Additionally, the project is unique as it encourages students to learn about the history of Hartford by connecting with community members. Caitlin Doherty '26, a CACT student, speaks about her experience: "It was really inspiring for me to see how excited those who loved and knew these Changemakers were about helping us memorialize these amazing people for the project. They were all so kind and willing to share their experiences and communities with us. Because they were so excited about the project, it helped my group to memorialize and honor our Changemaker in the best way. Overall, this was such a positive experience for me and my group members as we were able to meet and learn about amazing members of the Hartford community."
Jasmin Agosto, Education and Community Outreach Manager at the Hartford Public Library, supervised the project and worked closely with the CACT students throughout the semester. When asked about her experience, she reflected on the impact of the project and collaboration. "This work and storytelling invigorates a sense that the lives and contributions of everyday people from our home city are worthy of honoring and also offers a myriad of blueprints for change making in Hartford and beyond" says Agosto.
Students presented their research on the Changemakers on November 11th, 2022, at an event attended by Trinity faculty, staff, and students, along with Hartford community partners and Changemaker friends and family. Read more about each changemaker below.
Celestino Jimenez 
Hailing from Puerto Rico, Celestino Jimenez was an advocate for social justice in the Frog Hollow Community. He provided guidance and support in a number of reforms and community projects, including the relocation of The Hartford Public Library Park Street Branch, mentoring the San Juan Center's boxing program, and integrating incarcerated people into the community with the Connecticut Prison Association.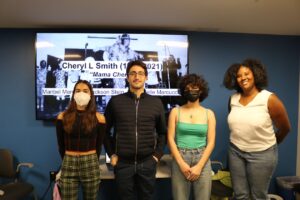 Cheryl L. Smith
Affectionately known as "Mama Cheryl," Cheryl L. Smith was a co-founder of the Artists Collective, a Hartford non-profit that empowers and supports students in dance, music, drama, and visual arts. Cheryl enriched the community through the preservation and promotion of Black culture, especially through the arts.

Muriel Johnson
Born and raised in Hartford, Muriel Johnson was a community leader and activist, notably in the Clay Hill neighborhood. She was a member of numerous committees and initiatives that sought to empower her community. Johnson was a passionate advocate and spoke out against racism and injustice against Black community members. View presentation.
Reverend Julie Ramirez
A pastor and activist, Reverend Julia Ramirez was an advocate for the Latino community in Hartford. In 1962, she founded Templo Fe Church right here in Frog Hollow. At a time where the Latino community faced much injustice and discrimination, Templo Fe became a place of community and solace. She was also the First Latina Pentecostal Senior Pastor within the Spanish Eastern District of the Assemblies of God.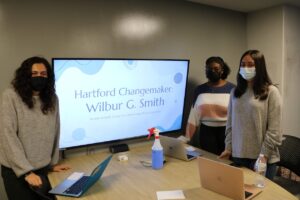 Wilbur G. Smith
During his time as a Connecticut state senator, Wilbur G. Smith was a passionate advocate for civil and human rights. He used his platform to fight for and defend the rights of Black citizens and to denounce racism. Before election to public office, Smith was also an civil rights activist in his community, serving as president of the Hartford NAACP chapter.