WRTC may be the radio station of Trinity College, but for Reynolds Onderdonk it is also part of the soundtrack for most of the last 50 years.
Since 1973, Onderdonk has been working at WRTC. Also known as Reynolds the Psychedelic Warlord, he was 18 years old when he started in the tech department at the station.
Onderdonk listened to mostly classical music growing up. That changed when he started attending a high school. He discovered rock music, and began to explore the genre extensively. By the time he got to Trinity, he was fully immersed in both mainstream and experimental rock.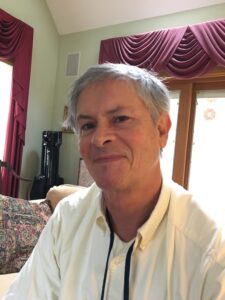 "When I went to the college, I didn't know the radio station was there and I was living in Jones Hall—and I hung out with kids in the dorm. We were out of the mainstream—we'd wear torn up clothes, grow our hair long. It is almost as if I went to college I did everything I wasn't supposed to do in prep school," Onderdonk said. "I gravitated toward tech people and the station was the place we found where we could go and enjoy our tech stuff and records."
Once he and his friends were running their own shows, they went to Boston to get an FCC license and took a test to be eligible to be a radio host. "Everyone was very serious and adhered to the constitution of the station, we wanted to make sure everything was well run," Onderdonk said. FM radio had become more popular in the 1960s, and college radio stations were a springboard for new music. They would find new albums to play—everything from German electronic music to psychedelic rock. They called their show "Alien Rock."  Now Onderdonk is the last one left, and "Alien Rock" still plays on Thursday evenings every other week, trading off with Katherine and "The Land of Misfit Tunes".
After graduating, Onderdonk stayed in Hartford. He lived there for 21 years until his move to Bloomfield, and is currently a high school teacher. One thing that hasn't changed since his graduation from Trinity has been his continuing relationship with WRTC and Trinity. With a handful of other Bantams, he has remained committed to the station. "For some reason, we kept on after we graduated," Onderdonk said. Whatever the reason, Onderdonk now can say that he has had people in the community tell him they've been fans of his show for 40 years.
With four decades of experience at the station, he has seen Trinity and WRTC experience waves of change. In fact, just before he joined the station in the 1970s, African American students on campus took over WRTC for the opportunity to have a voice on campus. The result of their activism was a show called "Thought Power," which still runs today. In 2020, the COVID-19 pandemic, and new discussions around social justice have again begun to help Trinity bend and flex to the time. Through it all, WRTC remains on the air.
In his tenure at the station, the only interruption that has managed to take Onderdonk out of the studio has been the COVID-19 pandemic. He took a break from the station for about four months—only returning recently to start hosting his show again. The break was difficult, but Onderdonk knew he would return. WRTC, and his radio show has been a constant in his life. When his son was an infant, he would bring him into the studio while he hosted. The routine of returning to Trinity helps him feel connected to the college. "I think we all feel a little proprietary about our schools and colleges and a little piece of the school stays with us, and a little piece stays there—and when I go back to do my show I'm like 'Here I am again. Things have not changed as much.'" He's been part of a cohort of volunteers at the station who have been committed to staying on the air years after their graduation from Trinity.
While the pandemic has caused some interruption, Onderdonk noted that WRTC has remained one of the only noncommercial radio stations to have live hosts during the closures and lockdowns caused by the coronavirus.
For now, he's returning for every other Thursday night in the booth. He takes his precautions, and at a time when there's little else normal in the world, returning to the station is another part of a decades-long routine. "It's kind of like a night out," he said. For the Trinity community, they'll be sure to tune in.
Visit the WRTC website to catch Onderdonk's show and other WRTC broadcasts.
"...a little piece of the school stays with us, and a little piece stays there—and when I go back to do my show I'm like 'Here I am again. Things have not changed as much."

Reynolds Onderdonk

'76
Interested in sharing your own Trinity story? Contact Tess Dudek-Rolon at

[email protected]

.