Name: Venghour Than
Hometown: Kandal, Cambodia
Major: Theatre and Dance
Extracurricular Involvement:
Email: [email protected]
Why did you join the Diversity and Access Team?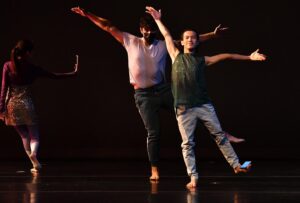 Honestly, I discovered Diversity and Access Team (DAT) as an encouraging opportunity to expand my comprehension of Trinity College. For the same experience as other students, the pandemic affected my first year at Trinity College as an international student. Unfortunately, I had to study remotely from Cambodia, which is an 11-hour difference, preventing me from being on campus, forming new connections with people whose demographics are different from mine, and understanding the institution expressively. Now that I am here at Trinity's campus, participating in the internship provided by DAT will undoubtedly assist me in attaining the visions I mentioned earlier. Furthermore, DAT core values in elevating diversity, equity, inclusion, and justice (DEIJ) inspire me to persist in my journey as a leader who knows that he can impact each day. Transformation and elevation, with DAT, are the principles I envision Trinity College will obtain.
What is the biggest lesson you learned from your first semester on campus?
Your GRADES do not define who you are. As a perfectionist, this aspect has been an aspect of reality I find challenging to accept. However, honestly, I realize that the fun and positive mindset within the lessons and courses I study should be the reality I should invest in. Creating a journey to discover passion, be excited about new information, and share what I learned is more significant than the numbers I receive from professors. It is crucial to notice that what I just asserted will transform me into a lifelong learner.
How has a liberal arts education fostered your thinking? What class impacted you the most?
Before coming to Trinity College, I was a student at a project-based learning school in Cambodia called Liger Leadership Academy. The school's educational curriculum allowed me to be immersed in many communities around Cambodia and outside the country, tackling numerous societal issues via initiating short- and long-term projects. Fundamentally, Liger Leadership Academy allowed me to treat the world as my classroom. Here at Trinity College, its liberal arts education fosters me with a similar education system as the school in Cambodia to allow me to explore the subject areas I am passionate about, for instance, theatre and dance. I engaged in many performances and concerts on the campus that elevated my spirit as a dancer. More significant than that, I can connect with dance and theatre faculty members to exchange and learn from their experiences. Through the dance opportunities and communication with faculty members, I discovered unexpected movements I did not realize my body could do.
What legacy do you hope to leave?
As a person who profoundly admires being in the moment, I am not a goal-oriented individual. I believe goals are not the product but the effect of the effort and persistence–the process. Therefore, being an DAT intern, I hope to foster a solid and grateful relationship with the people I work with. In addition, I wish I become a resource for people who need help, not only in the team but also on the campus. I believe these two aspects will eventually result in a positive legacy I hope to leave though I do not know what it is specifically. That is the beauty of legacy. I do not know what it will turn out to be. However, ensuring that I have excellent communication with my teammates and being resourceful for myself and others–the process–undoubtedly in positive transformation.
How has the city of Hartford impacted your college experience?
I have not been visiting many places in Hartford city. As an international student raised in a remote area in Cambodia and who recently arrived in the United States, I find it challenging to connect with the city. Despite coming here as a new student, I hope being a part of DAT will open doors for me to engage with Harford. I see the importance of positioning myself as a learner to connect with people who live in the city to continue my experience with project-based learning education. So far, I have been to the city's museum of Wadsworth, and I have walked to areas outside the campus. Though I have not taken an extra step to connect with the locals, I understand that taking small steps like visiting the museum and walking in a nearby area trains me to be an observant individual. By being observant, I can find ways to connect with the city and eventually participate, which will impact my experience living here in a new country.
If you were an animal, what kind of animal would you be?
In Cambodia, a mythical creature known as Naga is a serpent with many heads. I would love to be a Naga or live like one because the animal is the inspiration of Khmer classical dance. I started my training with the dance form with Cambodia's first gay dance company. The training experience I received taught me the beauty of the Naga, which I embody through the gestures and movements of my hands, legs, and body. Naga is a serene creature living deep under the ocean. Its movements are slow and heavy with beauty. The Naga teaches me not to rush in my journey to become a dancer or an artist in life. Instead, I ensure that I will take baby steps; however, in each step, there is resilience.
What areas of campus makes you feel at home?
The small dirt path behind Funston Hall leads to the South Summit residential building in the area that makes me feel at home. When it rains, the trail becomes soft and muddy, reminding me of the road in front of my home in Cambodia. I love rain, and I love stepping into puddles and mud as it marks the significance of my childhood. It also feels like I am a part of my nature. Walking on that dirt path behind Funston Hall every time I go dancing in the Common's studio feels cathartic.
What brings you the most joy on campus during stressful times?
Going to the dance studio at midnight is the most fulfilling time I discovered on campus when confronted with stressful times. Though it is a new space for me in the dance studio, I can express myself without any boundaries. I can bring dance to the studio and transform the space into a second home for me where my dance journey continues to grow. It is as if my dance is like a flower that is pulled out from its pot (Cambodia) and planted in a different one (studio at Trinity College), and it continues to flourish and flower. That is the joy I see during stressful days.