Name: Tulsi Patel
Hometown: Amherst, MA
Major: Political Science and Global Studies
Minor: Environmental Science
Extracurricular Involvement: Club Ultimate Frisbee and South Asian Student Association
Email: [email protected]
Why did you join the Diversity and Access Team?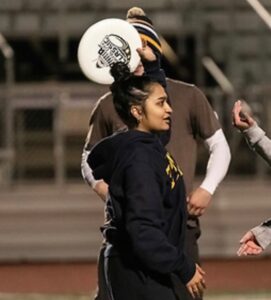 Applying to college is one of the most stressful things I have ever had to do. Doing that in the middle of a pandemic where I could not visit potential schools and speak with kids on campus made it 10 times harder. As a woman of color and a first generation college student, finding a place where I feel like I didn't have to compromise on my checklist was important. I was lucky enough to speak to an DAT intern my senior year of high school and they were the deciding factor for me. I want to help someone the way I was helped and show them all the amazing opportunities that Trinity has to offer.
What is the biggest lesson you learned from your first semester on campus?
The biggest lesson I learned my first semester on campus is that it is okay to take breaks when you get overwhelmed. Coming to a new environment with this new found independence it was easy for me to get wrapped up in anything and everything from orgs on campus to having a hard course load. This came with a lot of stress and pressure on myself. Once I realized that my best work will be done when I'm relaxed, taking those breaks became like self care.
How has a liberal arts education fostered your thinking? What class impacted you the most?
Coming into college I was pretty set on majoring in political science however, through the diverse class choices and intersectionality of classes offered here I was able to find new interests and passions that I had not thought of before. This realization hit when I was taking my Urban Anthropology class my first semester of freshman year. That class opened up my interest in how different people coexist and what cultural factors keep us divided or united.
What legacy do you hope to leave?
I hope to help transform Trinity into a school where perceptive students of color and first generations students feel not only welcomed but seen and heard. I want to create a space where prospective students can see themselves thrive and take advantage of the opportunities that Trinity offers.
How has the city of Hartford impacted your college experience?
I think we are lucky to have the opportunity to go to a school where the surrounding community is so rich and diverse in culture. Hartford in itself is a beautiful city and the people in it reflect that. There are so many opportunities for Trinity students in the area like internships for example.
If you were an animal, what kind of animal would you be?
If I was an animal I think I would be a sea turtle. I love the water and can swim for hours. They are also always moving and I feel like I am always doing something. But I would also say I am a sea turtle because I love to also lay around and do nothing like they do on the sand.
What areas of campus makes you feel at home?
Shockingly, the library is my safe space on campus. I find myself spending so much time there doing my work that it has become one of my favorite places on campus. Plus, when all your friends are there it makes it even better. The underground coffee house is another. There is nothing but immaculate vibes in that place.
What brings you the most joy on campus during stressful times?
I play ultimate frisbee at Trinity and I would say it is my number one stress reliever. The people that come to play are the most wholesome and fun people on campus which makes it so you can't help but have a great time when you're there.