Major: Political Science
Hometown: Boston, MA
Campus Involvements: Trinity College Black Women's Organization (T.C.B.W.O.), CONNPIRG, Faith Inspired Students at Trinity (F.I.S.T.)
E-mail: [email protected]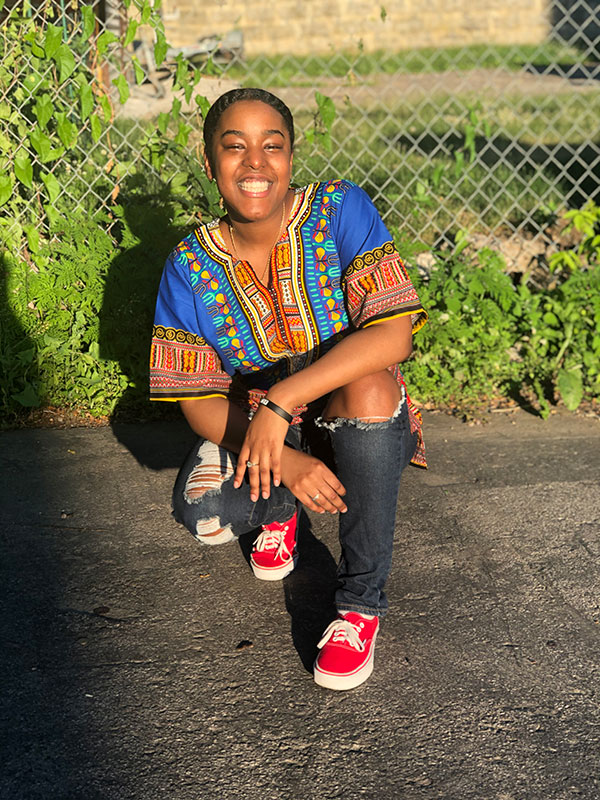 Why did you join the Diversity and Access Team?
I joined DAT because I wanted to be a part of a team that fostered a sense of community and positivity!
What is the biggest lesson you learned from your first semester on campus?
One of the biggest lessons I learned from my first semester on campus is that it's okay to say no to opportunities that don't work for you. As a first-year student, you may feel inclined to join all the cool campus organizations, but you should also be okay with saying "no".
How has a liberal arts education fostered your thinking? What class impacted you the most?
Coming to a liberal arts college has definitely diversified my way of thinking! I have taken classes that range from studying Spanish to learning about the prison system in the United States. The class that has impacted me most is the Community Action Gateway, because it allows students to work with community organizations in Hartford.
What legacy do you hope to leave?
I hope to leave a legacy as a student who inspired change. As a first-year representative of Trinity College Black Women's Organization, I want to create a space for BIPOC women to foster their own unique identities. Additionally, as the Automatic Voter Registration Coordinator for Connecticut Public Interest Research Group (CONNPIRG), I plan to encourage Connecticut's legislators to enact better voting laws.
How has the city of Hartford impacted your college experience?
The city of Hartford has allowed me to explore a wide range of cultures and backgrounds!
What has your first year in college been like during Covid?
My first year has been strange to say the least. I haven't had a normal college experience, with all of my fall classes being remote and not having a chance to explore the city of Hartford, but I am looking forward to soaking up the joys of college soon!
If you were a fruit what fruit would you be?
Mango!
What is a random fact about you that people might not know?
I'm an MIT published author!
What brings you the most joy on campus during stressful times?
Talking to friends and family brings me the most joy, especially since I'm away on campus.
What's your favorite place on campus?
My favorite place would definitely have to be the library for its comfy chairs and studious vibe!