Name: Ashleé Simpson
Hometown: Bronx, New York
Major: Undeclared
Minor: Undeclared
Extra Curricular Involvement: Caribbean Student Association and The Black Student Union
Email: [email protected]
Why did you join the Diversity and Access Team?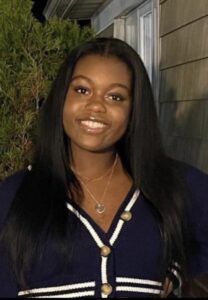 Diversity, Equity, Inclusion, and Justice (DEIJ) is my life. It is a single phrase that embodies who I am and what I stand for. It is a phrase that captures my endless fight to break down barriers for people of color and underserved communities. I joined DAT because it will allow me to do just that! I believe it gives me a unique advantage to connect with prospective students from underrepresented communities in a meaningful and impactful way. DAT is actively trying to bring more diversity to Trinity's campus and that is an initiative that I will always support because I understand the advantages and opportunities a school like Trinity provides as a minority student here.
What is the biggest lesson you learned from your first semester on campus?
The biggest lesson I learned is not to hold back. This school has so much to offer if you're willing to put yourself out there. It's so easy to feel lost or even scared to take risks, but that's what life is all about. Join that club, try out that class that you're unsure about, or even something as simple as saying hi to an unfamiliar face! It might be one of the best decisions you ever make. The beauty of going to a liberal arts school is that there is no one path. You have the freedom to try out so many different things without constraints. This is your opportunity to design the life that you want!
How has a liberal arts education fostered your thinking? What class impacted you the
most?
Having a liberal arts education has allowed me to view the world through an interdisciplinary lens. It allows me to think outside of the box and make connections between things I never thought could even be remotely related. My most impactful class so far was my First Year Seminar on friendship. That class allowed me to not only understand different concepts of friendship throughout time, but also to make connections to my personal life. A class becomes so much better when you can connect it to your own experiences.
What legacy do you hope to leave?
My hope is to create an environment where students of color and underrepresented groups feel safe, heard, and seen. An environment where these students are given the tools to navigate a PWI in a way that will allow them to have the college experience that we all deserve. Overall my goal is to create a well-rounded and diverse community on campus.
How has the city of Hartford impacted your college experience?
The city of Hartford has allowed me to give back and serve the underrepresented communities around Trinity. Volunteering has been something that I have cherished! I also enjoy the fact that Hartford is in the center between Boston and New York City!
If you were an animal, what kind of animal would you be?
If I were an animal I would be a Black panther. They are very peaceful, low profile, but calculated animals who go for exactly what they want.
What areas of campus make you feel at home?
Being a part of cultural organizations makes me feel at home on campus. Being in both the Caribbean Student Association and the Black Student Union allows me to bond over shared experiences with my peers. Those are spaces where I feel like I can be myself at all times without fear of judgment.
What brings you the most joy on campus during stressful times?
Being around friends brings me the most joy during stressful times. I know it can sometimes be difficult to make friends in a new environment, but again you have to take those risks! Put yourself out there! You will meet some of the most genuine, inspirational, and talented people here who will be your rock when life becomes overwhelming. So, put yourself out there because some of the best friendships are the most unexpected ones!