Hometown: Amherst, MA
Major: Human Rights
Minor: Community Action
Campus Involvements: South Asian Student Association (SASA), Student Government Association (SGA), Trinity College Pipes, and Studio Arts Productions
E-mail: [email protected]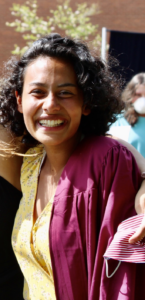 Why did you join the Diversity and Access Team?
I joined the Diversity and Access Team to assist in making Trinity's student body diversity match the rest of the country and the world. As a DAT intern, I can perform the important and necessary work that needs to be done to make college more accessible for low-income students, students of color, of intersectional identities, and of various abilities and orientations. I want to be an advocate and show them that their dreams are possible. I want to prove to prospective students who look like me and have similar life experiences that they are more than good enough and that they do belong, especially at places where it feels they do not. I hope to be a part of the valuable conversations that Trinity is having to continue to improve its diversity, equity, and inclusion. I look forward to sharing my college journey with prospective students and planning events that will provide support to help them to feel that Trinity could be a suitable match.
What is the biggest lesson you learned from your first semester on campus?
The biggest lesson I learned from my first semester was to balance self-care with my workload because I cannot be a good student if I am not setting aside time to do the things that bring me joy.
How has a liberal arts education fostered your thinking? / What class impacted you the most?
Pursing a liberal arts undergraduate education has allowed me to explore vastly different topics and find connections between them all. The liberal arts approach to learning allows one to prepare for the real world through exploring topics they find most interesting. I continue to become a deeper and more critical thinker and am incredibly grateful for my professors who encourage me to study concepts from various perspectives.
In my college experience thus far, my Gender and Sexuality Transnational Class with Professor Zhang has impacted me the most. I learned about feminist theory and movements throughout the world and studied a diverse group of authors who have made monumental contributions to women's rights and advocacy worldwide. This was the first time my studies included only one white male author out of about fifteen or so authors, and I learned from people with similar experiences as me. Professor Zhang challenged us to think outside of our Western perspective and study topics of Gender and Sexuality both critically and empathetically.
What legacy do you hope to leave?
I hope to leave having made Trinity an even more inclusive and welcoming space for students of color, low-income students, and students of various abilities and orientations. Through my work on Student Government Association, we hope to reform Campus Safety and their practices so that all students feel safe in their presence. We are also making changes to trainings and school policies regarding sexual violence so that survivors feel heard and protected. Similar to the other cultural organizations on campus, South Asian Students Association hosts events for the campus to learn about South Asian culture. I hope that by the time I leave, all cultural organizations' events are attended by the majority of students, faculty, and staff so that we are a campus that fosters intercultural connections. Additionally, I hope to leave having contributed to the student body becoming more united. I want to leave knowing I've made an impact on the Trinity community and that people will follow in my footsteps of fostering inclusion and positive social change.
How has the city of Hartford impacted your college experience?
As a member of the Community Action Gateway, I have had the privilege of working closely with the Hartford community throughout my experience at Trinity thus far. In the first semester, I partnered with Connecticut Coalition to End Hopelessness and was able to create media with my team for the coalition to use in raising awareness about who they are, what they do, and their upcoming events. Currently, I am working with two other students for NARAL Pro-Choice CT. We have been researching the process of reallocating funds from the Hartford police to community services such as abortion providers. We will create a mock webpage of Hartford's reproductive health care resources, media posts for NARAL Pro-Choice CT, and a presentation about the findings from our research which will contribute greatly to advocating for the reallocation process to begin. It is a great privilege to be studying within Hartford as this vibrant community has so much to offer. The connections I have made with these community partners has allowed me to gain significant insight on the work of nonprofit organizations and motivated me further to pursue a career in community action.
What has your first year in college been like during the Covid-19 pandemic?
My first year has been a quite a remarkable experience of socialization and also isolation. I've been so lucky to become a part of many wonderful organizations at Trinity and meet amazing people.
If you were an animal, what animal would you be?
If I were an animal, I would be a dolphin because they are very smart, beautiful, graceful, and playful.
What does Trinity mean to you?
I did not think I would say this, or at least not so soon, but Trinity is home. I come from a small town in which most people are white. Coming to Trinity, I assumed I would have a somewhat similar experience of feeling like the odd one out, but that could not be less of the case! All but three of my friends are students of color and come from vastly different, and yet quite similar backgrounds. For the first time in my life, I can look around at a group of people and truly feel like I belong. Through my various commitments, I have met amazing people and have made very strong connections in such a short time. Trinity is a place where I am thriving and can pursue anything I wish. The people here are incredibly supportive and kind. Professors want you to be challenged and to succeed. Faculty and staff want all students to be happy and healthy and will do whatever it takes to make this happen. Trinity has provided me so many opportunities in such a short time, I cannot begin to imagine all that I'll have accomplished by the end of my four years.
What brings you the most joy on campus during stressful times?
Ordering some delicious take-out and having a dance party with my friends helps to reduce stress.