The Watkinson Library: Bringing Rare Books and Special Collections to Life
Trinity's specialized research library provides a welcoming space for students, faculty, and the public to access a broad spectrum of valuable and historic materials.
Nestled on the main level of Trinity's Raether Library and Information Technology Center (LITC), The Watkinson Library is a gem on the Trinity College campus. While it is housed within the same building as the college's main library, this research library specializes in rare books, historic collections, manuscripts, art, music, ephemera, photography, and other cultural materials.
An Extraordinary Resource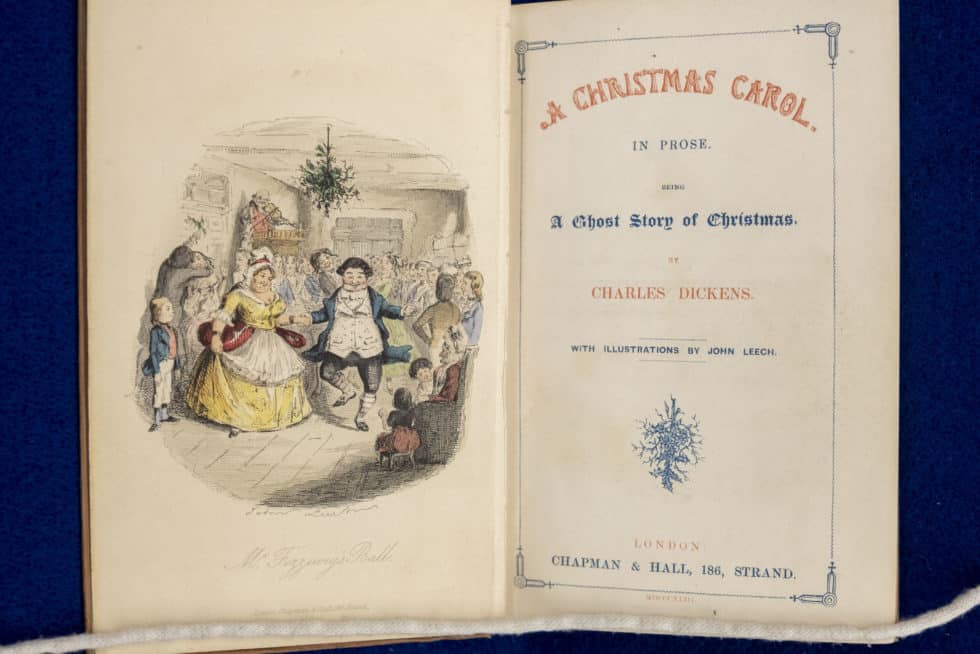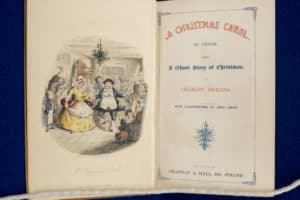 The Watkinson houses ever-growing and notable collections, and it serves as the repository of the Trinity College Archives. Noteworthy holdings include incunabula (early books printed before 1501), a superb copy of John James Audubon's large "double-elephant folio" edition of The Birds of America (pictured, top), unpublished poems by Robert Frost, correspondence from famous Hartford-area literary figures like Mark Twain, first editions of literary works like Charles Dickens's A Christmas Carol and Walt Whitman's Leaves of Grass, archival material pertaining to slavery and the U.S. Civil War, an Eliot Bible (the first Bible published in North America), George Washington's signature, Shakespeare's second folio, and more. This impressive collection of original source material is available not only to Trinity students and faculty, but also to the public, allowing scholars unfettered access to this valuable and historic archive.
"The Watkinson is an extraordinary resource that a small liberal arts college wouldn't normally have," says Hilary Wyss, Allan K. Smith and Gwendolyn Miles Smith Professor of English, who specializes in Early American and Native American literature. Wyss is part of the Indigenous Studies Working Group comprised of Trinity faculty who work to support research and teaching in Native American and Indigenous studies. Her research into the collection at the Watkinson has yielded some surprising finds, including what may be the signature of 19th-century minister, writer, and activist William Apess, Pequot, which Wyss says is an incredibly rare find. Wyss brings her excitement for primary source materials to her classes, where students visit the Watkinson to investigate original materials for themselves. "We are still finding out what we have," says Wyss, who notes that the Watkinson collection contains materials in Indigenous languages that have yet to be identified. Part of the mission of the Indigenous Studies Working Group is to make these resources more accessible to Native people.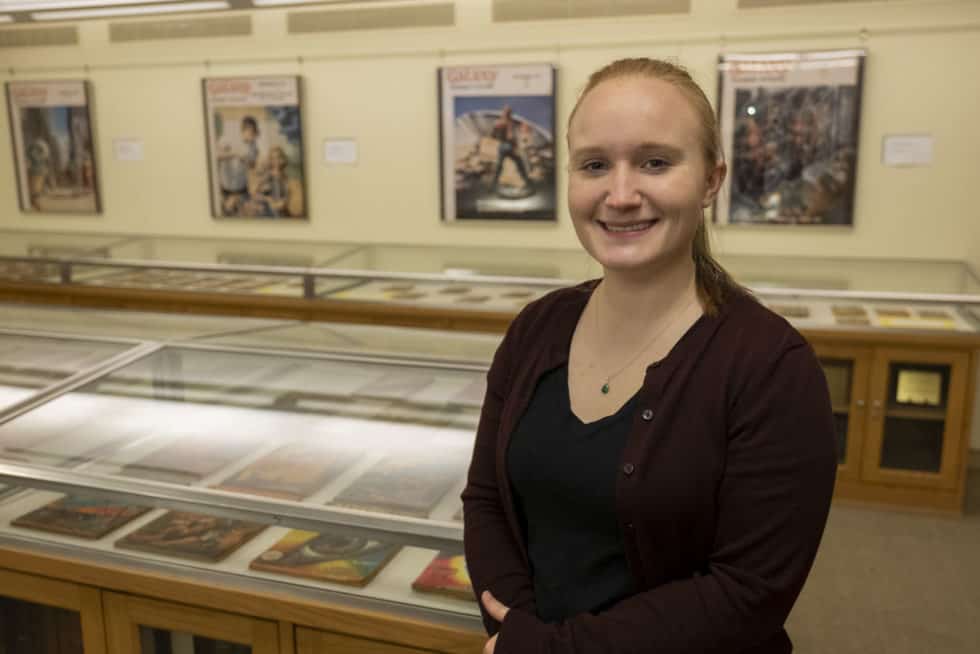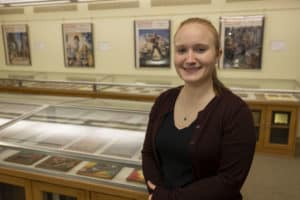 Wyss is one of many Trinity faculty who incorporate the Watkinson into their courses. The library's recent exhibition, Pulp Art of Science Fiction's Golden Age, grew out of "Sci Fi in the Archives," a course by Daniel Mrozowski, academic director of graduate studies and lecturer in English. As part of the course, students were each assigned a box from the newly acquired Loftus Becker collection of science fiction materials to examine and inventory. Graduate student Abigail Waldron M'20 volunteered to inventory additional boxes. This led to Waldron's interest in and application for the Watkinson Creative Fellowship. As her project, she produced an exhibit showcasing pulp art covers from the collection, which date from the 1920s through 1960s.
As a public research library, the Watkinson hosts a variety of scholars from many fields of study. Researcher Nym Cooke recently spent three months combing through the Watkinson's vast collection of early American sacred tunebooks. Cooke is working in many New England libraries to produce a searchable database of early American sacred-music resources as well as researching for his next book, Making a Joyful Noise: Sacred Music in New England, 1620–1820. Like Wyss, Cooke was excited to discover previously undocumented materials in the Watkinson. "I found lots of sources that stood out, including several unica—printed items that have previously been located in no other library or private collection," says Cooke.
Entering the Digital Age
Christina Bleyer, director of special collections and archives at the Watkinson, is helping to lead the library into the digital age. First, she is working to make the rare books and archival collections more accessible in digital spaces. Second, she is laying the groundwork for archiving new materials, especially those that are "born digital." "The focus has traditionally been on rare books, and we have an amazing collection of them, but we did not have any born-digital collections," says Bleyer, who started at the Watkinson in June of 2018. "Now we have started two oral history projects: 'Stories from the Summit,' a user-generated collection from the Trinity community, and 'Voices of Migration,' a collection of interviews with the Latin American community in Hartford. The Watkinson is building its capacity to archive born-digital assets and collect 'the now.'" The Watkinson was recently awarded a grant for the Voices of Migration oral history project from the Andrew W. Mellon Foundation-funded Council of Independent Colleges (CIC) Humanities Research for the Public Good.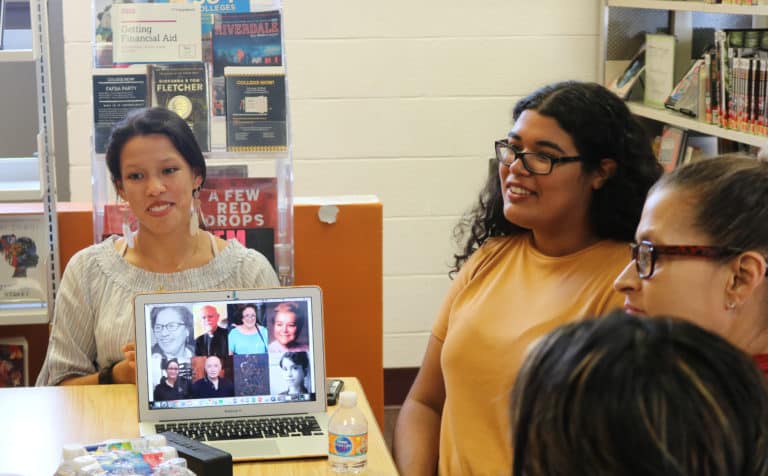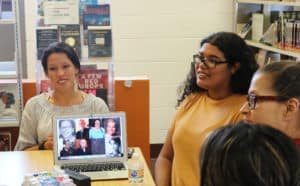 Josselyn Alejandra Zaldívar '20, one of three students who worked on the Voices of Migration project, moved from Honduras to Hartford as a youth. Her roots in Hartford and fluency in both Spanish and English allowed her to find and connect with interviewees. "When I was in high school, I never thought about people like Maria Clemencia Colón Sanchez, Olga Mele, and Eugenio Caro helping others get access to jobs, healthcare, education, and housing. Everyone knows them, but not what they did," says Zaldívar, naming some influential local activists. Zaldívar expressed to interviewees the importance of documenting and sharing their stories with younger generations. "Before this project, I didn't know that in Hartford, people who look like me are so powerful."
The Future of the Collections
Looking ahead, 2020 will bring a focus on the Ostrom and Alice Talcott Enders Ornithology Collection, a world-class collection that includes about 8,000 historic and contemporary works on birds. On April 9, 2020, the library will host its first-ever Ostrom Enders Ornithology Lecture, featuring author and researcher Scott Weidensaul. The library has also announced the launch of the Ostrom Enders Ornithology Research Travel Grant, which supports ornithology scholars coming to Trinity College to conduct research using the library's collections.
Over the past five years, The Watkinson has grown its photography collection through generous donations, most recently from George Stephanopoulos, Jon and Nicole Ungar, and Steven Schwartz. The photography collection is vast and varied and includes global photos from the 19th, 20th, and 21st centuries. Change in America: 1940–1980, an exhibit of recent acquisitions, is currently on display at the Austin Arts Center's Widener Gallery. The exhibit features photographs by prominent photographers who documented transformation in U.S. society and engaged with many of America's most compelling social, economic, and racial issues. The exhibit is open through March 9, 2020.
The Watkinson Library is open Monday–Friday, 9:00 a.m.–4:00 p.m., and by appointment.
Written by Kate Sheely
Explore the Gallery
More Images from the Watkinson's Collections
Explore the Gallery
More Images from the Watkinson's Collections