Student Accessibility Resource Center
Trinity College strives to ensure that students with disabilities will have the same opportunities to thrive academically and personally in their Trinity experience.  Trinity is committed to providing reasonable accommodations to students who are substantially limited by a diagnosed disability.  Students with physical and/or learning disabilities have met the same requirements for admission as all other Trinity students. Once admitted, students may request support services in accordance with Section 504 of the Rehabilitation Act of 1973 and the Americans with Disabilities Act of 1992.
Contact Information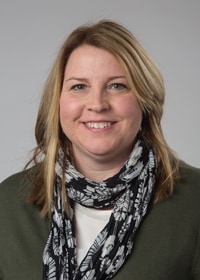 Lori Clapis coordinates all services related to requests for accommodations.  She serves as one member of the Student Accessibility Council, which is a multi-specialty council including health, counseling, and academic staff members.  A council member with training in the appropriate area reviews each request for services.  For questions, you can reach Lori Clapis at Lori.Clapis@trincoll.edu, call her at 860-297-4025, or stop by the Student Accessibility Resource Center located on level A of the Raether Library and Information Technology Center (LITC).
GET IN TOUCH
Student Accessibility Resource Center
Lori Clapis
Student Accessibility Resource Center
Level A, LITC