In addition to events taking place on campus, Olmsted 200 and other local organizations are also celebrating Olmsted's birthday. Below are events that Trinity is participating in with groups off campus and be sure to visit the Olmsted 200 listing for things happening near you!
'In the Presence of Trees' – July 19, 2022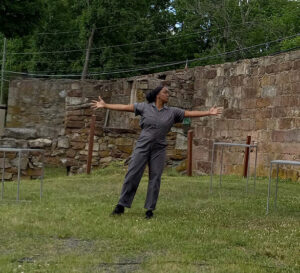 JDPP presents In the Presence of Trees Community Launch on July 19, 2022 (rain date July 26) in Bushnell Park, Hartford CT from 3:30-7:30 pm EDT. This event previews JDPP's yearlong, seasonal dance theater exploration of the lessons trees can teach us about community, climate, and environmental justice. Audiences will enter an imagined world of the tree: slow down their sense of time, feel the movements that emanate from stillness and understand the rhythm of the canopy. There is much we can learn from this journey, most especially the significance of trees in the urban, suburban, rural, and wild landscape and their potential to heal our planet and ourselves. Family-friendly activities include an outdoor exhibit on Frederick Law Olmsted, tours of the Soldiers and Sailors Arch and notable trees in the Park, carousel rides, and an in-progress performance by JDPP's Ensemble. For more details visit: Justic Dance Performance Project registration page.
Back to the Future – March 5, 2022
Mental health issues can affect us all, but there are coping mechanisms all around us. Join us we dive deeper into the issue with Dr. Susan A. Masino, Vernon D. Roosa Professor of Applied Science with a joint appointment in Neuroscience and Psychology at Trinity College, as she discusses the relationship between forests and brain health. She will emphasize the benefits of natural ecosystems, ranging from medicines to minds, and with special opportunities for veterans, adolescents, and people with mental ill-health. There will be a reception following the lecture.
Location:
The Norfolk Library
9 Greenwoods Rd E
Norfolk, CT
Time: 4:00 PM – 5:30 PM
View details on the Olmsted 200 website.
Fall 2021
During Fall 2021 Trinity College held a series of premier biweekly virtual talks on Zoom as part of the class, Nature and Brain Health: Urban Space to Wild Place. You can view the lectures below.