Frederick Law Olmsted and Trinity College
Olmsted at Trinity College and Beyond
Frederick Law Olmsted, the founder of landscape architecture, was born and is buried in Hartford, CT. Olmsted valued the aesthetic, functional and spiritual value of the land in cities and beyond. The design of the campus at Trinity College was influenced by Frederick Law Olmsted.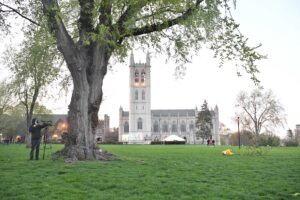 Trinity is joining in the national celebration of his 200th birthday in 2022, termed Olmsted 200. Throughout the year, you can learn more about Olmsted in a series of virtual and in-person lectures on campus or via Olmsted 200. Trinity College was featured as the Spotlight in the August edition of the Olmsted 200 newsletter.
The celebration at Trinity College began in summer 2021 with our Summer Carillon Concert Series. Every Wednesday evening in July, the community was invited to enjoy the concert series on our Olmsted campus. The National Association for Olmsted Parks announced the sponsorship of Inspired by Olmsted, a carillon composition competition designed to celebrate Olmsted's legacy. We are thrilled to share that our own Ellen Dickinson, College Carillonneur, tied for third place with her composition "Oasis in the City: Change Rings Through." Read more about the competition on the Olmsted 200 website.
Be sure to check the Olmsted Events page for more events happening off campus.
Trinity Summer Carillon Series 2022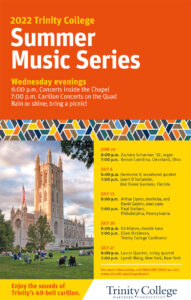 June 29 – Keiran Cantilina, Cleveland, Ohio
July 6 – Geert D'Hollander, Bok Tower Gardens, Florida
July 13 – Paul Stelben, Philadelphia, Pennsylvania
July 20 – Ellen Dickinson, Trinity College Carillonist
July 27 – Lynnli Wang, New York, New York
Ellen Dickinson will play her piece "Oasis in the City" inspired by Olmsted.