Frederick Law Olmsted and Trinity College
Olmsted at Trinity College and Beyond
Frederick Law Olmsted, the founder of landscape architecture, was born and is buried in Hartford, CT. Olmsted valued the aesthetic, functional and spiritual value of the land in cities and beyond. The design of the campus at Trinity College was influenced by Frederick Law Olmsted.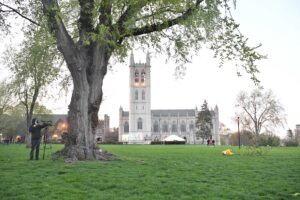 Trinity is joining in the national celebration of his 200th birthday in 2022, termed Olmsted 200. Throughout the year, you can learn more about Olmsted in a series of virtual and in-person lectures on campus or via Olmsted 200. Trinity College was recently featured as the Spotlight in the Olmsted 200 newsletter.
The celebration at Trinity College began in summer 2021 with our Summer Carillon Concert Series. Every Wednesday evening in July, the community was invited to enjoy the concert series on our Olmsted campus. There is currently a national carillon composition competition in honor of Olmsted 200. The winning carillon piece will premier in 2022.
On July 8th, Professor Sarah Raskin hosted a tour connecting two properties influenced by Olmsted, the Trinity College campus and Cedar Hill Cemetery (which was designed by Jacob Weidenmann, the Swiss-born architect and self-trained landscape designer whom Olmsted recommended for the job of designing Hartford's Bushnell Park), titled: Olmsted in Hartford: Connecting Campus, Cemetery and Science
During Fall 2021 there will be a series of premier biweekly virtual talks Olmsted's Brain: Discovering Health in Urban Places and Wild Spaces. All talks will be on Thursday afternoons at 2:00 pm on Zoom at https://trincoll.zoom.us/my/health4brains. You can always take a walk or a bike ride through Hartford and visit sites that were influenced by Frederick Law Olmsted.